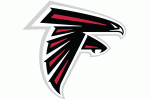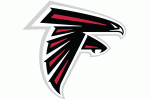 We have to wonder in our Atlanta Falcons 2016 NFL preview if this team is anything more than average? Second-year coach Dan Quinn is facing the toughest schedule in the league with a defense that offers various challenges. Plus, QB Matt Ryan is coming off a fairly dismal 2015 season. Ryan is looking to get back to the quarterback he was four seasons ago.
Falcons Offense: B-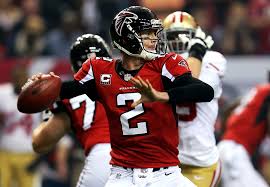 Ryan (4,591 YD, 21 TD, 16 INT) has gone 18-30 in his last three seasons. In his first five with the Falcons, he was 56-22. Last season, Atlanta got off to a 5-0 start, only to end up 8-8. Ryan made too many mistakes, fumbling four times and losing two, enduring three multi-interception games, and being sacked 32 times. The team's total offense was ranked seventh. That was due in part to the play of dual-threat Devonta Freeman (1.056 YD, 4.0 AVG, 11 TD/RB; 73 REC, 578 YD, 7.9 AVG. 3 TD/REC) and receiver Julio Jones (1,871 YD, 13.8 AVG, 8 TD). There's some decent depth in the receiving unit. The offensive line welcomes free agent center Alex Mack, a smart, durable, and resilient anchor.
Falcons Defense: D+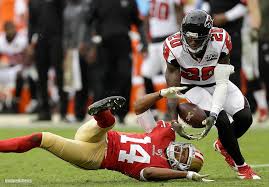 Atlanta's defense was last in sacks. NFL quarterbacks had time to set up plays against this group. For the D-line, the hope is that second-year tackle Grady Jarrett can become more of a force. He played well as a reserve in his rookie season. The LB unit welcomes free agent Courtney Upshaw. It's thought that he can help make this group more aggressive. LB Sean Weatherspoon returns, but there's doubt about his endurance. Second-round 2016 draftee Deion Jones (LSU) could become a factor immediately. The secondary sees 2016 draft pick Keanu Neal (Florida) as a major contributor at strong safety. Safety Ricardo Allen (3 INT) and corner Robert Alford (2 INT) return, while hallmark corner Desmond Trufant brings refined defensive skills to the field.
Falcons Special Teams: B+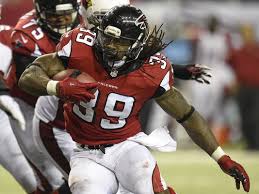 It's a mix for Atlanta when it comes to special teams. Matt Bryant (26/26 XP, 14/18 FG) had a shortened 2015 season due to a groin injury. He should be in good form in 2016. Punt Matt Bosher, who also handles kickoffs, was ranked second in the NFL. The return game was solid despite top return specialist Devin Hester's injury and missed time.
Falcons Coaching and Management: B+
Head coach Quinn (8-8) has surrounded himself with a sound group of coaches. He and GM Thomas Dimitroff have made some good improvements, but they underutilized the draft.
Last Word: Atlanta Falcons 2016 NFL Preview
With a turnover differential of -7 (27th), a poor pass rush, and a QB that was mistake-prone, the Falcons found themselves floundering last year. In assessing the team in this Atlanta Falcons 2016 NFL preview, we note that Ryan has to show marked improvement, as does both frontlines. The odds of those things happening are not promising.
For our overview of the NFC and to link to other NFC teams, please click here.
Atlanta Falcons 2016 NFL Preview Pick: 6-10, 4th NFC South