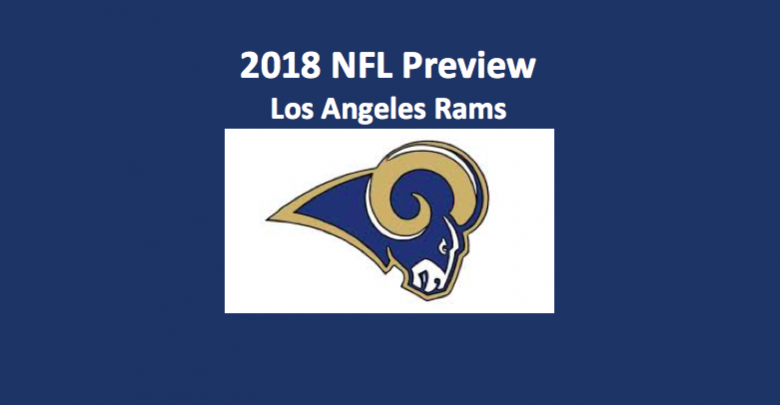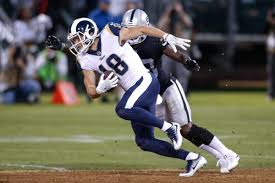 The Los Angeles Rams (11-6) came a long way in 2017. They won 11 regular-season games, took the NFC West division, and made it to the playoffs. However, their postseason journey ended quickly, as the Atlanta Falcons beat them in their first playoff game 26-13. Our 2018 Los Angeles Rams NFL betting preview observes that in his first season as an NFL head coach, Sean McVay (11-6 Overall, 0-1 Postseason) did a fine job. He got the Rams on track and helped second-year QB Jared Goff find his footing. It didn't hurt Goff that the O-line and receiving squad were revamped. We expect another solid season from this team.
Offense
The Rams went from having one of the worst offenses in the NFL in 2016 to being in the top 10 in offensive yardage and number one in average points scored (29.9 PG) in 2017. They were eighth in rushing yards, 10th in passing yards, and tied for ninth in third-down conversion (41%). The offense was also ninth in sacks allowed (28).
Quarterbacks and Running Backs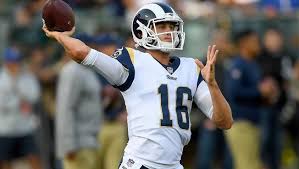 Goff (477 ATT, 296 COMP, 3,804 YDs, 28 TDs, 7 INTs) had a Pro Bowl year. Along with being accurate, Goff made good decisions, keeping his number of picks down. Now coaches are working with Goff to increase his overall passing yards and long-ball potential. In only his second-season, he looks like the franchise QB that the Rams have needed.
One thing that helped Goff greatly last season was the outstanding performance of RB Todd Gurley. Gurley, who earned NFL Offensive Player of the Year honors, rushed for over 1,300 yards and earned 13 TDs while averaging 4.7 YPA. He should have another big year. Malcolm Brown (63 ATT, 246 YDs, 3.9 YPA, 1 TD) will back up Gurley.
Receivers and Tight Ends
Who's new in the receiving ranks? Our 2018 Los Angeles Rams NFL betting preview finds that the team added former New England WR Brandin Cooks. Cooks has fine speed and long-ball haul-in potential. He's had three straight seasons of 1000-plus receiving yards. Gurley led all Ram pass catchers last year with 64 receptions. He gained 788 yards, averaged 12.3 YPC, and scored six TDs. Cooper Kupp and Robert Woods, who each averaged 14.0 YPC and scored five TDs, are back. Tyler Highbee, who has been more of a blocker than pass catcher, will start at TE. Second-year TE Gerald Everett could be a target for Goff.
Offensive Line
The starting five did not miss a game last season, and they all return. That's huge for this team that saw major improvement in this unit. Center John Sullivan, who's in his 11th pro season, is a fine leader and smart player. The guys on either side of Sullivan are quality players who know how to provide openings for the ground attack and extra seconds of protection for the QB.
Defense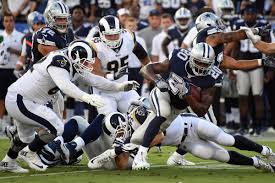 In many respects, the Ram defense could be better. They did post 48 sacks (4th NFL) and grabbed 18 picks (T-6th NFL). And the 20.6 PPG they allowed, which earned them a ranking of 12th in the league, gave them a +9.3 differential. Additionally, the team's turnover differential of plus-seven tied them for ninth. But they allowed too many rushing yards, 122.3 PG (28th NFL), and the 217.2 YPG in passing they gave up, which ranked them 13th, could be reduced. They were 19th in total yards allowed (339.5). That number is too big for comfort.
Defensive Line
End Aaron Donald, the 2017 NFL Defensive Player of the Year, is the lynchpin of this awesome frontline. Donald, who led the team in sacks with 11, is joined by another fearsome force, NT Ndamukong Suh. Suh, who was released by the Dolphins, could have a major impact on this D. Michael Brockers returns to the other end spot. He's productive and versatile.
Linebackers
Our 2018 Los Angeles Rams NFL betting preview finds that the LB unit is vulnerable. They lost three key players, including the team's leading tackler Alec Ogletree (128). Also gone are Robert Quinn and Connor Barwin. However, ILB Mark Barron does return. He led the Rams with three interceptions and was second in tackles with 108. In his third season, Corey Littleton will attempt to replace Ogletree. Second-year OLB Samson Ebukam and fourth year OLB Matt Longacre will replace Quinn and Barwin respectively. Ebukam comes with some refined tools and Longacre, who had 5.5 sacks last season, looks like someone who can consistently produce.
Secondary
Although the Rams have lost their two starting corners from last season, they signed former Denver CB Aqib Talib and former Kansas City CB Marcus Peters. Talib, a tenacious defender with 11 years of experience, saw his numbers drop off last season. But he's still exceptional. In his first three seasons, Peters has snagged 19 INTs and defended 55 passes. Free safety Lamarcus Joyner (3 INTs) is tough and aggressive, while strong safety John Johnson III (91 TKLs) had an impressive rookie season last year.
Special Teams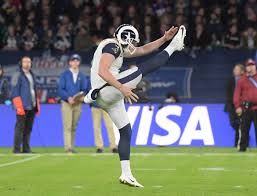 The special teams are top-notch and include the elusive and exceptionally fast Pharoh Cooper on runbacks. Pro Bowl punter Johnny Hekker also handles the holding duties on field goals, while long snapper Jake McQuaide is exceptionally dependable. Placekicker Greg Zuerlein, who is coming off of late-season back surgery, should be ready to go. When he's healthy, he's one of the best.
Coaching
When he became the head coach of Los Angeles last season, McVay was 31. That made him the youngest NFL head coach ever. He handled the commanding job like a veteran. He appointed Wade Philips as D-C and put John Fassel in charge of special teams. Both were highly productive moves. Can he move this team even further up the food chain in his second season?
2018 Los Angeles Rams NFL Betting Preview: Final Word
Our 2018 Los Angeles Rams NFL betting preview finds that there's a lot to like about this team. They will put one of the best offenses in the NFL on the field, bring a premium D-line to the game, and enjoy the benefits of an upgraded secondary. The big question mark is the linebacking unit, which has lost a lot of talent and experience. How will they do this season?
2018 Los Angeles Rams NFL Betting Preview Projection: 11-5 Record. 1st NFC West
Unit Ratings
Offense:
QB: 8.8, RB: 9.7, OL: 9.5, WR: 8.9, TE: 8.0
Defense
DL: 9.0, LB: 7.8, DB: 8.6
Special Teams
PK: 9.5, PT: 9.8, RT: 8.8
Other
Coaching: 8.9
Intangibles: The defense will be a challenge, as there are a lot of new and inexperienced players.
Overall Rating = 9.2
Links