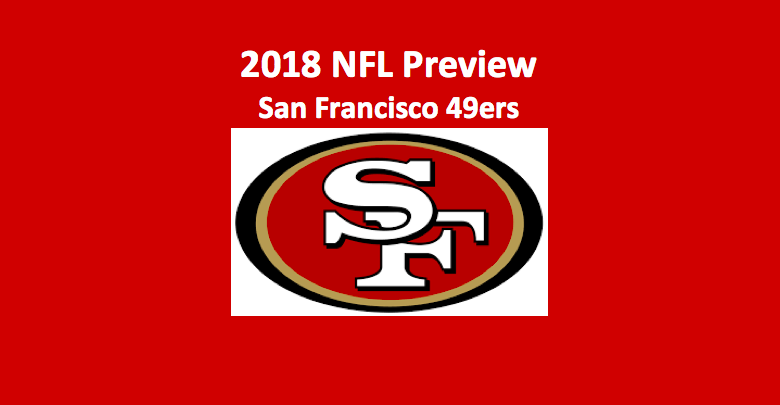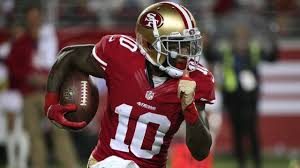 Just about everyone, including our 2018 San Francisco 49ers NFL betting preview, is picking the Niners to finish second in the NFC West. But disagreement does exist on what their record will be. Last season, the San Francisco 49ers (6-10) began to show promise. After losing their first nine games, they went 6-1. Imagine if they posted that same mark at the start of the season. After a fine first year as a NFL coach, Kyle Shanahan (6-10 Overall) and his relatively young staff are ready to prove that this team is for real.
Offense
The passing game was solid, as the 49ers were ranked 9th (245.3 YPG) in yards gained through the air. Although they averaged 20.7 PPG (20th NFL), in their final seven games the Niners averaged 26.9 PPG. The team's third-down conversion rate of 39% tied them for 13th in the NFL, while their 44 sacks had them tied for 22nd.
Quarterbacks and Running Backs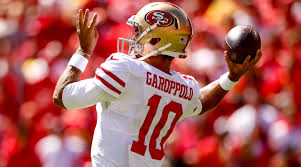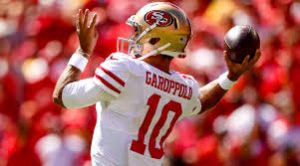 A lot of the SF's late-season success had to do with QB Jimmy Garoppolo (178 ATT, 120 COMP, 1,560 YDs, 7 TDs, 5 INTs). Garoppolo's accurate and strong arm and winnings ways, he was 5-0, earned him the starting spot for 2018. He also got a lucrative contract.
Our 2018 San Francisco 49ers NFL betting preview finds that San Francisco has beefed up their running game. Carlos Hyde (240 ATT, 938 YDs, 3.9 YPA, 8 TDs), who led the team in carries and pass receptions, proved to be an effective offensive weapon. He's joined by free agent and former Viking Jerrick McKinnon (150 REC, 570 YDs, 3.8 YPA, 3 TDs). The addition of McKinnon gives the Niners some solid options when it comes to playmaking.
Receivers and Tight Ends
All four of the top receivers return. Along with Hyde, who had 350 yards on 59 catches, while averaging 5.9 YPC, they welcome back big-play pass catcher Marquise Goodwin (56 REC, 962 YDs, 17.2 YPC, 2 TDs). Rookie TE George Kittle (43 REC, 515 YDs, 12.0 YPC, 2 TDs) proved to be reliable, while in the slot rookie Trent Taylor (43 REC, 430 YDs, 10.0 YPC, 2 TDs) blossomed with Garoppolo at the helm. There's also decent depth in this unit that Includes WR Pierre Garcon. If healthy, he's recovering from a late-October neck fracture, Garcon could be a major force.
Offensive Line
Center Weston Richburg comes to SF from the New York Football Giants. The four-year vet is a top-notch center. But he suffered a concussion last season that made him miss the final dozen games of the season. Tackle Joe Staley, who starts his 12th season in the NFL and is a former Pro Bowl pick, anchors this group. Rookie Mike McGlinchey, right tackle Notre Dame, will start immediately. The two guard spots have some promising and dependable candidates to fill them.
Defense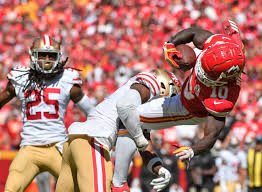 Our 2018 San Francisco 49ers NFL betting preview found if San Francisco needs to do anything, they have to improve their defense. It's that simple. The best ranking this team earned was tied for 20th in turnover differential at -3. They were ranked 24th in total D and 22nd in passing and rushing D. With 10 picks, they were tied for 24th, 30 sacks tied for 26th, and 23.9 PPG in sole possession of 25th.
Defensive Line
The 49ers have top draft picks Arik Armstead (2015), DeForest Buckner (2016), and Solomon Thomas (2017) on the frontline. Buckner should be Pro-Bowl and All-Pro material. Veteran NT Earl Mitchell can make big stops. There are a bunch of other guys who can contribute. This team needs a major sack artist. They should find one with the talent they possess.
Linebackers
Our 2018 San Francisco 49ers NFL betting preview notes that the LB unit could certainly be stronger. OLB Reuben Foster nailed 72 tackles in his rookie season. But late-season injuries hampered his play down the stretch and off-season legal issues have jeopardized his eligibility for 2018. MLB Malcolm Smith, a high-priced addition in 2017 who sat out the season with a pectoral injury, could be a major asset. OLB Eli Harold can stop runners, but needs to improve on his sacks.
Secondary
Four-time Pro Bowl selection Richard Sherman comes to the Niners from the Seahawks. He's an in-your-face, hard hitter. But he's coming off a ruptured Achilles. Ahkello Witherspoon had nine starts in his rookie season last year and showed marked improvement as time went on He snagged two picks. Safety Adrian Colbert also had a fine first pro season, as he played an exceptional, physical game. Jaquiski Tartt did a fine job at free safety and is back with a contract extension.
Special Teams
Rookie Dante Pettis, the record-holder for NCAA return TDs with nine, will upgrade both return units. Punter Bradley Pinion is reliable and consistent. Placekicker Robbie Gould hit 39-of-41 field goals. He's exceptionally accurate. Long snapper Kyle Nelson continues to perform at a high level.
Coaching
Kyle Shanahan certainly had a very fine first season as a NFL head coach, as the 49ers tripled their number of wins from the prior season. He calls the plays on offense. His staff is young with the majority starting their second season with the team and none having more than three years experience with the Niners. Shanahan plays in the moment, calling plays according to matchups he sees on the field. He loves versatile players who can fill various roles and is aggressive on offense.
2018 San Francisco 49ers NFL Betting Preview: Final Word
This 49ers team is quite sound in many ways. The offense has just about everything it needs to put points on the board, while the D has been upgraded. However, that defense can certainly be refined and improve some more. A lot is expected from this team and its coaches. Our 2018 San Francisco 49ers NFL betting preview acknowledges that they will be tested and could, very well, pass those tests.
2018 San Francisco 49ers NFL Betting Preview Projection: 9-7 Record, 2nd NFC West
Unit Ratings
Offense:
QB: 8.2, RB: 8.0, OL 7.8: , WR: 8.0,TE: 8.0
Defense
DL: 8.3, LB: 7.2, DB: 8.0
Special Teams
PK: 8.9, PT: 8.9, RT: 8.0
Other
Coaching: 8.2
Intangibles: They have a welcoming schedule and an excited fan base.
Overall Rating = 8.3
Links