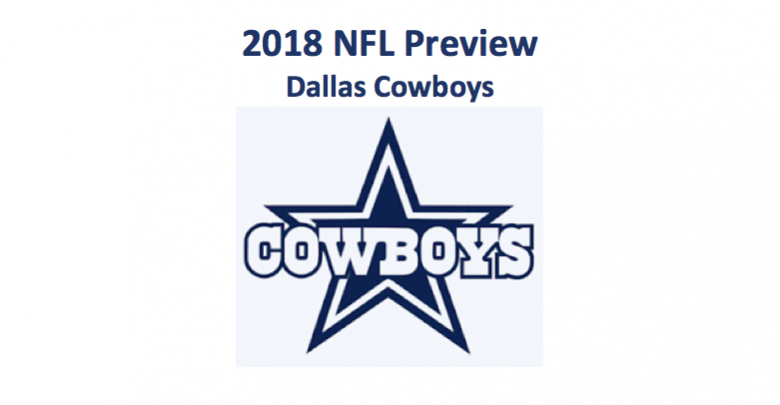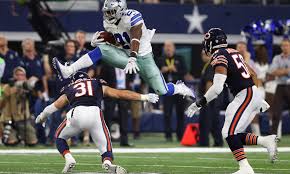 Before the 2017 season started, just about everyone envisioned the Dallas Cowboys (9-7) as commanding the NFC East. After all, in 2016 with rookie QB Dak Prescott and rookie RB Ezekiel Elliot they were 13-3 and made it to the divisional playoffs. There they lost to the Packers 34-31. But 2017 was a massive disappointment, as the Cowboys finished second in their division and did not make it to postseason play. How does our 2018 Dallas Cowboys NFL betting preview see this version of America's Team performing? They certainly have a shot at the playoffs and maybe even the division title.
Offense
There were some positives and negatives on this side of the ball. The Dallas ground game averaged a very healthy 135.4 YPG (2nd NFL). Also, they converted 43% of their third downs, which tied them for fourth in the league. But the passing attack came in ranked 25th (196.3 YPG) and average points per game, which totaled 22.1, was only good for a ranking of 14th. This team needs more and consistent offense.
Quarterbacks and Running Backs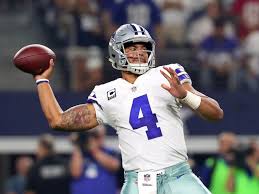 Dak Prescott's (490 ATT, 308 COMP, 3,324 YDs, 22 TDs, 13 INTs) numbers were off from his rookie season. Down were his completions, completion percentage, touchdown tosses, and yards. His interceptions and number of passes thrown went up. He needs to reverse that trend by making faster and better decisions.
It will help this season that Ezekiel Elliot (242 ATT, 983 YDs, 4.1 YPA, 7 TDs) will not be serving a suspension, as he did last season. Elliot missed six games, and that certainly hurt the Cowboys, In assessing the offense for 2018 Dallas Cowboys NFL betting preview, we did find, however, that with Elliot's return after serving his six-game suspension, Dallas was 6-4. They were 3-3 when he was out. Elliot is a powerful, bruising runner who can break it for a TD at any time. He is the offensive thrust on this team.
Receivers and Tight Ends
The Cowboys are going to use a spread formation to open things up more. The idea is this may work better for the passing game, especially for Prescott. Two very important pass catchers from last season are gone. First, wideout Dez Bryant (69 REC, 838 YDs, 12.1 YPC, 6 TDs) has moved on. He led the team is catches, yards, average yards, and TD receptions. At the same time, TE Jason Witten (63 REC, 560 YDs, 8.9 YPC, 5 TDs) retired. He was second on the team in catches and receiving touchdowns. Cole Beasley (36 REC, 314 YDs, 8.7 YPC, 4 TDs) and Terrance Williams (53 REC, 568 YDs, 10.7 YPC, 0 TDs) return. They're joined by Allen Hurns (Jacksonville) and Deonte Thompson (Buffalo), as well as rookies Michael Gallup and Cedrick Wilson.
Offensive Line
The O-line is young and strong. They added important draft picks this year, including Texas tackle Connor Williams, to what is one of the better fronts in the league. There's certainly depth, size, and talent. In 2017, they did a fine job opening up holes for the rush attack and protecting Prescott, giving up 32 sacks (10th NFL). Travis Frederick, a Pro-Bowl center, and All-Pro RG Zack Martin are ultra-dependable.
Defense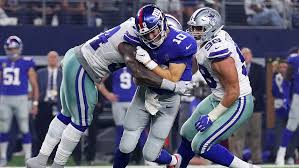 Working from the front to the back, the Cowboys start strong and deep and then getting weaker and thinner. Last season, they allowed 318.1 YPG (8th NFL) and 20.8 PPG (13th). Their stats were, for the most part, middle of the road, as they managed to make 10 INTs (T-24th NFL), garnered 38 sacks (T-15th NFL), and had a turnover differential of -1 (T-16th NFL).
Defensive Line
This is a solid group with some fine talent. DE DeMarcus Lawrence (14.5 SCKs) is the anchor of this unit. DT David Irving (7 SCKs) and DE Tyrone Crawford (4 SCKs) also performed well last season. Irving's seven sacks were in just eight games. DE Kony Ealy, a free agent, comes to Dallas from the Jets, while draft pick Dorance Armstrong could be a difference-maker.
Linebackers
Our 2018 Dallas Cowboys NFL betting preview sees that first-round pick Leighton Vander Esch could be the fix for this team at MLB. With that happening, the SLB spot may be filled by Jaylon Smith (99 TKLs) or Damien Wilson. Smith, who has had to deal with knee injuries, needs to have a solid season. Sean Lee (118 TKLs), who has missed 41 games over the past eight seasons, is designated for the weak side. He did lead the Cowboys in tackles last season.
Secondary
Chidobe Awuzie and Jourdan Lewis started at the corner spots as rookies last season, and, for the most part, performed well. Byron Jones moves from safety to CB to offer support. Xavier Woods plays free safety again and Jeff Heath (3 INTs), who led the team in interceptions, is in the strong spot. Secondary coordinator Kris Richard, who's been in the league for nine years, joins Dallas to try to get this unit in shape.
Special Teams
Tavon Austin (L.A. Rams) gives the Cowboys a TD threat on run backs. Last season, was a rough one for PK Dan Bailey, as he battled a groin injury. Normally reliable, he missed four games, and when he did come back, he hit just 75% of his FG and missed two extra points. We expect him to be on target this season. On the other hand, punter Chris Jones had a fine 2017. He allowed only 75 yards total in runbacks. Jones also placed 51.5% of his punts within the 20. Both stats led the league.
Coaching
This could be a make-or-break season for coach Jason Garrett (67-53). He starts his ninth season, and after a series of alternating promising and disappointing seasons, he's expected to get this deep to the Super Bowl very soon. Garrett, who has been coaching the team for seven full seasons, has gotten them to just two playoff appearances and earned only one win. Eight new coaches were brought in, although the offensive and defensive coordinators are the same.
2018 Dallas Cowboys NFL Betting Preview: Final Word
The Cowboys play a tough NFL schedule that includes Jacksonville and Tennessee as well as Seattle. This is a team that's rebuilding, and they haven't done much to address a weakened receiving group as well as an underperforming secondary. Our 2018 Dallas Cowboys NFL betting preview sees this team as struggling to make it to .500.
2018 Dallas Cowboys NFL Betting Preview Projection: 8-8 Record, 2nd NFC East
Unit Ratings
Offense:
QB: 7.2, RB: 9.0, OL: 8.9, WR: 7.0, TE: 7.0
Defense
DL: 8.9, LB: 7.8, DB: 7.0
Special Teams
PK: 8.5, PT: 9.5, RT: 8.5
Other
Coaching: 7.0
Intangibles: Witten, a leader on and off the field, is gone. Will anyone take on that role?
Overall Rating = 8.0
Links