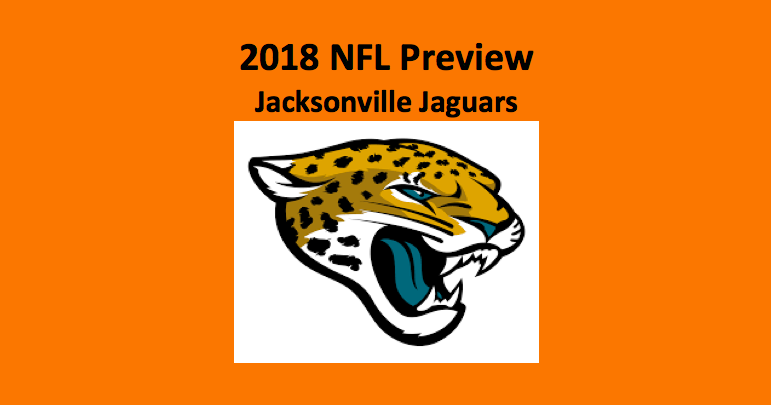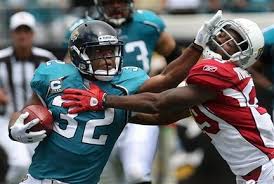 Our 2018 Jacksonville Jaguars NFL betting preview sees this team as being at the top of the AFC South. They have a lot going for them, including some major motivation to get back to the playoffs after losing to the Patriots in the second-half of the AFC Championship game. However, there are some big questions concerning this AFC South team, including the ability of QB Blake Bortles to play consistently and make big plays. If he cannot come through, consequently, this team will suffer.
Offense
The Jags led the NFL in rushing yards, as they averaged 141.4 per game. The team's 224.8 yards per game in the air ranked them 17th, while their overall yardage on offense, which totaled 365.9 per game, earned them a ranking of 6th in the league. Jacksonville was good for 26.1 PPG (5th NFL), and they allowed a total of 24 sacks (T-3rd NFL). A weak point for this offense was third-down conversions, as they finished tied for 20th at 37%.
Quarterbacks and Running Backs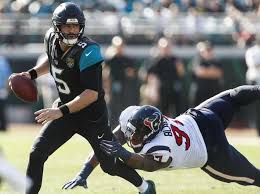 Our 2018 Jacksonville Jaguars NFL betting preview notes that QB Blake Bortles (523 ATT, 315 REC, 3687 YDs, 21 TDs, 13 INTs) improved his passer rating last season by six points. It was a huge help that Tom Coughlin surrounded him with much better talent. But Bortles still needs that breakthrough season that has eluded him for four years.
RB Leonard Fournette (268 ATT, 1040 YDs, 3.9 YPA, 9 TDs) had one heck of a rookie season last year. His stats were impressive especially considering he missed three games. Fournette is a gamer, and if he can stay healthy, the RB willl see over 300 carries in 2018. Supporting the ground game is FB Tommy Bohanon. Bohanon won't get the ball many times, but he's a skilled blocker who can clear out the opposition.
Receivers and Tight Ends
WR Marquise Lee (56 REC, 702 YDs, 12.5 YPA, 3 TDs) returns as the team's leading pass catcher. In developing our 2018 Jacksonville Jaguars NFL betting preview, we feel that the addition of former Colt Donte Moncrief can be a major benefit to this unit. Moncrief, who's missed 11 games in the last two years, has to stay healthy. If he does, he could be a major contributor. Former Jet TE Austin Seferian-Jenkins will start. He's a solid pass catcher.
Offensive Line
This O-line is very good. As of last season, the Jags finally assembled a formidable group, and it got better this year. Center Brandon Linder struggled last season. But he does have the stuff it takes to be a top lineman. Jacksonville paid guard Andrew Norwell as lot of cash to come over from Carolina. He's an amazing player, but he also has to come through and prove he's worth the $10 million guarantee he was given. Guard A.J. Cann started 15 games in 2017 and was solid. Can he get to a new level this season? Tackles Cam Robinson and Jeremy Parnell can get the job done. If one of them can't, perhaps rookie Will Richardson will.
Defense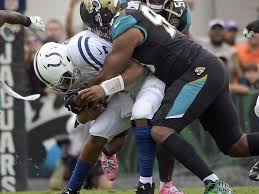 There's no arguing that the Jaguars were impressive on defense last season. They were second in points allowed (16.8), interceptions (21), and sacks (55). Jacksonville tied for fifth in turnover differential (+10). Their passing defense was ranked first in the NFL as they allowed 169.9 YPG. However, their ground D came in at 116.2 YPG (21st NFL). Their overall defense was second in the league. The Jags allowed on average 286.1 YPG.
Defensive Line
This line is sturdy. Our 2018 Jacksonville Jaguars NFL betting preview notes that they can pass rush like just about no other group. In 2017, DEs Calais Campbell and Yannick Ngakoue and tackle Malik Jackson were good for 14.5, 12, and eight sacks respectively. Campbell is an amazingly resilient player and fine leader. Ngakoue is one of the best pass rushers in the NFL. Jackson can bring it every game. NT Abry Jones has developed into a solid player.
Linebackers
MLB Blair Brown had 15 starts last season and proved his mettle. OLB Myles Jack (90 TKLs) started to come into his own in his second season, while Telvin Smith, also an OLB, led the Jaguars with 102 tackles last season. This is a sound unit. However, our 2018 Jacksonville Jaguars NFL betting preview observes that of the three groups on this side of the ball, they do have the longest way to go. Why is that? The retirement of Pro Bowler Paul Posluszny. He was a fearsome LB.
Secondary
This is the best secondary in the NFL. All four starters are back from last season. They combined for 18 of the team's 21 picks. CB A.J. Bouye grabbed six interceptions, while his compatriot, corner Jalen Ramsey, was good for four. Safety Barry Church notched four picks while placing third on the team in tackles with 72. Finally, safety Tashuan Gipson was good for four more INTs. Nickel corner Aaron Colvin became a free agent and is gone. D.J. Hayden will attempt to replace him.
Special Teams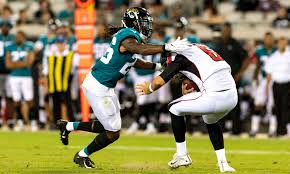 PK Josh Lambo got a chance last season when Jason Meyers was struggling. Lambo nailed 23-of-24 field goal attempts and won the kicking job. Rookie punter Logan Cooke of Mississippi State will be given a starting opportunity. The special teams core has been reconstituted, as the Jags utilized the offseason to create a mix of new players.
Coaching
Head coach Doug Marrone (13-8 Overall, 2-1 Postseason) starts his second full season at the helm. After replacing Gus Bradley, he became known for his tough, no-nonsense attitude in training camp. It certainly paid off. The Jags not only took the division, but they made it to the AFC Championship game where they lost to the Patriots 24-20. He likes to play an aggressive rushing game and establish frontlines that will punish the opposition. Marrone works well with guru Coughlin, who both hold the same coaching philosophy as well as the same attitude about discipline and respect.
2018 Jacksonville Jaguars NFL Betting Preview: Final Word
Our 2018 Jacksonville Jaguars NFL betting preview envisions this team taking the AFC South once again. With a stellar defense and an offense that can exploit its strengths, the Jaguars will be hard to stop. If Bortles can step up, Jacksonville will be unstoppable.
2018 Jacksonville Jaguars NFL Betting Preview Projection: 9-7 Record, 1st AFC South
Unit Ratings
Offense:
QB: 7.2, RB: 8.2, OL: 8.8, WR: 8.2, TE: 7.5
Defense
DL: 9.5, LB:8.5, DB: 9.7
Special Teams
PK: 8.9, PT: 8.0, RT: 7.5
Other
Coaching: 8.0
Intangibles: There's new interest amongst fans for this team and more support could give them a home field advantage.
Overall Rating = 8.5
Links