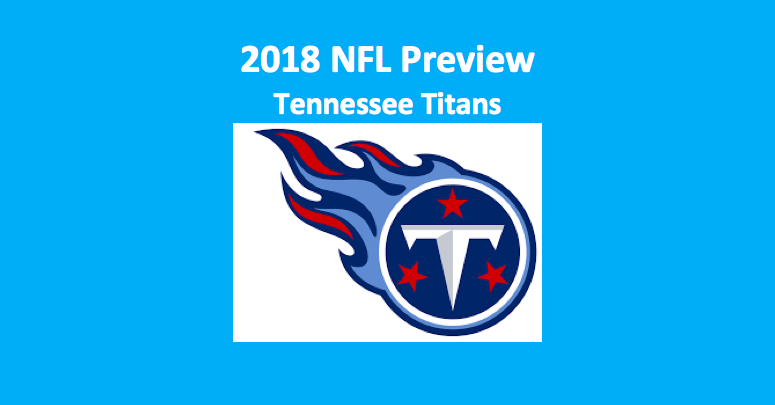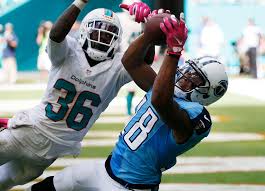 There have been a lot of lean years for the Tennessee Titans (9-7). But in 2016, the team managed to win more games than they lost, going 9-7. And in 2017, as they recreated the same record, the AFC South Titans made the playoffs as a wild card. Our 2018 Tennessee Titans NFL betting preview finds that this team has a good shot at making it back to the postseason again. Last year in the playoffs, Tennessee won their wild card game, beating Kansas City 22-21. They then met New England and were beaten 35-14. The goal for this team is not only to be in the playoffs, but to be also in the Super Bowl.
Offense
In 2017, the Titan offensive stats were less than spectacular. They tied for 18th in the league in points (20.9 PPG), and tied for 13th in sacks allowed (35), and tied for 24th in third-down conversion rate (34%). They averaged a total of 314.0 YPG (23rd NFL), 199.4 YPG on the ground (23rd NFL), and 114.6 YPG rushing (15th). The offense was subpar to mediocre.
Quarterbacks and Running Backs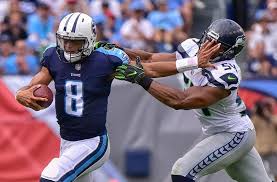 QB Marcus Mariota (453 ATT, 281 COMP, 3232 YDs, 13 TDs, 15 INTs) did not have a good 2017. Coming off of surgery to repair a broken fibula, he missed offseason workouts and then dealt with a nagging hamstring issue throughout the season. But despite his performance, this team got into the postseason. In developing this 2018 Tennessee Titans NFL betting preview, we see that Mariota should be ready to go. And that means this could be a make-or-break year for the fourth-year NFL QB. The good news is new coach Mike Vrable and his handpicked staff have built the offense around Mariota.
Tennessee had seen RB DeMarco Murray as their primary weapon when it came to the ground game. But Murray underperformed, rushing for just 659 yards last season while carrying the ball 184 times. Often injured and becoming less effective, he was let go. That means that Derrick Henry (176 ATT, 744 YDs, 4.2 YPC, 5 TDs), who enters his third NFL season, is the number one ball carrier. Dion Lewis has been added to the unit as the change of pace rusher. Expect to see him quite a bit. Last season, Lewis, who was a free agent grab from the Pats, averaged 5.0 YPA and ran for 896 yards and six TDs.
Receivers and Tight Ends
There are a lot of wide receivers on this team, and it is safe to say that none are spectacular. That means an overall group effort featuring numerous wideouts. That approach may end up being productive. Rishard Matthews (53 REC, 795 YDs, 15.0 YPC, 4 TDs) has been Mariota's most reliable receiver, He is the anchor of this group. Tennessee is hoping that WR Corey Davis, who was hampered by injuries in his rookie year, can have a more productive second NFL season. He was the fifth overall pick in the 2017 draft. The Titans post two tight ends that can catch footballs. The old man in this duo is 12-year vet Delanie Walker (74 REC, 807 YDs, 10.9 YPC, 3 TDs). Walker is still resilient and apparently ageless. The other is second-year man Jonnu Smith. With the new offense, Smith may be used less this season.
Offensive Line
The blocking scheme has been changed. The Titans go to a zone configuration. Our 2018 Tennessee Titans NFL betting preview notes that the O-line, which performed well in 2016, took a step back last season. The anchor of this group is left tackle Taylor Lewan. Now in his fifth season, he's one of the best in the league. Veteran center Ben Jones saw his game diminished last year, but it's thought that the new scheme may be helpful. The rest of the group could be comprised of any number of guys. This is due to injuries and increased competition for the spots.
Defense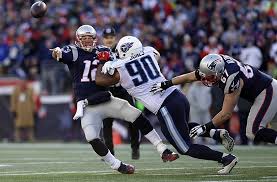 The defense was ranked fourth versus the rush, as they gave up just 88.8 YPG. But opposing teams made up for those yards through the air, as the Titans allowed 199.4 YPG (25th). That earned them a ranking of 13th for total yards allowed (328.0). Although the D was 17th on points allowed, as teams averaged 22.2 PPG against them, they tied for fifth in sacks (43). Finally, Tennessee tied for 18th in picks with 12 and tied for 23rd in turnover differential at -4.
Defensive Line
The D-line welcomes NT Bennie Logan from the KC Chiefs. He looks to be an upgrade. Tackle Jurrell Casey (6 SCKs) is the glue of this unit. His continued leadership and experience are invaluable. DaQuan Jones was having a fine 2017 until he was injured. If he can pick up where he left off, this will be a solid frontline. Our 2018 Tennessee Titans NFL betting preview finds that there are depth issues with this unit.
Linebackers</h3
The LB group includes the team's two top sackers from last season. OLBs Derrick Morgan (7.5 SCKs) and Brian Orakpo (7 SCKs) are both quality players and vets. Our 2018 Tennessee Titans NFL betting preview sees rookie Rashaan Evans as having the potential to be a major force on this team. Expect him to start at ILB. Wesley Woodyward, who starts his 11th pro season, defied his age and led the club in tackles with 172 tackles.
Secondary
The D-backs are the best unit on this side of the ball. Last season, safety Kevin Byard excelled, as he grabbed eight interceptions. He also nailed 87 tackles. Byard proved to be one of the best defensive playmakers in the NFL. He's back for his third season. In 2017, Jonathan Cyprien came to the Titans from the Jags and was a good addition until injuries sidelined him. The Tennessee secondary got a lot better when they signed former Patriot CB Malcolm Butler. Butler, who fell out of favor with New England coach Bill Belichick, is a huge pickup for this team. He's fast, tenacious, and smart. The other corner will be Adoree' Jackson. Jackson, who was a first-round pick in 2017, played well in his first season. He showed improvement throughout. It's hoped he'll continue to grow.
Special Teams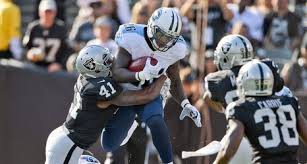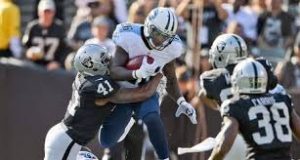 The coverage teams both did fine work last season. Our 2018 Tennessee Titans NFL betting preview projects that rookie Adoree' Jackson could be the primary return man. His speed and moves make him a breakaway threat. The placekicking and punting areas are in great shape. Punter Brett Kern was a Pro Bowler last season. PK Ryan Sucoop set a new NFL record in 2017 by making 56 consecutive field goals from within the 50. Veteran LS Beau Brinkley is ultra-reliable.
Coaching
Okay, our 2018 Tennessee Titans NFL betting preview has to get this straight. In 2017, your team has one of its best seasons, it's your second straight winning-season, and you finally get to the playoffs, and you not only have a change in head coaches, but your new HC has no experience as a HC. That's where the Titans are at. New head coach Mike Vrabel learned his football under the tutelage of Bill Cowher and Bill Belichick. Vrabel is seen as having the potential to be a star in the coaching ranks. Expect growing pains. Matt LaFleur, a 10-year coaching vet, joins the team as O-C, while the D-C is 15-year veteran coach Dean Pees.
2018 Tennessee Titans NFL Betting Preview: Final Word
There are some real instability issues here with a new coaching staff, different schemes, and questions concerning Mariota. Our 2018 Tennessee Titans NFL betting preview finds that the Titan schedule is fairly hefty when it comes to non-division play. We think this team will take a few steps back before they can make any sustained progress.
2018 Tennessee Titans NFL Betting Preview Projection: 8-8 Record, 3rd AFC South
Unit Ratings
Offense:
QB: 7.0, RB: 8.4, OL: 8.4, WR: 6.5, TE: 8.0
Defense
DL: 8.6, LB: 6.8, DB: 8.8
Special Teams
PK: 9.0, PT: 9.2, RT: 8.4
Other
Coaching: 7.0
Intangibles: Almost everyone on the coaching staff has been replaced; what effect will that have?
Overall Rating = 7.9
Links