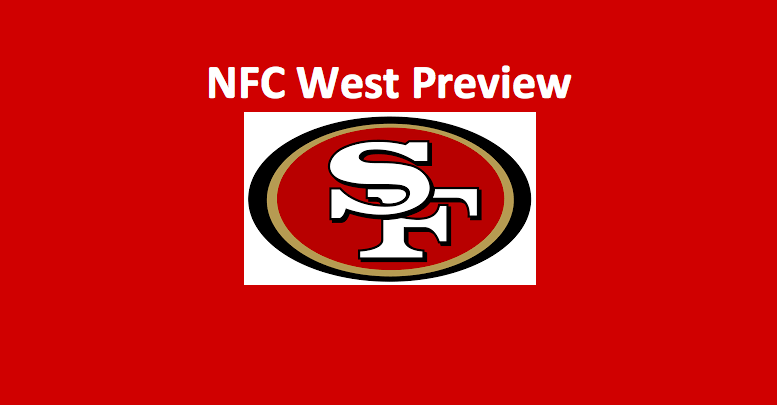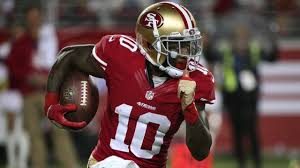 Our NFC West San Francisco 49ers Preview 2019 envisions the Niners moving forward slowly. This San Francisco 49ers Preview 2019 projects this team to once again post a losing record. In 2014, the 49ers went 8-8. Over a five-year span, that's their best mark. Head coach Kyle Shanahan (10-22 San Francisco & Overall) starts his third season at the helm. His first season, which was 2017, the team won six games, which was four more than they won the year prior. DC Robert Saleh, a 15-year coaching vet, also starts his third season with this team. Last season was fairly dismal for the defense, while Shanahan's offense did better than expected considering the fact that starting QB Jimmy Garoppolo missed most of the season due to a torn ACL. There's promise in tjis team, but it will take some time to develop.
San Francisco 49ers Preview 2019 – Team
Our San Francisco 49ers Preview 2019 notes that last season, three of the team's wins were non-divisional. That means the 49ers won just one NFC West contest. That one win occurred on December 16 in a 26-23 OT victory against Seattle. Last season, QBs Nick Mullens and C.J. Beathard combined for 21 TD passes and 17 INTs. Garoppolo should certainly do better than the two who filled in for him. But how much can he squeeze out of this offense. On the other side of the ball, the defense is better than one might expect. However a weak secondary could be their undoing.
San Francisco – Offense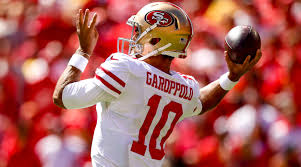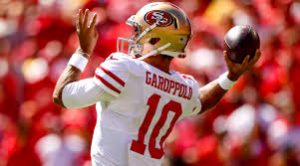 The 16th-ranked overall offense (360.6 YPG) averaged 21.4 PPG (21st). They averaged 241.7 passing yards per game (15th) and 118.9 rushing yards per game (13th). They were good on 38% of their third-down attempts (18th) and allowed 48 sacks (24th). The offense was pretty unremarkable.
If Garoppolo is healthy, and it looks like he is, this offense should thrive. His primary targets will be TE George Kittle (88 REC, 13777 YDs, 15.6 AVG, 5 TDs) and second-year player Dante Pettis (27 REC, 467 YDs, 17.3 AVG, 5 TDs). Rookie Samuel Deebo, from Clemson, should see action. WRs Marquise Goodwin and Trent Taylor both attempt to come back from injuries. RB Tevin Coleman (167 ATT, 800 YDs, 4.8 AVG, 4 TDs) comes to the Niners from the Falcons and gets the starting nod. The O-line is solid and includes reliable and tough vet Joe Staley.
49ers – Defense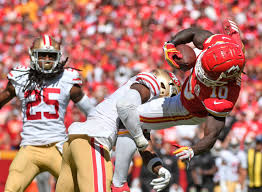 Ranked 13th in total yards allowed with 346.6 per game, the 49er D gave up 27.2 PPG. That gave them a differential of -5.8 PF/PA. Our San Francisco 49ers Preview 2019 observes that the Niners made just two picks (32nd) and posted a turnover differential of -25 (32nd). Total yards allowed came in at 246.6 PG (13th) with 233.2 being given up to the passing game (11th) and 113.4 YPG to the rush (14th). The D tied for 22nd in sacks with 37.
The defensive line is the best part of this side of the ball. Included is Pro Bowler DeForost Buckner (67 TKLs, 12 SCKs), a major force on the field. DE Dee Ford (136 TKLs, 13 SCKs, 7 FF) should greatly improve this unit. He spent his first five seasons with the Chiefs. The LB unit is led by Fred Warner (123 TKLs). Last season in his rookie year, he led the team in tackles. MLB Kwon Alexander comes to the Niners from the Bucs. He's a solid addition. Physical corner Richard Sherman starts his second season with SF. If healthy former Chargers corner Jason Verette plays the other corner. Jimmie Ward takes over safety, but has to stay healthy for a change. At the other safety spot, Jaquiski Tartt faces the same challenge.
Special Teams
PK Robbie Gould (27-29 XP, 33-34 FG) was, once again, near perfect, while Australian punter Mitch Wishnowsky was the first leg-man chosen in this year's draft. Richie James brings back punts and kicks while Dante Pettis has also been selected to track punts.
San Francisco 49ers Preview 2019 – Prediction
Our San Francisco 49ers Preview 2019 notes that in the first four weeks this team must play Dallas, Kansas City, and the LA Chargers. Plus, the Niners must face Pittsburgh, Carolina, Green Bay and New Orleans. It's a tough road to a winning record, especially with having to play the Rams and Seahawks twice. Honestly, in 2019, 8-8 would be overachieving for this team. Still, third place is better than fourth.
Our Ratings
Quarterbacks – 7.7
Running Backs – 7.7
Receivers – 6.9
Offensive Linemen – 7.0
Defensive Linemen – 8.4
Linebackers – 7.1
Secondary – 6.0
Special Teams – 6.5
Coaching – 7.2
NFC West San Francisco 49ers Preview 2019 – Projection
San Francisco 49ers Third in NFC West
LINKS