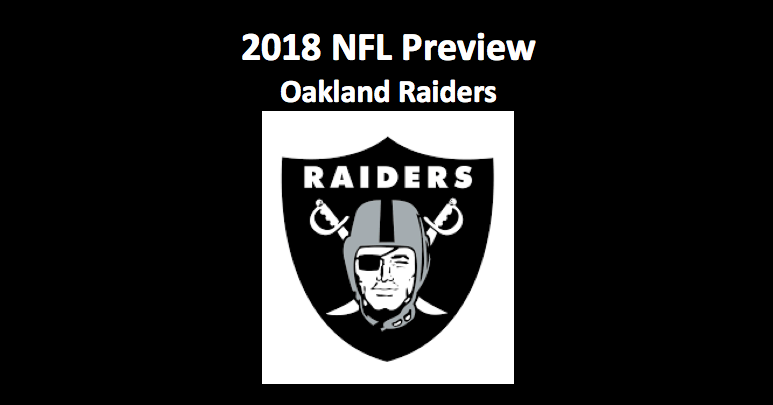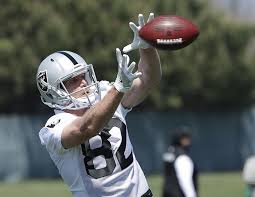 Prior to creating our 2018 Oakland Raiders NFL betting preview, we were as shocked as anyone when Raiders owner Mark Davis convinced Jon Gruden to leave Monday Night Football and return to the coaching ranks. Gruden, who coached in the NFL for a dozen years, had a league record of 100-85 and a postseason mark of 5-4. He spent four seasons at the helm for the AFC West Raiders and was 40-28 overall and 2-2 in the playoffs. When Gruden came in this year, all but two people on the coaching staff changed, new procedures and schemes were put into place, and various players were let go. It's a new Raiders team.
Offense
The Oakland offense was solid in one area, protecting the QB. They tied for third in that category, as the Raiders allowed just 24 sacks. Their passing game was average, as Oakland was good for just 226.9 YPG (16th NFL), while their rush attack was subpar. The team averaged 97.1 YPG on the ground. Overall, they were tied for 17th in total offense, as they accumulated 324.1 YPG. Their 40% conversion rate gained them 11th in the league, while their 18.8 PPG earned them a ranking of 23rd.
Quarterbacks and Running Backs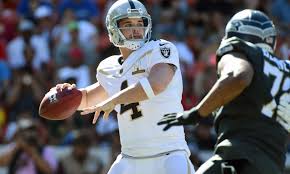 QB Derek Carr (515 ATT, 323 COMP, 3498 YDs, 22 TDs, 13 INTs) had an off season in 2017. Many think it was due to a back injury that had not completely healed. Carr needs to find his 2016 form, which drove the team. If he does, this team will be tough to stop, especially when using the air attack. Look for Carr to be empowered to audible and make good use of advantageous matchups that he sees just prior to the snap.
Last year, RB Marshawn Lynch (207 ATT, 891 YDs, 4.3 YPA, 7 TDs) proved that he still has the power and drive needed to make his mark. Lynch, who had a productive season, came on strong in the second half. DeAndre Washington, who had a fine rookie year in 2016, saw his productivity drop in2017, as he went from 5.4 YPC to 2.7 YPC. If he can get back to his old form, that will be a big boost. Third-year back Jalen Richard could be a solid third rusher who changes things up for the offense. Our 2018 Oakland Raiders NFL betting preview sees a lot of potential in the ground attack this season.
Receivers and Tight Ends
Out goes Oakland leading receiver Michael Crabtree and in comes 10-year vet Jordy Nelson. Nelson is a big playmaker and an explosive receiver. Also new to the pass-catching ranks is the talented and speedy Martavis Bryant. Bryant, who came over to Oakland in a draft-day trade with the Steelers, could add a great dynamic to this group. That is, if he can stay out of trouble. Amari Cooper (48 REC, 680 YDs, 14.2 YPC, 7 TDs) returns as does TE Jared Cook (54 REC, 688 YDs, 12.7 YPC, 2 TDs). Cooper has huge potential if he can stay healthy and hold onto the ball. Cook has a lot more potential that he has yet to fulfill.
Offensive Line
In developing our 2018 Oakland Raiders NFL betting preview, we discovered that this team's O-line is one of the better ones in the game. Center Rodney Hudson, a seven-year veteran, is as solid as a font-line player gets. Dependable at center, he possesses top-notch downfield blocking ability. Other essential parts of this line are tackle Kelechi Osemele, who comes to this team from the Ravens, and guard Gabe Jackson.
Defense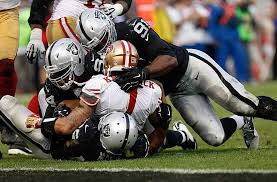 The defense gave up on average 23.3 PPG (20th NFL), while allowing 350.1 YPG (23rd NFL) in total yards and 241.1 YPG (26th NFL) in passing yards. The team was ranked 12th when it came to rushing yards, as they gave up 108.9 YPG. Their pass coverage was dismal. The Raiders took in just five picks (32nd NFL). They did a bit better on sacks. They tied for 24th while bringing down QBs 31 times. The team's turnover differential stood at a weak -14 (T-29th NFL).
Defensive Line
The D-line features the edge rushing of Khalil Mack (87 TKLs, 10.5 SCKs). He's a massive tackle machine of both QBs and RBs. But Mack, who is one of the best linemen in the league, can't do it all himself. Tackle Justin Ellis returns as a run stopper. Rookie tackle P.J. Halls shows solid QB harassment potential, while Mario Edwards Jr. take the other end. This group still needs an upgrade on the line.
Linebackers
The LB group includes Bruce Irwin (8 SCKs) on the outside. He started all 16 games last season and was solid. Our 2018 Oakland Raiders NFL betting preview notes that MLB Derrick Johnson, who comes over from the Chiefs, notched 73 tackles with KC. That was the second-highest number on that team. This year, he starts his 14th NFL season. OLB Tahir Whitehead, who led the Lions last season with 118 tackles, should help improve this unit. Second-year LB Nicholas Morrow, who plays the outside role, was exceptionally effective in his rookie season.
Secondary
The deep backs really need to kick it up a few notches. The corners have been a real concern. Rashaan Melvin, who comes from the Colts as a FA, should be a help. He led the Colts with three picks, which is more than half of this team's total number of INTs last season. The other corner will be handled by Gareon Conley. If he can stay healthy, he should be effective. Safety Karl Joseph may be fast enough to cover TEs, but the fact that he's undersized is an issue. Seven-year, veteran safety Marcus Gilchrist offers leadership and stability.
Special Teams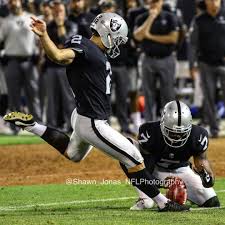 Punter Marquette King, who was third in the NFL in yardage, was released in May and replaced by rookie draft pick Johnny Townsend of Florida. Also gone is PK Sebastian Janikowski and LS Jon Condo. There's competition for Janikowski's job while Andrew DePaola takes over for Condo. Slot receiver Ryan Switzer comes from Dallas to handle returns.
Coaching
It is Jon Gruden and company. When he came in, the new HC kept three coaches, O-C Greg Olsen, assistant receiving coach Nick Holz, and D-Assistant Travis Smith. Gruden is going this his way all the way. That includes calling the offensive plays, allowing Carr to adjust and change plays when under center, and focusing on passing while establishing a rush attack that utilizes the blocking of FBs and the full O-line.
2018 Oakland Raiders NFL Betting Preview: Final Word
We're looking at a team that will most likely see some growing pains. They must also deal with Chiefs and Chargers teams that have the potential to put massive offensive attacks on the field. Our 2018 Oakland Raiders NFL betting preview notes that unless the Oakland D steps up, especially the D-backs, this will be a frustrating season.
2018 Oakland Raiders NFL Betting Preview Projection: 6-10 Record, 4th AFC West
Unit Ratings
Offense:
QB: 7.8, RB: 8.2, OL: 8.5, WR: 7.8, TE: 7.5
Defense
DL: 6.5, LB: 6.0, DB: 7.3
Special Teams
PK: 6.5, PT: 6.5, RT: 6.5
Other
Coaching: 8.2
Intangibles: Gruden changes everything up, which means this team can go either way.
Overall Rating = 7.2
Links