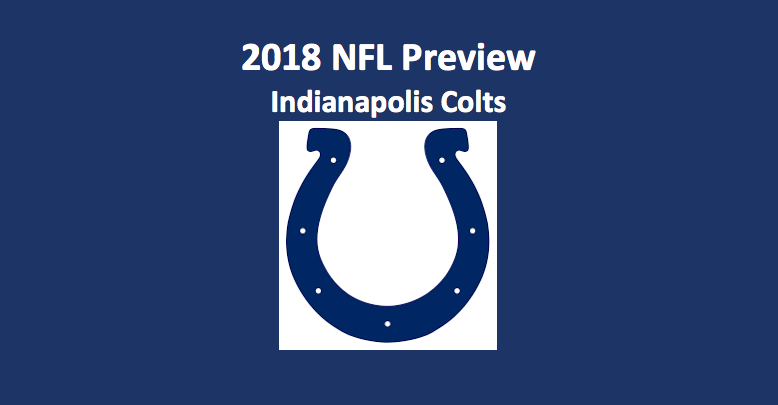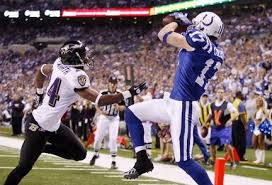 In 2013 and 2014, the Colts won the AFC South. But the last three years this team has struggled, winning eight games in both 2015 and 2016 and going 4-12 last season. Of course, last year's four-win season was played without QB Andrew Luck. Even if Luck is back and healthy, our 2018 Indianapolis Colts NFL betting preview has a hard time seeing this team breaking .500. There are too many holes for Indy to fill, concerns regarding Luck's health, and a whole lot of divisional competition.
Offense
In discussing the offense last season, you almost feel like saying "what offense?" The team tied for 18th in third-down conversions, as they managed to get a first down 38% of the time. That 18th ranking is their best placement for any of the primary offensive stats. The Colts were 30th in scoring (16.4 PPG), 30th in passing yards (180.8 YPG), and 31st in total offensive yards (284.6 YPG). Their rush attack was ranked 22nd, as they averaged 103.8 YPG on the ground. Indy allowed an alarming 56 sacks. That earned them 32nd place in the NFL.
Quarterbacks and Running Backs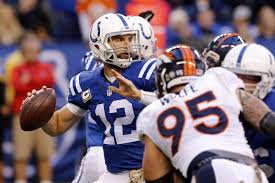 Our 2018 Indianapolis Colts NFL betting preview sees issues at quarterback. Andrew Luck will start. In 2014, he tossed 40 TDs and accumulated 0ver 4,700 passing yards. Luck was on his way to elite status. But then injuries sidelined him, including a nagging shoulder problem. That would put Jacoby Brissett (469 ATT, 276 COMP, 3098 YDs, 13 TDs, 7 INTs) back in the starting quarterback spot. Considering all he was up against last season, Brissett did relatively well. But, he's no Luck.
RB Frank Gore left as a free agent, which means the Colts will place his backup, Marlon Mack, in the first spot. Last season, Mack averaged 3.8 YPA and scored three TDs on 93 carries. He gained 358 yards. Mack is a strong, powerful runner who has explosive speed. He can break it for big gains but is also rugged enough for short-yardage situations. There's a long list of guys who might settle into the second spot. Two rookies, Jordan Wilson and Nyheim Hines, may get some rushes in.
Receivers and Tight Ends
The receiving squad is looking pretty good. T.Y. Hilton (57 REC, 966 YDs, 16.9 YPC, 4 TDs) is back for his seventh season. He reliable and consistent. TE Jack Doyle (80 REC, 690 YDs, 8.6 YPC, 4 TDs), who grew up in the area, has become one of the best young guys playing that position. Donte Moncreif and Gore are both gone. WR Ryan Grant comes to the Colts from the Skins and TE Eric Ebron comes over from the Lions. Grant made 45 catches last season, as he accumulated 573 yards. The wideout averaged 12.7 YPC while scoring four TDs. Ebron had 54 receptions last season, and averaged 10.8 YPC while scoring four times. Overall, this is a sound unit of pass catchers.
Offensive Line
Indy has attempted to upgrade the line, and we see that they may be able to start three former round-one picks. Center Ryan Kelly, who the Colts picked first in 2016, should start. He dealt injuries and concussion issues last season. Left tackle Anthony Castonzo, who starts his eighth NFL season, and former Notre Dame guard Quenton Nelson, who was rated the best lineman in this year's draft, could get the nod. Right guard will likely be manned by rookie and second-round pick Braden Smith. Joe Haeg, who's in his third pro season, will also be starting on the line. Our 2018 Indianapolis Colts NFL betting preview finds that he's versatile enough to play any position.
Defense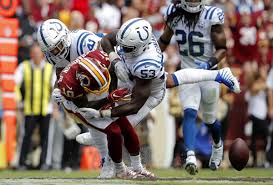 Last season, the Indianapolis defense was not much better than their offense. Their top two rankings were 12th for turnover differential (+5) and tied for 15th in INTs (13). The defense was 30th in points allowed (25.2 PPG), 30th in total yards allowed (367.1 YPG) and 31st in sacks (25). They allowed 120.4 YPG on the ground, earning a ranking of 26th, and 246.6 YPG in the air, which ranked them 28th. Our 2018 Indianapolis Colts NFL betting preview finds that this side of the ball still has numerous issues.
Defensive Line
The Colts will use a new 4-3 scheme and that means that second-year lineman Jabaal Sheard (5.5 SCKs) will move from LB to DE. Henry Anderson, if healthy, could play the other end. But we expect that newly arrived Denico Autry, who comes from the Raiders, will get the start. He's an accomplished four-year vet. Al Woods, who played NT last season, will become a tackle, and Hassan Ridgeway, who proved to be an asset last season, gets the start at the other tackle position. There's some decent depth amongst this group.
Linebackers
Our 2018 Indianapolis Colts NFL betting preview rates the LBs as the weakest unit on this team. This group has struggled the last two seasons and are in the midst of being revamped. SLB John Simon (42 TKLs, 3 SCKs), who is in his sixth NFL season, played well in his first year with the Colts. Najee Goode, who comes from the Eagles, may be at MLB or he could spend most of his time as a sub. Antonio Morrison (108 TKLs) played that position last season. Despite the fact that he led the team in tackles, he was often overmatched. There are three rookies available. This group may come together in some sort of mix-and-match combo.
Secondary
Rookie safety Malik Hooker (3 INTs) had a fine start last season, but then a knee injury took him off the field. He is a solid, smart, and quick defender. Clayton Geathers, who missed most of 2017 with a neck issue, should be at the other safety spot. The Colts lost both of their starting corners from last year. That means Rashaan Melvin, free agent now with Oakland, and Vontae Davis, who was released partway through the 2017 season, will have to be replaced. Pierre Desir, now in his third season, and Quincy Wilson, a second-year player, will start at the corners. Neither has been stellar, but both have shown promise.
Special Teams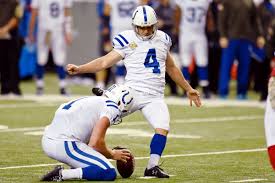 The Indy special teams, according to our 2018 Indianapolis Colts NFL betting preview, are better than average. Old Man River, PK Adam Vinatieri, is in his 23rd NFL season. He's lost a bit of his power, but Vinatieri still hit five-of-six last season from 50-plus. As a rookie last year, Rigoberto Sanchez averaged 42.6 yards per punt. That ranked him fourth in the league. He's also the field goal holder and kickoff specialist. Mack may be used on runbacks. WR Chester Rodgers could take punts and kicks. LS Luke Rhodes, who was very consistent in his first season, starts his second year after winning the job in camp last year.
Coaching
Frank Reich, who's spent the last few years as an O-C and QB coach with Philly and the Chargers, comes back to the Colts where he served under Tony Dungy and Jim Caldwell. Reich tends to be liked by his players and is a solid leader. You won't get a lot of bombast from him. Reich motivates quietly. He's replaced just about everyone on the coaching staff, as 17-of-20 assistants or coordinators are in their initial year at Indianapolis.
2018 Indianapolis Colts NFL Betting Preview: Final Word
Our 2018 Indianapolis Colts NFL betting preview finds that this will be a year of numerous adjustments for the Colts. Luck is a concern, mainly due to his former health issues. With a new, first-time coach, lots of adjustments, and quite a bit of inexperience, we don't see this Colts team as being competitive. They need at least one solid year to grow and gel.
2018 Indianapolis Colts NFL Betting Preview Projection: 5-11 Record, 4th AFC South
Unit Ratings
Offense:
QB: 7.5, RB: 7.0, OL: 7.5, WR: 8.2, TE: 8.2
Defense
DL: 7.3, LB: 6.3, DB: 7.0
Special Teams
PK: 8.8, PT: 9.2, RT: 8.0
Other
Coaching: 7.0
Intangibles: New coaches and systems, expect confusion in this rebuilding effort.
Overall Rating = 7.2
Links