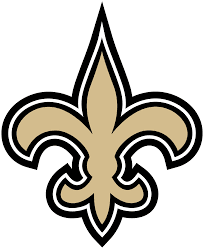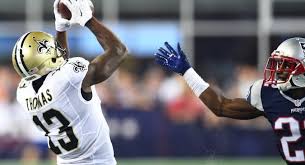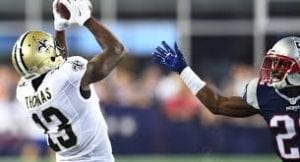 Last season the New Orleans Saints (7-9) were first in the NFL in total offense (426.0 YPG), passing (317.1 YPG), and third down conversion percentage (49%). They were second in average points scored per game (29.3 PPG). That was the offense. Then there was the defense, which was 27th overall (375.4 YPG), 32nd versus the pass (273.8 YPG), and 31st in points allowed per game (28.4 PPG). Yes, our New Orleans Saints 2017 NFL preview cannot discount the pure power of and lightning-fast effectiveness of QB Drew Brees and his offense. But, at the same time, it's hard for any NFL team to end the season with a winning record when their point differential is in the negative. That means there were too many close games and too many one-sided blowouts, and that usually spells disaster for a team that is challenged on defense.
Offense: 8.5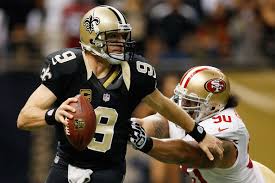 Last season, Brees threw for over 5,208 yards completing 471 of 673 passes while tossing 37 TDs and 15 picks. He was sacked 30 times. His favorite receiver was Michael Thomas who caught 92 passes, averaging 12.4 YPC and scoring nine touchdowns. His second-favorite receiver was Brandin Cooks, who has since signed with the New England Patriots. Cooks caught 78 passes, averaging 15.0 YPC and crossing the goal line eight times. With Cooks gone, Brees still has plenty of targets to throw to, but he still may miss the playmaker who had over 1,100 yards.
The New Orleans rushing game is average, which is fine when you have the top passing offense in the league. Mark Ingram was the main back, carrying the ball 205 times for 1.043 yards. He averaged 5.1 YPA and scored six TDs. Tim Hightower, who had 133 carries, averaged a very fine 4.1 YPA and made four scores. The line was good overall and New Orleans attempted to make it better by signing free-agent guard Larry Warford and taking big, hulking tackle Ryan Ramczyk (Wisconsin), as the second of their two first-round draft picks. He was this team's only offensive pick in the 2017 draft.
Defense: 6.5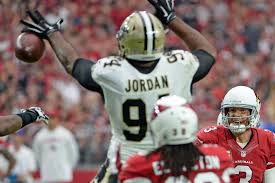 What was the best part of the Saints defense last year? The frontline and they look to be the best part of the D in 2017. DE Cameron Jordan, a two-time Pro Bowl pick, led the club in sacks with 7.5. Nick Fairly, at tackle, had 6.5 takedowns in his initial season with the team. They have some solid young tackles coming up and brought in former Arizona Cardinals end Alex Okafor who is a fine pass-rusher. The LB unit will be different from last season. A.J. Klein was so impressive last season as a fill-in at MLB that he earned the starting spot for 2017. On the outside, Dannell Ellerbe can, when healthy, put pressure on QBs and also offer solid coverage. Manti T'eo comes to the team from the Chargers and should contribute. Craig Robertson, who led the team with 115 tackles, will play the outside and Nate Stupar, who impressed last season, will see action.
The Saints turned to the draft to try to solve their huge problems in the secondary, taking corner Marshon Lattimore (Ohio State). He's got speed and size. New Orleans has a history of weak corners. In 50 NFL season only three Saint CBs have gone to the Pro Bowl. The last was Eric Allen in 1995. Corners Delvin Breaux and P.J. Williams were injured much of 2016. If they're healthy in 2017, that will help. Bell Von, who was second on the team in tackles with 87, started 14 games as a rookie safety last year. He should be improved with a full season of experience and safety Kenny Vaccaro, a hard hitter who had two picks, hopes to return healthy. 2017 third-round pick Marcus Williams (Utah) should be a valuable sub. The Saints had just nine picks (Tied-27th) last season.
Special Teams: 8.0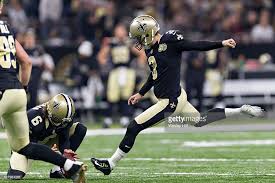 Punter Thomas Morstead returns after ranking fifth in the NFL with 48.3 YPP and 42.4 average net yards. In his rookie season, placekicker Wil Lutz had a tough time at first, but found the sweet spot in the end. He missed just one extra points, although early on his field goal kicking was questionable. The Saints have some good prospects when it comes to the return game. They were 31st on kick returns but sixth when bringing back punts. Free-agent Ted Ginn will compete with the re-signed Travaris Cadet as the primary return man.
Coaching and Management: 8.0
Head coach Sean Payton (100-70) is in his 11th season with the Saints. He's the one constant here, as a lot of the coaching staff was fired after the 2016 season. Those let go included Greg McMahon, Joe Vitt, and Bill Johnson. WR coach John Morton left for the Jets. The new team includes Bradford Banta (special teams), Mike Nolan (linebackers), and Ryan Nielsen (defensive line).
New Orleans Saints 2017 NFL Preview: Last Word
Our New Orleans Saints 2017 NFL preview sees this team as starting to improve on defense, but probably not enough to make a difference. With so many new coaches, young players, and guys returning from an injury-lost season, there's going to be a whole lot of reinventing going on and trial and error. Still, expect the New Orleans offense to put double-digit numbers on the board. Unfortunately, the defensive will also allow opponent offenses to do the same.
New Orleans Saints 2017 NFL Preview Prediction: 3rd NFC South; Record: 7-9
GO BACK TO: