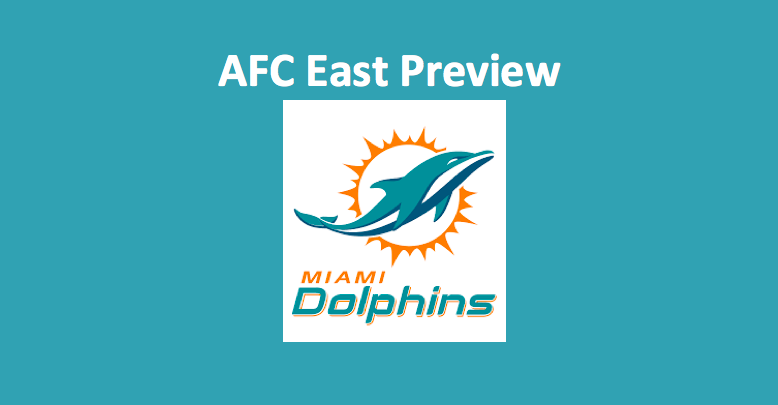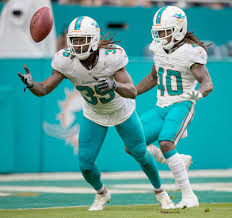 Our AFC East Miami Dolphins Preview 2019 notes that this team was last to the postseason in 2016. This Miami Dolphins Preview 2019 finds that for the third straight year this team will likely finish out of the playoffs. Brian Flores comes in to coach his first NFL team. This is definitely a transition year for the Dolphins, as they unloaded a large number of high priced veterans. Flores, who served as a DC for the Patriots, has brought in Jim Caldwell as his assistant. Flores, who's 38 years old and Caldwell, who's 64 and comes with 18 years of experience including seven as a head coach, could certainly be a dynamic team.
Miami Dolphins Preview 2019 – Team
In 2018, the Dolphins had a tough time on both sides of the ball. Flores has brought in two new coordinators, Chad O'Shea on offense and Patrick Graham on defense. Although O'Shea has 17 years of experience in the NFL and Graham 11 years, neither has ever before been a coordinator. Our Miami Dolphins Preview 2019 sees this as a proving year for players and coaches. Flores and company won't have to get this team to the playoffs, but they will need to show some results. In 2018, this team was in the bottom fifth of just about every offensive category and the same goes for many of the defensive areas.
Miami – Offense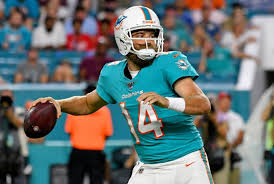 Miami, which was ranked 31st in total offensive yards (289.9 YPG), struggled to get the ball across the goal line. In points scored per game, the Fins were 26th, averaging 19.9 per game. They tied for 26th in sacks allowed (52) and ended up 31st in third-down conversions (30%). Finally, the Dolphins ranked 18th in rushing yards (108.6 PG) and 30th in passing yards (181.2 YPG).
Ryan Fitzpatrick replaces Ryan Tannehill at QB. Also, Arizona quarterback Josh Rosen joins the Fins. Fitzpatrick, who for the last two seasons backed up at Tampa Bay, played in six games last season and completed 66.7% of his passes. He tossed 17 TD passes and 12 interceptions. Wideout DeVante Parker (24 REC, 309 YDs, 12.9 AVG, 1 TD) played in just 11 games last season. He's missed 33 games in his four-year career. Jakeem Grant, who missed six games, made 21 catches while scoring twice. WR Albert Wilson, who missed three games, recorded 26 receptions, 391 yards, and four TDs. This group is thin. The running back situation in terms of experience is no better. In his first year, Kalen Ballage ran the ball just 36 times but averaged 5.3 YPA. He gets the start. The O-line has lost experience and may be worse than it was last season.
Dolphins – Defense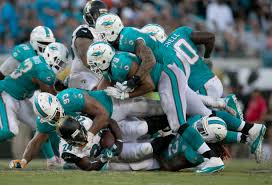 Our Miami Dolphins Preview 2019 observes that this team posted two fine defensive stats. They ranked second in interceptions with 21 and were 11th in turnover differential (+5). The Dolphins' other stats were dismal, as they ranked 31st in rushing defense, 21st in passing defense, and 29th in total defense. Their 31 sacks ranked 29th and the 27.1 PPG this defense allowed came in at 27th. The team's PF/PA differential -7.2.
Christian Wilkins (Clemson) joins the team. It's hoped the rookie DE will bolster the frontline. At the same time. The Fins jettisoned their top rushers, Cameron Wake and Robert Quinn. The LB unit sees Raekwon McMillan (105 TKLs). He'll be the glue of that group. Corner Xavien Howard (7 INTs), who led the team in picks, is Miami's top player on defense. FS Reshad Jones (3 INTs) is a solid defender.
Special Teams
The special teams are one of the better aspects of this team. In 2018, rookie placekicker Jason Sanders (35-36 XP, 18-20 FG) put up solid numbers. Punter Matt Haack averaged 44.6 YPP. In two seasons, he punted the ball 170 times and just one has been blocked. Long snapper John Denney made the team in 2005 as an undrafted free agent and has never missed a game. Our Miami Dolphins Preview 2019 observes that Jakeem Grant look good last season bringing back punts and kicks. Injuries took him out of the final six games of the season. But he's back and ready to go.
Miami Dolphins Preview 2019 – Prediction
With so much up in the air with this team, so many players having departed, and a new and relatively inexperienced group of coaches, we find that a third-place finish would mean progress for Miami. However, our Miami Dolphins Preview 2019 is setting the bar low for this team. We project it to finish last in the AFC East, as the Fins must play an tough schedule.
Our Ratings
Quarterbacks – 7.3
Running Backs – 6.3
Receivers – 7.7
Offensive Linemen – 5.9
Defensive Linemen – 6.0
Linebackers – 7.4
Secondary – 7.8
Special Teams – 7.1
Coaching – 5.8
AFC East Miami Dolphins Preview 2019 – Projection
Miami Dolphins Fourth in AFC East
LINKS