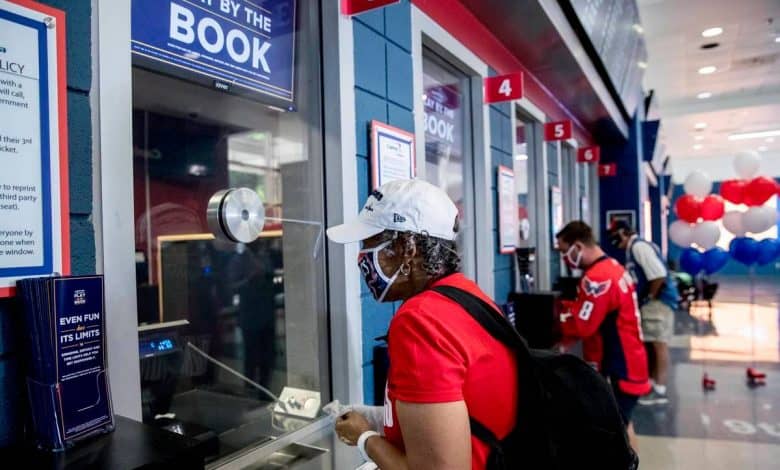 The sports betting industry in Washington D.C. has seen limited growth since it launched, but that could all be changing soon. William Hill recently held a ribbon-cutting ceremony for the opening of its sportsbook at Capital One Arena.
This is the first retail sportsbook of its kind in the United States, and it is open at the home of the Washington Wizards. William Hill has been working on the launch of this sportsbook for months, and it finally happened as the Wizards are in the NBA Playoffs.
The Washington Capitals also play their home games at Capital One Arena, but their 2021 season ended last week. There has been a temporary sportsbook operating at the arena for weeks, but the real sportsbook is now available.
This is not only a retail sportsbook at Capital One Arena, but it is an experience unlike any other in the United States. The sportsbook spans two floors and also includes an upscale dining and beverage experience.
William Hill has been acquired by Caesars Entertainment, and this sportsbook will eventually be rebranded "Caesars Sports." This won't change what takes place in the sportsbook, and there won't be a disruption of operations.
Even though the William Hill Sportsbook is inside Capital One Arena, it will be open even when the Wizards and Capitals are not playing at home. This sportsbook will be open year-round, and food and drink will also be available during operating hours.
Ted Leonsis owns the Wizards and Capitals, along with the Washington Mystics of the WNBA. He has a background in the technology industry, and he was a big proponent of allowing retail sports betting in professional stadiums.
Leonsis was quoted as saying, "This is the first step in the reinvention of the role arenas play in the community, in the city, and how we can get closer to our customers." He believes that the launching of this new sportsbook will help his teams attract a younger generation of sports fans as well.
Start of a New Trend
Professional sports teams throughout the United States will be looking at the launch of this sportsbook and will be paying close attention to how successful it is. There are already plans in place for similar retail sportsbooks at sports stadiums, and this is a trend that will continue in the coming years.
BetMGM has already announced plans to open up a retail sportsbook at National Park, giving D.C. bettors a second option. Construction is still taking place, and the company is also waiting for COVID-19 restrictions to be loosened.
Illinois has emerged as one of the top sports betting markets in the United States, and Wrigley Field in Chicago is also expected to have a retail sportsbook in place. DraftKings has partnered with the Cubs and could become a huge force in the IL market when this launches.
Arizona and Maryland are still looking to launch sports betting at some point in 2021, and professional teams helped to get the legislation approved. These teams were also promised that they could offer retail sports betting at their arenas and stadiums.
Online sports betting has carried the US sports betting industry, but betting at professional stadiums is expected to bring in plenty of handle and revenue.