Football
Sports News
AFC Week 1 Review: First Week Offered Surprises
Patriots and Colts Struggle in First Week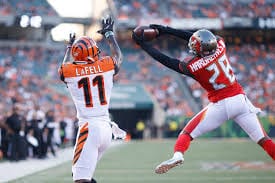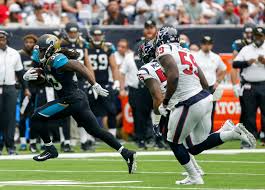 Week one of the 2017 NFL season certainly brought some surprises. We're going to do a quick, one- or two-line review of each AFC team and offer some observations concerning the upcoming week. Big surprises in the AFC this week involved the New England Patriots, Jacksonville Jaguars, and Indianapolis Colts. Here is our 2017 Week One AFC Review.
AFC East
Buffalo Bills (1-0)- Bills beat Jets 21- 12, as QB Tyrod Taylor looked fine.
Miami Dolphins (0-0)- Fins are in second with no record due to hurricane.
New England Patriots (0-1)- Chiefs take Pats a part 42- 27.
New York Jets (0-1)- QB Josh McCown 2 INTs, 0 TD passes, 56.3 rating.
AFC North
Pittsburgh Steelers (1-0)- Roethlisberger hits Jesse James with 2 TD passes.
Baltimore Ravens (1-0)- Ravens D has 4 picks vs. Andy Dalton.
Cleveland Browns (0-1)- Browns lose 18-21 to Steelers, QB DeShone Kizer struggles.
Cincinnati Bengals (0-1)- Andy Dalton's QB rating 0.7.
AFC South
Jacksonville Jaguars (1-0)- Fournette 100+ yards rushing, Jags 10 sacks, beat Texans 29-7.
Tennessee Titans (0-1)- QB Mariota offers lackluster performance vs. Oakland.
Houston Texans (0-1)- Houston QB situation looks dire.
Indianapolis Colts (0-1)- No Luck and no D for Colts as Rams whip them 46-9.
AFC West
Denver Broncos (1-0)- Denver D comes up big blocking late FG for 24-21 win.
Kansas City Chiefs (1-0)– KC humbles Super Bowl champion Pats 42-27.
Oakland Raiders (1-0)- QB Carr hot tossing for 262 yards and 2 TD passes.
San Diego Chargers (0-1)- Rivers tosses 3 TDs and 1 INT in loss for Broncos.
2017 Week One AFC Review: Final Word
The NFL is always tough to predict. The first game of the 2017 season, featuring the Chiefs and Patriots, stunned many, as New England fell apart in the second half. Our 2017 Week One AFC Review also found that the Jags win revealed as much about the Texans as it did about Jacksonville. Week two will offer more revelations.