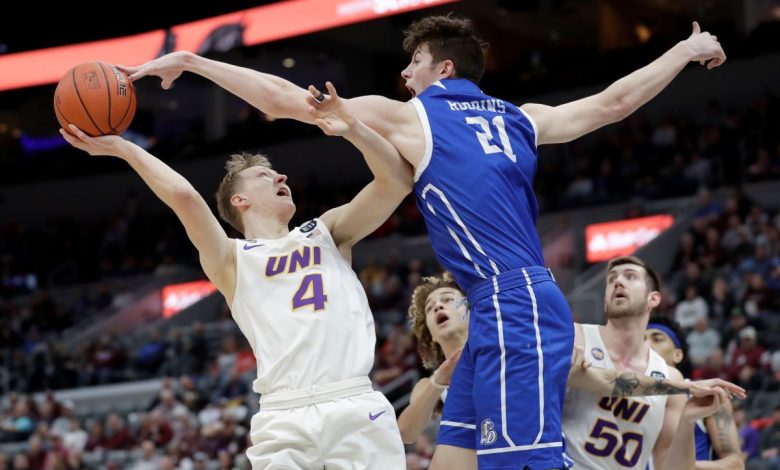 Every year at this time, the NCAA transfer portal is littered with names. While there are a few significant names in the portal, a lot of the players won't make much of a difference at the higher levels of college basketball.
We will cover some of the bigger names who have already moved and the players who could be difference-makers who are still undecided.
Moving On Up
Every year several mid-major players, who were under-recruited coming out of high school, find their way to bigger schools. This is where a lot of the controversy from tampering comes into question.
A school that has had its fair share of issues is Minnesota. They have done it again, and again from one of their favorite conferences to "get" transfers from in the Missouri Valley.
Liam Robbins, a 7-footer from Drake, transferred to Minnesota last week. Robbins' uncle, Ed Conroy, was promoted to associate head coach.
Right after the move was announced, Robbins announced he was entering the transfer portal and becoming a Golden Gopher. Robbins is asking for a one-time transfer waiver to become immediately eligible.
Robbins averaged just over 14 points, seven rebounds, and just under three blocks for the Bulldogs. Only a few years back, Reggie Lynch, who had some legal troubles at Illinois State, transferred to Minnesota.
Big Names on The Board
Bryce Aiken, a senior guard from Harvard, was arguably the biggest grad transfer on the market. His list was narrowed down to Maryland, Seton Hall, Michigan, and Iowa State before he chose the Pirates. Aiken is a huge get for Seton Hall after he averaged over 22 points last year.
A surprise name that just entered the portal is Matt Haarms of Purdue. The 7-3 center is right up there with Aiken as far as the biggest difference makers. Over 20 schools have reached out, and there are very few programs that wouldn't benefit from the center's rim-protecting abilities.
Jordan Bruner, a 6-9 forward from Yale, is another Ivy leaguer who is highly sought after. Bruner was .8 rebounds from averaging a double-double last season. He has narrowed his list to three teams; Baylor, Alabama, and Maryland.
Frederick Scott, a 6-8 forward from Rider, has narrowed his list to six teams and will make a decision today. Illinois, Illinois State, Arkansas, Boston College, San Francisco and San Diego are the six teams competing for his services. Illinois and Arkansas would give him the best shot at playing in the NCAA tournament, but he would be a huge piece for the other four programs.
Davion Mintz, a guard from Creighton, missed last season with an injury but will be highly recruited in a transfer portal that lacks difference-making guards. Amaury Hardy, UNLV, is in the same boat averaging over 14 points last season.
Mike Smith, a guard from Columbia, rounds out the quality transfers coming out of the Ivy League. He averaged over 22 points and four assists last year, and it is looking like Michigan, Northwestern, or Seton Hall will be his destination.