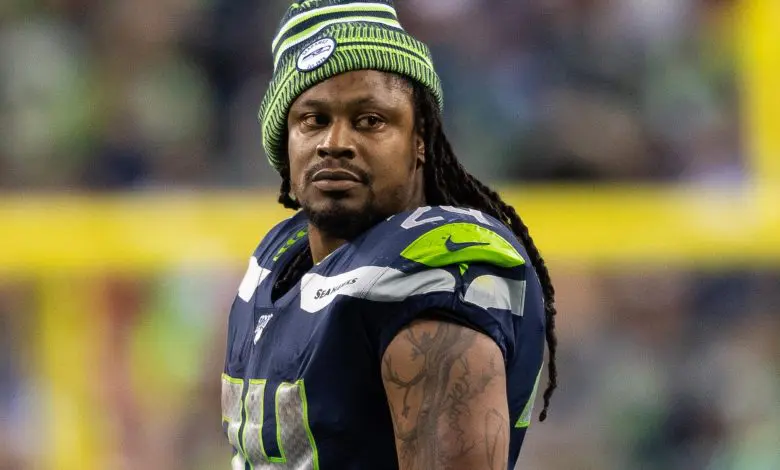 It was in January of 2011 that Marshawn Lynch broke nine tackles and rumbled for 67 yards to score one of the most memorable playoff touchdowns in NFL history. Nearly a decade later, Lynch may be headed back to the place where he created the "Beast Quake."
According to the 34-year-old, his agent, Doug Hendrickson, has been in contact with the Seahawks. "My agent has been in talks with Seattle, so like I said, we'll see what happens. If it works out and I get back up there, it is what it is."
Lynch rejoined the Seahawks before the final regular-season game last year. After three Seattle running backs went down with injuries, Lynch came onto the team to play games in Week 17 and two playoff games.
In those three contests, Lynch carried the ball 30 times. Although he only racked up 67 yards on those carries, he found the end zone four times.
The running back nicknamed "Beast Mode" hadn't played in 14 months before last season's comeback, which was his second time coming out of retirement. Lynch retired following the 2015 season but later returned for two seasons with the Raiders in 2017 and 2018.
If Lynch plays this season, he'll be set to make a base salary of at least $1.05 million based on his time in the NFL.
Seattle Needs Help In Backfield
Although Lynch's best playing days are behind him, he's shown that he still has something to offer an NFL team. In addition to his locker room presence, Lynch has rushed for 10,413 yards and 85 touchdowns in his career, and would have very little trouble fitting back into the Seattle offense.
There's been no official announcement of Lynch's return to Seattle, but the team is interested in bringing in another veteran running back. The Seahawks' current backfield depth chart is filled with young, unproven running backs: Travis Homer (second-year RB), DeeJay Dallas (fourth-round pick), Anthony Jones (undrafted), and Patrick Carr (undrafted).
Ahead of those young players are veterans Chris Carson and Rashaad Penny, both of whom saw their 2019 campaigns cut short by injury. While Carson is expected to be fully healed from his hip injury and ready to play Week 1, Penny's return may be delayed.
According to reports, the Seahawks are interested in bringing in either Lynch or former Ravens running back Alex Collins.
Seahawks Aiming to Help MVP Contender Wilson
With Russell Wilson under center, the Seahawks have been a perennial NFC contender for years. Once again, the veteran quarterback is set to be in the running for the NFL MVP Award.
With odds of +600, Wilson is level with Ravens quarterback Lamar Jackson as the second favorite to win the 2020 MVP. Both players trail only Chiefs QB Patrick Mahomes.
If Seattle can give Wilson some help, the team can once again compete for a conference title. For now, the Seahawks are tied with the Eagles with the fifth-best odds of +1000 to win the NFC. They trail the 49ers (+460), Saints (+650), Buccaneers (+700), and Cowboys (+850).
Seattle owns odds of +2100 to win the Super Bowl.