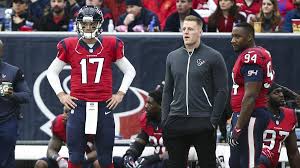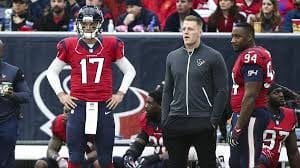 Our NFL week 15 news notes that it has been an odd week in the league for sports bettors as various games in connection to the spread came down to a bet being lost due to one-half to three-points. That meant a lot of heartbreak for sports bettors who went with Dallas, Green Bay, Baltimore, and others. Sometimes, as we've noted in a recent blog, your best clutch quarterbacks make for your worst bets.
Of course, there were a lot of happenings of interest, including emotions on the rise in the Broncos' locker room, an NFL starting QB being replaced to the joy of the home crowd and a head coach being fired on the road right after a loss.
Crowd Delights in Osweiler Removal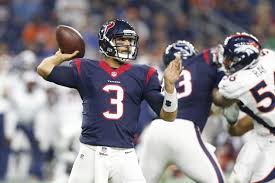 Brock Osweiler left the Broncos for the Houston Texans. He got a great deal, a four-year, $72 million contract in March with $37 million of it is guaranteed, and he was the designated starting quarterback. After all, Osweiler was coming off a season where he successfully backed up Peyton Manning, contributing greatly in the regular season when Manning was sidelined.
But this season, Osweiler had tossed 14 TD passes to 16 picks and had been sacked 24 times and fumbled five times. In the game from which he was removed, which was against one of the worst teams in the league, he had tossed two INTs in the first half.
The Houston head coach replaced his starter with Tom Savage, who is in the third year of his rookie contract. Savage is guaranteed $300,584 for the rest of his deal. What did Savage do when he came in with his team trailing 13-0? He led the Texans to a 21-20 victory over the Jags.
When Osweiler was removed from the game, the Texan home crowd cheered uproariously. I guess his welcome has worn out.
Jags Lose Game and Coach on Road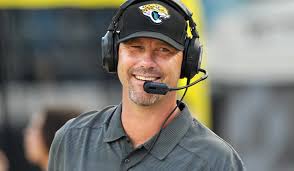 It may be ironic that after the Jags lost, they too had a highly dramatic moment. Head coach Gus Bradley was fired after the Jaguars went down to Houston 21-20. Doug Marone, who had been serving as the offensive line coach and assistant coach. was named to the interim head coach spot less than 24 hours after the firing.
About the situation, Jacksonville owner Shad Khan said:
"I thanked Gus Bradley today for his commitment to the Jacksonville Jaguars over the past four seasons. As anyone close to our team knows, Gus gave his staff and players literally everything he had. Our players competed for Gus and I know they have great respect for him, as do I.
"Gus also represented the Jaguars, the Jacksonville community and the NFL in nothing less than a first-class manner as our head coach. That counts for a lot. It is unfortunately evident that we must make a change. I thought it would be best to do it immediately after today's result so Gus can step away, relax and regroup with his family during the Christmas and holiday season.
"[General manager] Dave Caldwell agreed and will now be charged with exploring all options to hire the best head coach possible to lead what I feel is an extremely talented team and reward a very loyal and patient fan base in Jacksonville."
Over almost four seasons, from 2013-2016, Bradley's record was 14-48. This season, the Jags were 2-12 and last in the AFC South. Only Cleveland, at 0-14, has a worse record.
Final NFL Week 15 News Item: Broncos Spiral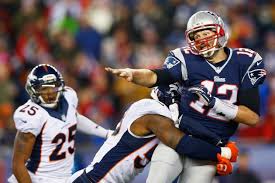 Osweiler, who helped get the Broncos to the playoffs, was not the only player having a bad day. All of his former teammates from last year's Super Bowl franchise also had a pretty bad Saturday. Our final NFL week 15 news story concerns Denver, a team that is fast losing hope and its composure.
The Broncos lost at home to the New England Patriots on Sunday. The final score was 16-3. That led to a postgame shouting match between left tackle Russell Okung and cornerback Aqib Talib.
Coach Gary Kubiak played down the incident saying there was no division on the team. Still at 8-6 the Broncos cannot be feeling very good about their chances of getting back to the playoffs. Denver is in third place in the AFC West, one game behind in the race for the final wild card and tied with four other teams. Time is running out.