Football
Sports News
NFC Championship Preview and Notes- Prior to Posting Picks
Two Solid Defenses Battle for Super Bowl Berth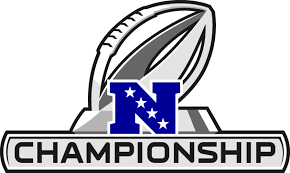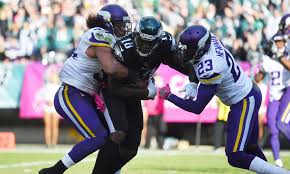 The NFC Championship game will be played tomorrow Sunday, Jan. 21 at 6:40 p.m. at Lincoln Financial Field in Philadelphia, PA. That contest features the NFC North winners, the Minnesota Vikings, at the NFC East victors, the Philadelphia Eagles. Our 2018 NFC Championship game preview offers some observations on this matchup, which is a perplexing one for various reasons. We will be posting our picks for the 2018 NFC Championship within the next 24 hours. We'll be doing the same for the AFC contest.
NFC Championship Spread & Over/Under
The odds opened with Minnesota at -3.0 and are holding fairly steady. Some sportsbooks have the Vikings at -3.5. The over/under opened at 38.5. It's still there, but, again, some sites have the over/under at 39.0. There may be a bit more movement. We'll see.
Unlikely Championship QBs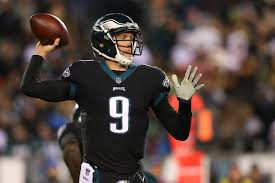 Our 2018 NFC Championship game preview can't help but note something quite obvious and that is neither team will field a starting quarterback who had been projected or thought to be guiding a team in the final game prior to Super Bowl LII. Injuries to starters, with Minnesota's occurring early in the season and Philadelphia's late, necessitated that Case Keenum start for the Vikings and Nick Foles for the Eagles. If this were not the case, perhaps this game would be easier to call.
Defensive Question
Everyone points to the Minnesota D as being superior to the Philly. It is true that the Vikings led the NFL in PA, allowing opponents 15.8 PPG, and were second in defensive passing yards, giving up just 192.4 YPG. However, Minnesota was tied for 25th in forced fumbles with 11 and they recovered seven, tied for 18th in passes defended with 69, tied for 13th in interceptions with 14, and tied for 17th in sacks with 37.
Philadelphia is ahead of Minnesota in all of those areas, as they were tied for 13th in FF and FR with 16 and 12, tied for third in PD with 87, tied for fourth in picks with 19, and 15th in sacks with 38. And although the Eagles were 17th in passing yards allowed (227.3 YPG), they were tops in the NFL in defensive rushing yards, giving up just 79.2 YPG. Also, the Eagles were fourth in the league in points allowed, giving up just 18.4 PPG.
These two defenses are closer than one might first suspect. Remember that the Eagles held the Falcons to 10 points in their home playoff game. The Vikings gave up 24 to the Saints in their playoff game, and that was at home in Minnesota.
One Bad Play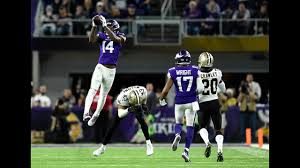 This 2018 NFC Championship game preview would be entirely different if it were not for one bad play. The Vikings are in this game having benefitted from one bad play by the Saints. It happened to be the last play of the game. The blunder by the New Orleans secondary on the Case Keenum pass is one of the biggest missteps in a playoff game seen in a long time.
Home Field Advantage
The Eagles have home field advantage for this game, and that should not be underestimated. Plus, as they were against the Saints, Philadelphia is once again the underdog. The Vikings are coming to this game with the certainty that if they do win, they will have home field for Super Bowl LII.
2018 NFC Championship Game Preview – Final Word
The final word for our 2018 NFC Championship game preview is when making your picks look at the details. We've been doing that and will continue doing so until we post our picks prior to the game.