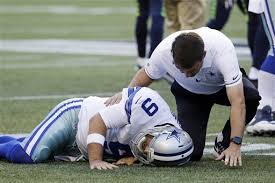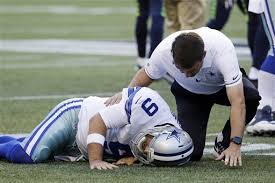 Let's face it and own up to it, when a starting quarterback goes down it is tough to replace him. Sports bettors need to realize that there are those signal callers who have NFL QB injury worries.
We picked the Dallas Cowboys to finish first in the NFC East this year. But word comes today that aging starter and often injured Tony Romo is down and out for 6-10 weeks! Along with the idea that the Dallas starter will need time to recover is the problematic and serious nature of his injury. Romo has a fractured vertebra in his back. That may heal in the allotted time, or it may not.
Romo is aging and has had numerous injuries that have resulted in him missing extended time on the field. This latest problem could sideline him longer. This will be the fourth straight season that the star QB will miss at least one game.
Factors Contributing to QB Injuries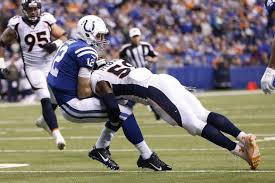 Despite the fact that the football league has out in numerous safeguards to protect quarterbacks, there are numerous NFL QB injury worries. There are various factors that make quarterbacks susceptible. Four major situations that can exacerbate the tendency towards injury are:
Inexperience and Risk taking
Previous Injury
Age
Weak offensive line
The four factors listed above contribute mightily to a quarterback's health. Any two of the four put him at risk, and any three come close to guaranteeing an injury where the team's starting QB will be missing for at least a few weeks.
NFL QB Injury Worries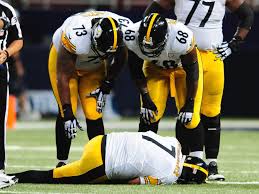 These are the quarterbacks who we feel are both vulnerable to injury and whose absence would cause major problems for their teams. Most have suffered fairly serious injuries or numerous health issues. Some have been chosen due to their inexperience and/or weak offensive line, which can result in the QB getting hot way too often.
Drew Brees (New Orleans Saints)– aging, injuries, and poor offensive line
Joe Flacco (Baltimore Ravens)- coming off torn ACL and weak line
Jared Goff (Los Angeles Rams)- inexperience and troublesome O-line
Andrew Luck (Indianapolis Colts)- numerous injuries and weak offensive line
Marcus Mariota (Tennessee Titans)- Second season and poor O-line allowed league leading 54 sacks in 2015
Ben Roethlisberger (Pittsburgh Steelers)- aging and often injured
Tony Romo (Dallas Cowboys)- aging and often injured
Futures and Game-Day Betting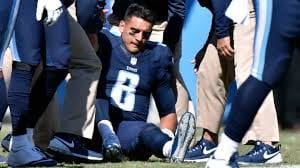 When betting futures you'll want to consider who may be backing up these starters. In addition, during the long NFL season make sure that you keep up on injury reports. You want to be prepared to adjust your handicapping for NFL QB injury worries and for those who end up getting knocked out for a game or more.