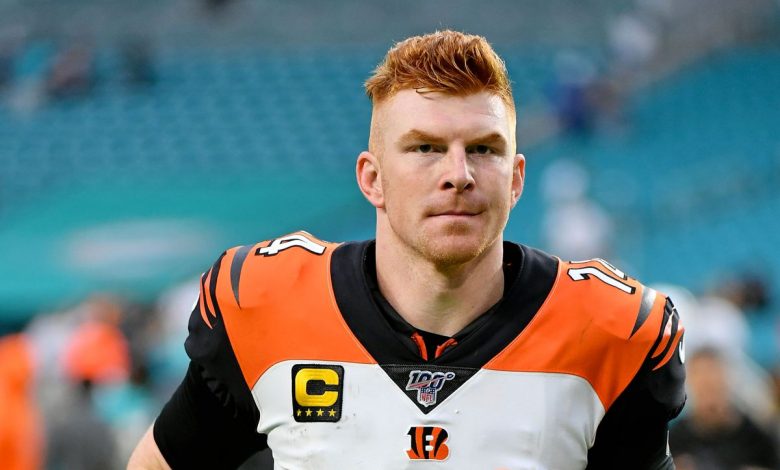 After nine seasons with the Cincinnati Bengals, quarterback Andy Dalton has been released. His departure comes on the heels of the team taking LSU's Joe Burrow with the No. 1 overall pick in the 2020 NFL Draft.
Dalton was due $17.7 million in salary for the 2020 season, a number Cincinnati could not afford on its books.
Although many expected Dalton to be released, the veteran quarterback had previously expressed his willingness to remain in Cincinnati. "I truly believe they want what's best for me, but I understand it's a business, and you know how that goes," Dalton said prior to the draft.
"With the first pick, if they take a quarterback like everyone expects, that could trigger something," Dalton added. "There's even a scenario where I go back there."
Now, Dalton will be looking for a new landing spot. After being selected by the Bengals in the second round of the 2011 NFL Draft, Dalton has yet to play for another franchise.
While most would have previously expected a veteran quarterback, even with Dalton's limited success, to demand a relatively significant contract on the open market, that may no longer be the case after former Buccaneer Jameis Winston signed a one-year contract with the Saints at a base salary of $1.1 million.
If Dalton is willing to take a similar contract, his options could be vastly widened.
Dalton vs. Burrow
After nine seasons without any true success, the Bengals simply had to move on from Dalton when Burrow fell into their laps.
Dalton had promise coming out of TCU, where he became the all-time leader in wins but failed to lead Cincinnati beyond the first round of the playoffs in any year. The three-time Pro Bowler has a record of 0-4 in the postseason.
In his final season in Cincinnati, Dalton earned a record of 2-11 while throwing for 3,494 yards, 16 touchdowns, and 14 interceptions.
While Dalton was struggling to lead the Bengals, Burrow was leading his LSU Tigers to a College Football Playoff title with a record-breaking season.
In 2019, Burrow threw for 5,671 yards with 60 touchdowns and just six interceptions while completing 76.3% of his passes. That breakout year turned LSU into champions and made Burrow a lock to go first overall in the draft.
The Bengals will now aim to surround Burrow with the help he needs to succeed. After drafting Burrow in the first round, Cincinnati added Clemson receiver Tee Higgins with the first pick of the second round.
Where Does Dalton Land?
The veteran QB market now comes down to Dalton and Cam Newton. While Newton has enjoyed more success in his career, he'll likely demand a larger contract than Dalton will, which could provide Dalton with more options.
At this stage, the Jaguars are the favorites to sign Newton with odds of +200. Jacksonville is followed by New England (+220) and Washington (+500).
Prior to the draft, the Patriots were the original favorites to have Dalton on the Week 1 roster with odds of +200. However, New England's odds slipped to +500 closer to the draft. Although the Pats have very little cap room, they could afford Dalton if he takes a deal similar to Winston's.
Jacksonville was leading the Dalton sweepstakes as the draft neared, holding odds of +250.