Football
Sports News
College Football National Championship: How Clemson and Alabama Stats Stack Up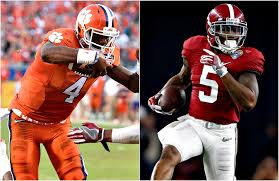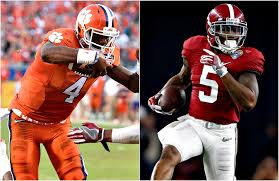 The 2017 college football national title match is a little more than 24 hours away, and there has been a lot of hype regarding the Alabama "dynasty" and the fact that the Clemson Tigers have somehow found a pathway towards redemption from last year's defeat by gaining a rematch. This is a tough game to wager on for various reasons with one of them being the hype that has surrounded it. Hype around any type of title game or series can really cloud the facts.
So we've decided to put together some of the offensive and defensive stats that help to define these two teams. Overall, when you consider these stats, you'll have to admit that Alabama has an edge. But it is not much of one. Once again, as it was last year, this could be one of those games that is decided by less than one touchdown. For the record, at this point, the Alabama Crimson Tide are at -7.0.
Offensive Statistics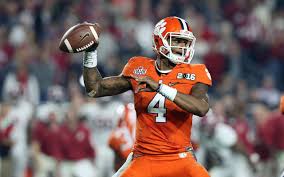 When it comes to average number of points scored per game both teams are fairly equal. Clemson is averaging 39.5 PPG and Alabama 39.4. When it comes to how these teams score their points, it's apparent that Clemson favors the pass and Alabama the run. Of their 70 touchdowns, the Tigers have posted 28 rushing and 42 passing, while the Tide has 55 touchdowns with 30 on the ground and 25 in the air.
One major statistical difference is on punt returns. Clemson is averaging 8.09 YPR while Alabama's average is 15.7. Also, the Tide has four returns for TDs, while Clemson has none. Also, the Crimson Tide's discipline may come in handy in this game. They have been penalized 77 times for 578 yards. Their opponents have taken 92 penalties for 835 yards.
Although Alabama holds an edge of five percentage points on red zone success, the Tide is better by five percentage points on third down conversions and six on fourth down success. Clemson is two of four on two-point conversions; Alabama is zero for one.
Defensive Statistics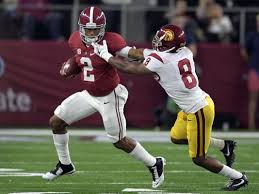 On defense, going by points alone, you'd have to favor the Tide. They are holding teams to 11.4 PPG. Clemson's average is 17.1. Both teams rank about the same against the pass, but it's against the run where they diverge. The Tigers allowed 3.51 YPA on the ground and gave up 17 rushing scores. Alabama allowed 2.00 YPA rushing and just three TDs.
On sacks, Alabama has 50 and Clemson 49. Clemson has allowed just 16 sacks, while Alabama has given up 24. Tackles for a loss on both sides of the ball find the Tigers doing better than the Tide. The Tigers has 123 TFL and endured just 69, while Alabama notched 112 TFL but endured 101. The underdogs also lead in interceptions 20-16.
Passes broken up are fairly close between the team, but the Tide does better on quarterback hurries with a mark of 80 to their opponent's total of 36 and forced fumbles with those going in Alabama's favor 16-9.
2017 College Football National Title
It's hard to believe the 2017 college football national title might come down to one team being a few percentage points better in ne area or another. When it comes down to it in a game like this victory will go to the team that is better prepared, the coaching staff who has gotten then to this point, and a play or two that will turn the tide.
Alabama is favored, but their rookie presence in this game at quarterback should not go unnoticed. Especially when compared to the veteran presence at that same post for Clemson. Perhaps this football game will come down to the inexperience of freshman Jalen Hurts versus the experience of Deshaun Watson. After all, Watson has been here before. That's elementary to the situation at hand.