NCAA Previews
#22 Syracuse Orange Preview 2019
Can the Orange Rise to the Occasion?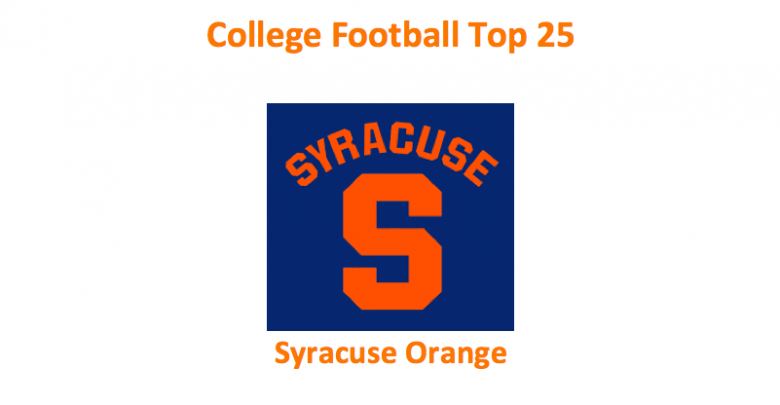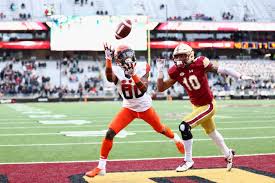 This Syracuse Orange Preview 2019 notes that the Orange are one of two ACC clubs in the Coaches Top 25. Our Syracuse Orange preview for 2019 sees this team, which is on the rise, as struggling this season. However, a fairly light schedule may help them. In 2018, the Orange won their first four games and then ran into Clemson, losing a close one 23-27. Their other two losses were to Pittsburgh 37-44 and Notre Dame 3-36. With a 9-3 overall record and 6-2 conference mark, Syracuse finished second to Clemson in the ACC Atlantic Division. In the Camping World Bowl, the Orange took down West Virginia 34-18.
In 2018, the Syracuse offense scored 40.2 PPG (11th). They posted on average 264.7 YPG in the air, earning a ranking of 31st, and 200.2 YPG on the ground, which ranked them 36th. Total offensive yardage was 464.8 PG (19th). The Orange defense gave up 27.0 PPG (T-64th). Their passing defense was often porous, allowing 264.1 YPG (115th), while they allowed 162.5 air-yards (63rd). Total yardage allowed came to 426.6 PG (87th).
Syracuse Orange Preview 2019 – Offense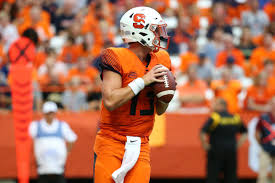 First things first. QB Eric Dungey (60.9 COMP%, 18 TDs, 9 INTs), who passed for 2,868 yards last season and ran for another 754 more, scoring 15 rushing TDs, is gone. Sophomore QB Tommy DeVito (50.6 COMP%, 4 TDs, 3 INTs) replaces Dungey. In 2018, DeVito tossed 87 passes total. DeVito is not a rusher, so he'll have to get the job done with his arm. There's good news as the receiving unit sees four-of-five top performers return. Senior WR Sean Riley (64 REC, 11.8 AVG, 3 TDs) returns having topped the team in catches last season. In addition, junior WR Nykeim Johnson (41 REC, 13.8 AVG, 4 TDs) and sophomore wideout Taj Harris (40 REC, 14.1 AVG, 3 TDs) are ready to go. There good depth and solid experience in the receiving rank.
The ground attack is led by the versatile Moe Neal (869 YDs, 5.6 AVG, 5 TDs). Neal, who's also had 13 receptions, ran the ball 155 times. We expect him to get over 200 carries and over 1,000 yards this season. A major concern for Syracuse is the offensive line, which is one of the weaker ones in the ACC. They are about the same as they were last season, which may or may not be a good thing.
Defense and Special Teams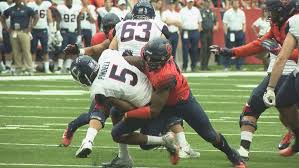 Our 2019 Syracuse Orange preview notes that If this team is going to be competitive in 2019, the defense must perform better and with more consistency. The defensive line looks solid. Last season, defensive ends Alton Robinson (39 TKLs, 10 SCKs, 7 TFL) and Kendall Coleman (32 TKLs, 10 SCKs, 2 TFL) did a fine job. In addition to their sack and TFL stats, Robinson recorded 11 QBHs and Coleman six. There is concern regarding the LB unit. They could be a vulnerability for this team. The defensive backs, on the other hand, are sound. he secondary includes sophomore safety Andre Cisco (60 TKLs, 11 PBU, 7 INTs). He was exceptional last season.
Our Syracuse Orange Preview 2019 notes that the special teams are some of the best in the ACC. Sean Riley returns punts and kickoffs. In 2018, Riley averaged 16.4 YPR in punts and scored once. He averaged 20.5 YPR on kickoffs. Senior punter Sterling Hofrichter (67 Punts 42.9 YOO, 26 In20) is accurate and has a strong leg. Sophomore PK Andre Szmyt (61-61 XP, 30-34 FG) is accurate and has distance. He was 3-3 from 50-plus yards, with his longest being 54 yards.
Coaching and Recruitment
Now in his fourth year as head coach, Dino Babers (18-19 Syracuse, 36-28 Overall) has begun to turn this team around. Prior to his first season, in 2014 and 2015, the Orange were 3-9 and 4-8 respectively. In each of his first two season, the team went 4-8. The 2018 season was a breakthrough period, as the Orange got into double-digit wins and went to their first bowl game since 2013. Prior to coming to Syracuse, Babers had an 18-9 record, capturing a MAC championship and winning two bowls as the head coach of Bowling Green. As he has in the past, Babers will call the offensive plays. Mike Lynch is OC and Brian Ward DC. Of the 20 recruits, all are three-star guys.
Our Syracuse Orange Preview 2019 – Final Word
As noted, this team has a kind schedule. Our Syracuse Orange Preview 2019 notes that the football team will face a major test against Clemson on September 14. The October 26 game at Florida State will be a proving ground for the Orange. In the next-to-last week, Syracuse plays an always tough Louisville team. This is a must-win for the Orange. I they can find their defense and establish a solid offensive line on the other side of the ball, this team will stay in the Top 25. Otherwise, watch them slide away into oblivion.
Click here to go back to ACC Atlantic
Click here to go back to NCAAF Hub