NCAA Previews
2017 Big Ten College Football Preview
There Is a Whole Lot of Potential National Power Here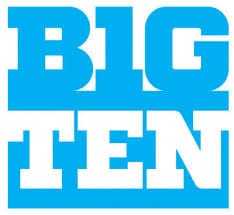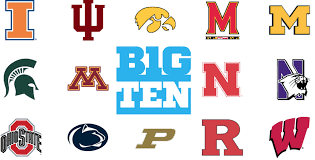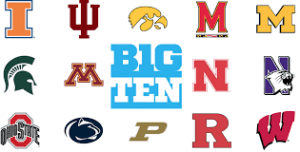 Our 2017 Big Ten CFB Preview projects that one of the teams in this major conference will be gong to the Rose Bowl and be given the opportunity to be in the mix for the national championship game. The Big Ten has 14 teams with seven in each division. It has one of the best talent pools in the nation. Here's how we see the Big 10 going in 2017.
Big Ten East- Finish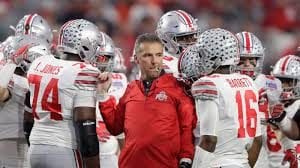 In the East, we like the Ohio State Buckeyes, Penn State Nittany Lions, and Michigan Wolverines a lot. We envision the Indiana Hoosiers as making sound progress over last season's 6-7 mark, and the Maryland Terrapins as continuing their rebuilding effort.
The Ohio State Buckeyes and Penn State Nittany Lions will battle for the top spot in the Big Ten East. Michigan will also certainly be competitive. Five teams may be bowl-bound, and we expect a team from this division to be given a shot at the national championship.
1. Ohio State Buckeyes
Ohio State has a huge amount of talent and one of the best D-lines in the nation. However, the LB and secondary units need retooling. On offense, the wideouts aren't as strong as one would like, and the special teams are weak. Still, they are the best in the Big Ten with senior QB J.T. Barrett (61.5 COMP%, 2,555 YDs, 25 TDs, 7 INTs) is a solid passer and fine rusher. He averaged 4.1 YPA, while gaining a total of 845 yards and making nine TDs. RB Mike Weber, who also scored nine TDs on the ground, netted over 1,000 yards last season, averaging 6.0 YPA. On defense, junior WLB Jerome Baker is back as the team's leading tackler with 83 bring downs, 3.5 sacks, six TFL and two INTs.
2. Penn State Nittany Lions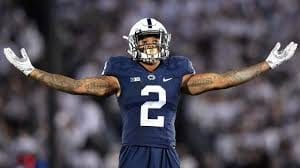 Penn State took on some tough teams last season and won, including Ohio State and Wisconsin. They gave USC quite a game in the Rose Bowl, losing 52-49. QB Trace McSorley (57.9 COMP%, 3,614 YDs, 28 TDs, 8 INTs) has one heck of a gun on him. Four of his five top receivers are back. RB Saquon Barkley (1,496 YDs, 18 TDs, 5.5 YPA) can rip up the turf. On defense, FS Marcus Allen led the team with 110 tackles, while posting six TFL and three PBU. The O-line and D-line are both a concern for Penn State, and the Nittany Lions will have a major challenge when they meet Ohio State in Columbus this season rather than at University Park.
3. Michigan Wolverines
Although the Michigan Wolverines have lost seven starters on offense and 10 on defense, they are still a force. Once again, their defensive line is comprised of three elite players, Rashan Gary, Maurice Hurst, and Chase Winovich. On offense, junior QB Wilton Speight is solid, completing 61.8% of his passes last year for more than 2,500 yards. He tossed 18 touchdown passes, while putting up seven picks. Head coach Jim Harbaugh has done a decent job upgrading the team. Next year we expect the Wolverines to be loaded.
4. Indiana Hoosiers
New head coach Tom Allen comes in to replace the popular Kevin Wilson who was fired. Allen has a lot of work to do in order to truly replace Wilson who was a top play-caller and great personality. Indian puts a fine pass attack on the field, but QB Richard Lagow, who threw for over 3,330 yards, has to be more accurate. In 2016, he threw 19 TD passes but also tossed 17 INTs. On the defensive side LB Tegray Scales, who returns after making 126 tackles last season, makes things happen. Scales had seven sacks, 16.5 TFL, and four QBH, while also making a pick and breaking up two passes.
5. Maryland Terrapins
In his first season, coach D.J. Durkin took his six-and-seven-team to the Quick Lane Bowl where they lost to Boston College 37-30. Still, the Terrapins made progress and should make more this season. A solid recruiting season will help in 2017, but still this team has a tough schedule and is relatively inexperienced. Major questions remain at QB and on the O-line, while L.J. Scott, who averaged 5.4 YPA while scoring six TDs and netting 994 yards, leads the ground attack. On defense, senior SAM Chris Frey returns as the team's primary tackler, bringing down 96.
8. Michigan State Spartans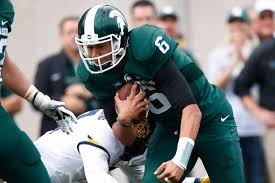 Mark Dantonio starts his 11th year as the Spartan head coach with a boatload of challenges, including trying to shape one of the most inexperienced teams in the country into a winner. However, two players during the spring became subjects of sexual assault investigations, and that won't help this team in any way. Last season, they were 3-9 with only one conference win. You'd think they would do better this season but then again?
7. Rutgers Scarlet Knights
In 2016, his first season as head coach, Chris Ash's team went 2-10 overall and 0-9 in Big Ten games. The Scarlet Knights were the worst team in the conference on both offense and defense, as they scored 15.7 PPG and allowed 37.5 PPG. There's good news for the future as Rutgers had a strong recruiting season bringing in three five-star players. But the Knights are still a few years away from posting a winning record.
Big Ten West- Finish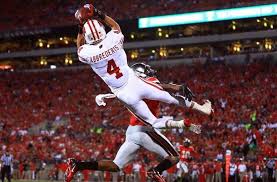 The Wisconsin Badgers, Northwestern Wildcats and Minnesota Golden Gophers will benefit this year from relatively soft schedules, while the Nebraska Cornhuskers have one of the toughest schedules of all teams in the West Division. The Badgers are certainly a fine team on both sides of the ball, while Northwestern has some good offensive players, but the team gives up too much on D. The Cornhuskers suffer from the same dilemma as the Wildcats, while Minnesota is tooled up on both offense and defense. If the Iowa D can step up in big situations, the team will have a good season.
1. Wisconsin Badgers
The Badgers welcome back some fine talented starters and will benefit from the fact that each unit, including special teams, has quality, experienced players. They also have a fairly kind schedule, and that will help a lot. They are the best team in the West, but perhaps the third or fourth best in the league. The best part of this team is its very stingy defense, which is led by ILB T.J. Edwards (89 TCKLs, 3 SCKs, 5.5 TFL, 3 INTs, 2 PBU, 3 QBH). Senior SS D'Cota Dixon is a big presence, grabbing four interceptions, breaking up four passes, and notching four quarterback hits. On offense, the team need sophomore QB Alex Hornibrook to toss more TD passes and fewer picks.
2. Northwestern Wildcats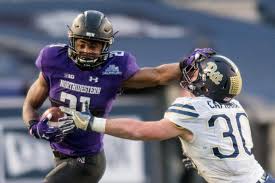 Although the Wildcats start playing their Big Ten games at Wisconsin and then host Penn State the next week, overall they have fairly friendly schedule. The team sees eight starters back on defense, and it includes an experienced secondary, as well as one of the conference's best run-stopping units. Junior CB Montre Hartage grabbed five picks last season while knocking away nine passes. Senior safety Godwin Igwebulke made 108 tackles while recording six TFL, two INTs, and breaking up seven passes. On offense, senior RB Justin Jackson, who gained over 1,500 yards and scored 15 TDs in 2016, is an extraordinary player, while junior QB Clayton Thorson, who completed 22 TD passes and ran for five scores, is a major dual-threat.
3. Nebraska Cornhuskers
This is a team moving up in the ranks and fairly quickly. Third-year coach Mike Riley has to determine who will be in the QB spot, as Tommy Armstrong is gone. New defensive coordinator Bob Diaco gets rid of the 4-3 and brings a 3-4 base alignment to the unit. Only four starters are back for the offense. Look for the D to win some games even though their three leading tacklers are gone.
4. Minnesota Golden Gophers
In his first season, new head coach P.J. Fleck brings a 30-22 record to Minnesota and a winning attitude. He needs to restock talent but does have seven players returning on offense. Freshman center Connor Olson is surrounded by experienced players. The team has a good chance at a winning record, as the first seven games are all winnable. The final five are a lot tougher with the final contest being versus Wisconsin. Junior RB Rodney Smith, who gained over 1,000 yards last season and scored 16 TDs, will be huge on offense.
5. Iowa Hawkeyes
There's some decent experience on the Hawkeye team, especially on defense, which held teams to 18.8 PPG. The LB unit returns intact and includes Josey Jewell and his team-leading 124 tackles. FS Brandon Snyder led the team last year with three picks. Major questions at QB make this team's offense sketchy. Dual-threat WR/RB Akrum Wadley is back having accumulated 1,400-plus total yards and 10 receiving and four rushing TDs.
6. Purdue Boilermakers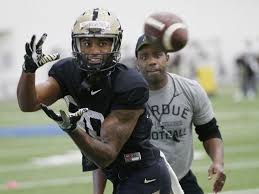 After doing great work at Western Kentucky where over four seasons his overall record was 30-10 and bowl mark 3-0, Jeff Brohm comes to Purdue. Coach Brohm knows how to generate offense and should be an excellent mentor for QB David Blough who last season threw 25 TD passes and 21 INTs. There's a lot of work to do here. Don't expect more than three wins from this team in 2017. After a few recruitment rounds, the talent and skill levels on this team should improve.
7. Illinois Fighting Illini
The Fighting Illini frontline are pretty good, but not very deep. The team does have a few options at QB, including two players who saw action last season, Jeff George and Chayce Crouch. Also a possibility as the top signal caller is former Virginia Tech QB Dwayne Lawson. RB Kendrick Foster (7 TD, 5.4 YPA) and WR Malik Turner (6 TD, 14.8 YPC) are both solid contributors. Last year, the D was decent versus the pass, but they could not stop the run. Head coach Lovie Smith starts his second season with the Illini.
2017 Big Ten CFB Preview
Bowl Projections
Ohio State Buckeyes: Rose Bowl (CFP Semifinal)
Penn State Nittany Lions: Fiesta Bowl
Wisconsin Badgers: Citrus Bowl
Michigan Wolverines: Cotton Bowl
Indiana Hoosiers: Foster Farms Bowl
Northwestern Wildcats: Outback Bowl
Nebraska Cornhuskers: TaxSlayer Bowl
Maryland Terrapins: Pinstripe Bowl
Minnesota Golden Gophers: Holiday Bowl
Iowa Hawkeyes: Quick Lane Bowl
2017 Big Ten CFB Preview
Projected Best Bets
Our 2017 Big Ten CFB Preview Best Bets are projections of what may occur based on the latest information available. A lot can change during the course of a season so be sure to engage in due diligence prior to placing any bet.
Sep 2: Akron @Penn State- Penn State by no more than -35
Sep 16: Air Force @Michigan- Air Force by at least +21
Sep16: Middle Tennessee @Minnesota- Minnesota by no more than -21
Sep 30: Ohio State @Rutgers- OSU by no more than -37
Oct 7: Illinois @Iowa- Iowa by no more than -24
Oct 14: Ohio State @Nebraska- OSU by no more than -42
Oct 21:Maryland @Wisconsin- Wisconsin by no more than -21
Nov 11: Purdue @Northwestern- Northwestern by no more than -21
Nov 11: Rutgers @Penn State- Penn State by no more than -35
Nov 25: Michigan State @Rutgers- Michigan State by no more than -21