NCAA Previews
#4 Oklahoma Sooners Preview 2019
Sooners Top Big 12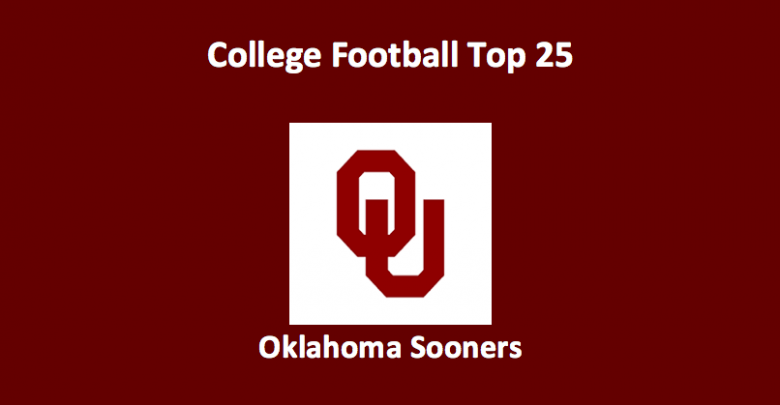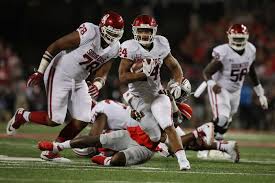 Our Oklahoma Sooners Preview 2019 observes that this team topped the Big 12 with an 8-1 record. Accordingly, this Oklahoma Sooners football team went to conference championship game, beating the Texas Longhorns 39-27. Texas was the one team that the Sooners lost to in the regular season (45-48). Oklahoma won a berth in the CFP Semifinal against Alabama, losing the Orange Bowl 34-45. Their overall record when all was said and done was 12-2.
The Oklahoma Sooners were number one in the nation in points scored, averaging 48.4 PPG. Their 247.4 YPG in rushing ranked 11th, while their 322.9 YPG in passing was seventh in the nation. Their total offensive yardage of 570.3 per game was, like their scoring, first in the country. While the offense was scoring a large number of points and racking up yardage, the defense was giving up a large number of points and huge amount of yardage. The Sooners allowed 33.3 PPG (T-101st). They were 129th in passing yards allowed (294.0 YPG) and 59th in rushing yards given up (159.8 PG). Total yards allowed were 453.8 PG (114th).
Oklahoma Sooners Preview 2019 – Offense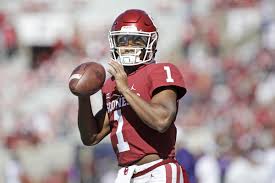 Former Alabama standout and national title winner Jalen Hurts will quarterback the Sooners. Hurts, who over 48 starts with the Tide completed 63% of his passes, compiling 5626 yards, 48 TDs and 12 INTs. Hurts can rush and pass. He replaces Heisman Trophy winner and number one NFL Draft pick Kyler Murray (69.0 COMP% 42 TDs, 7 INTs). Hurts is no Murray, but he is darn good. Good news regarding the receiving unit, as three-of-four of Oklahoma's top receivers return, including junior WR CeeDee Lamb (65 REC, 17.8 AVG, 11 TDS). Lamb accumulated 1,158 yards in receptions.
The bad news is most of the O-line has to be replaced. There's a lot less experience and depth than last season, but we expect the Sooners will have a solid group in front. Still, we could see the Oklahoma rush attack compromised a bit in 2019. However, the ground game does have two 1,000-yard threats in junior Trey Sermon (947 YDs, 5.8 AVG, 13 TDs) and sophomore Kennedy Brooks (1,056 YDs, 8.9 AVG, 12 TDs). This is a dynamic rushing tandem.
Defense and Special Teams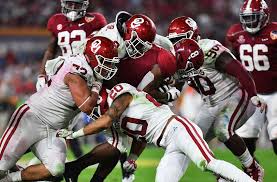 The Sooner D-line sees three intimidating starters from last season. DE Ronnie Perkins (37 TKLs, 5 SCKs, 3 TFL), RUSH Mark Jackson (43 TKLs, 3 SCKs, 4 TFL), and NT Neville Gallimore (50 TKLs, 3 SCKs, 2 TFL), a senior, can stop the run and intimidate quarterbacks. Last season Perkins and Gallimore combined for eight QBHs. The LB group includes junior MLB Kenneth Murray (155 TKLs, 4 SCKS, 8.5 TFL). Last season, Murray led the team in tackles and TFL. Three-of-four starters return to the deep-back unit. Two junior corners, Tre Brown (58 TKLs, 12 PBU, 0 INT) and Tre Norwood (58 TKLs, 5 PBU, 1 INT), bring top-notch defensive skills to the game. Senior corner Parnell Motely (63 TKLs, 11 PBU, 3 INTs) returns as the top pick man. He brings depth to this group.
The return game is solid, as Lamb (17 RT, 12.8 AVG, 0 TDs) is once again bringing back punts and Brown (30 RT, 23.7 AVG, 0 TDs) kickoffs. Oklahoma special teams have taken a hit due to their having lost placekicker/punter Austin Seibert. Siebert, who averaged 40.9 YPP, hit 87-88 PATs, and connected on 17-of-19 FG, was a cool and accurate kicker. He'll be tough to replace.
Coaching and Recruitment
Our Oklahoma Sooners Preview 2019 notes that after last season, it was clear that the Sooner defense definitely needed a lot of work. Alex Grinch, formerly Co-DC for Ohio State, comes in to turn things around. The Oklahoma defense does have solid talent, so he's expected to make a difference. Head coach Lincoln Riley (24-4 Oklahoma and Overall), who starts his third year with the Sooner, is 0-2 in bowl games. Better D will help. Co-OC's Cale Gundy and Bill Bedenbaugh also return for their third seasons. The Sooners first-year players include three five-star recruits and 13 four-star. Only Texas has more four-star recruits, 15-total. Rounding out the numbers are eight three-star recruits. It's a substantial class.
Our Oklahoma Sooners Preview 2019 – Final Word
Our Oklahoma Sooners Preview 2019 is banking on this team winning the Big 12. We also think they have an outside chance at the CFP, but a lot has to fall into place for that to happen. First, the defense must show marked improvement. Second, Hurts has to have an outstanding season. Third, the Sooners must perform as expected, and beat Texas, Texas Tech, Iowa State, and TCU (their four toughest opponents). Fourth, they must win the Big 12 title. If they can do all that, they will have a shot at the national championship.
Click here to go back to Big 12
Click here to go back to NCAAF Hub