NCAA Previews
2017 Pac-12 College Football Preview
USC and Washington Top the Conference But Others Are Competitive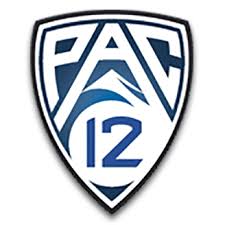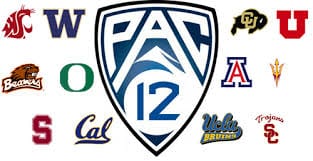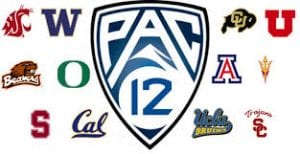 The Pacific Athletic Conference-12, as it used to be called, now known as the Pac-12, is one of the top five college football conferences in the nation. Of the dozen teams in the conference, eight should receive bowl berths. Our 2017 Pac-12 CFB Preview sees two teams as battling for a spot in the College Football Playoffs, the Washington Huskies and USC Trojans. We think the Huskies have a better shot at that primetime spot. Also competitive in the Pac-12 this year will be the Stanford Cardinal, UCLA Bruins, Utah Utes, and Oregon Ducks. Here's how we see the two divisions playing out.
Pac-12 North- Finish
This is really the Washington Huskies division to lose. The Huskies have talent, experience, and decent depth. The Stanford Cardinal club must deal with a few major losses and may have to make some tough decisions concerning QB. In order to be competitive, the Oregon Ducks must see their D improve. The Oregon State Beavers could win a few extra games under junior transfer QB Lutton. The Golden Bears will struggle on defense and that means they will struggle to win.
1. Washington Huskies
The Washington Huskies are loaded with juniors and seniors on offense as seven starters return and a many other players have come back with substantial experience. The defense sees five of seven top tacklers come back. QB Jake Browning, who threw for over 3,400 yards and 43 TDs while tossing just nine picks, leads the offense. Although top receiver John Ross is gone many others are on-hand, including Dante Petis who had 15 TD catches. RBs Myles Gaskin and Lavon Coleman lead a deep group of rushers. On defense, the LB group and deep backs are sound, while the front guys, despite losses are also very tough. The Huskies were first in the conference and eighth in the nation in points allowed at 17.7 PPG.
2. Stanford Cardinal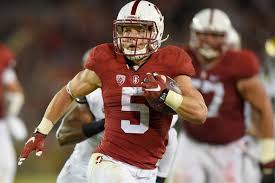 The Cardinal team returns eight starters on both sides of the ball, and there are a slew of upperclassmen on the roster, which gives coach David Shaw on of the most experienced squads in the Pac-12. On defense, the LB unit returns intact, while on the line top sack maker Harrison Phelps (6.5 Sacks), a junior, is ready to go. A big question revolves around starting QB Keller Chryst who may not be available due to injury. Big losses include RB Christian McCaffrey and on defense Solomon Thomas.
3. Oregon Ducks
There's a lot of talent on this team that includes sophomore QB Justin Herbert who in his freshman year threw 19 TDs passes and only four interceptions. The ground attack is four-deep and the wideouts include last season's top receivers. The defense, which was ranked 11th in the Pac-12 and 126th in the nation, allowed 41.4 PPG. They do see the top nine of 10 tacklers return. First-year Ducks coach Willie Taggart comes to the team with a 40-45 record and a 0-1 bowl mark. It will be interesting to see how much better the Oregon D will be this year.
4. Washington State Cougars
Washington State plays the toughest in-conference schedule of all teams in the Pac-12. Senior QB Luke Falk connected on 70.0% of his throws for 4,468 yards and 38 TDs, while tossing 11 INTs. Despite losing top receiver Gabe Marks, he has a rich assortment of pass catchers available and s sound rush attack that's four deep. Nine starting players return on defense, which was tough versus the run but loose against the pass. They should score an average of about 39 PPG this season, while holding opponents to an average of 26 PPG.
5. Oregon State Beavers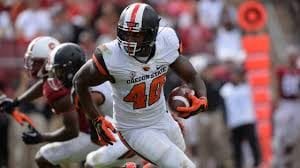 Last season, the Beavers were 4-8 overall and 3-6 in conference play. That was much better than the team's 2-10 and 0-9 finish the year prior. The Beavers should show more improvement in 2017, as they see seven starters return on offense and eight more on D. The biggest challenge for head coach Gary Andersen, who starts his third season with the Beavers, is finding stability at QB. In two years, Oregon State has had five guys calling signals. Strong and tall junior college transfer Jake Lutton may be the right guy for the job. If Lutton works out, this team could be the conference spoiler.
6. California Golden Bears
The Golden Bears have to replace their starting quarterback, top receiver, and primary rusher. Plus, they have to replace 66% of their O-line. Justin Wilcox has a lot to accomplish as he starts his first season ever as a NCAA football head coach. He's given new offensive coordinator Beau Baldwin the job of making sure that the team puts points on the board. The D allowed opponents 42.6 PPG last season, which was second-last nationally. We don't expect them to do much better this season.
Pac-12 South- Finish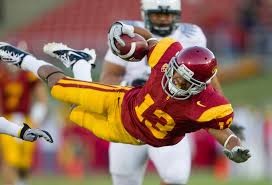 There are really three teams that will battle for the division crown this season, USC, UCLA, and Utah. The smart money is on the Trojans, but that doesn't mean that the Bruins and Utes will simply give up on taking down the division championship. Both Arizona and Colorado need improved defensive play, while the Sun Devils, who also need to improve in this area, may have the guys who can do so. Let's see what each team has to offer in 2017.
1. USC Trojans
USC has a lot of talent on both sides of the ball that includes sophomore QB Sam Darnold. In his freshman season, Darnold passed for 3,000-plus yards and 31 TDs. He also threw nine picks, but overall was solid, connecting on just over 67% of his passes. RB Ronald Jones averaged 6.1 YPA, rushing for over 1,000 yards while scoring a dozen times. USC has to hope that they can replace their two top receivers from last season who managed to catch a total of 126 passes while scoring 14 TDs. The defense, which overall is loaded, includes junior LBs Cameron Smith and Porter Gustin. Smith was the top tackler last year with 83 tackles and Gustin was second with 68. Gustin had 5.5 sacks and 7.5 TFL.
2. UCLA Bruins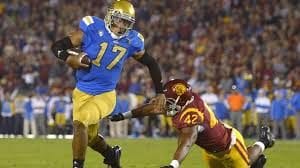 The Bruins should be good at QB and on the receiving end. Junior QB Josh Rosen is expected to be back after missing part of last season due to injury. Top receivers Darren Andrews and Jordan Lasley had 55 and 41 receptions respectively while scoring four and five TDs. The rush attack can use a major contributor. They do have three sound ground gainers. The O-line will need to coalesce. ILB Kenny Young, a senior, leads the defense, as he returns a the tops in tackles (90), sacks (5), and TFL (3.5).
3. Utah Utes
New offensive coordinator Troy Taylor, the eighth guy to hold that position in nine years, has one charge, to generate more than 29.8 PPG in 2017 for the Utes. Senior QB Troy Williams returns after passing for more than 2,500 yards while notching 15 TDs. Williams was to cut down on his eight picks and improve his completion rate of 53%. Top returning receiver Raelon Singleton made 27 catches and averaged 17.2 YPC while crossing the goal line four times. The defense will be, as usual, consistent, and will keep this team in the game. The offense needs consistency.
4. Colorado Buffaloes
The Buffaloes had a stellar defense last season that allowed just 21.7 PPG. But don't expect this team to put in a similar performance as the D loses much of its core contributors as well as its coordinator. Colorado will put a decent offense on the field 90% of it's starters on the O-line, a full contingent or receivers, and their top running back. Sophomore QB Steven Montez got some reps in last season, throwing 140 passes, completing 59% and accumulating 1,000-plus yards. He hit for nine TDs while putting up five picks.
5. Arizona State Sun Devils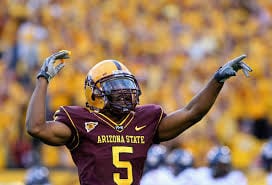 The Sun Devils will spend this season performing better than they did in 2016 when numerous injuries derailed them and they went 5-7 overall and 2-7 in conference play, but not as well as they did in 2014 when they captured the Pac 12 South title. Junior QB Manny Wilkins is healthy after dealing with injuries last season. Still, 2016 was productive for him as Wilkins passed for over 2,300 yards, hitting for a dozen TDs while giving up nine picks. WR N'Keal Harry is the top returning pass catcher. He had five TDs in 2016, while dual-threat Kalen Ballage, who scored 14 times rushing and five times as a receiver, is ready to turn opponent offenses upside down. The defense, which allowed 39.8 PPG last year, sees more than half of each unit's starters come back. The D needs to perform much better against the pass this season.
6. Arizona Wildcats
This is a team that offers an odd mix in that the offense is loaded with some very fine playmakers, while the defense has been ranked a one of the worst units nationally two years running. Last season, QB Brandon Dawkins rushed for close to 1,000 yards and passed for 1,348 while scoring 10 rushing touchdowns and passing for eight more. Shun Brown, the team's leading receiver, is back and ready to go. This season look for the Wildcat secondary, which is deep, to perform better than it has. The LBs are better than they have been, while the D-line is, once again, greatly lacking.
2017 Pac-12 CFB Preview
Bowl Projections
Washington Huskies: Sugar Bowl (CFP)
USC Trojans: Fiesta Bowl
Stanford Cardinal: Alamo Bowl
Oregon Ducks: Holiday Bowl
UCLA Bruins: Foster Farms Bowl
Washington State Cougars: Sun Bowl
Utah Utes: Los Vegas Bowl
Colorado Buffaloes: Cactus Bowl
2017 Pac-12 CFB Preview
Projected Best Bets
Our 2017 Pac-12 CFB Preview Best Bets are projections based on the most current information. Due to the nature of these projections and the game please be aware that a lot can change during the course of a season. Make sure that you perform due diligence prior to making any wager.
Sep 1: Washington @Rutgers- Washington by no more than -32
Sep 23: USC @California- USC by no more than -23
Sep 23: Nevada @Washington State- Washington State by no more than -20
Sep 30: Stanford @Arizona State- Stanford by no more than -30
Oct 7: California @Washington- Washington by no more than -40
Oct 14: Colorado @Oregon State- Colorado by no more than +35
Oct 28: Washington State at Arizona- Washington State by no more than -45
Nov 3: UCLA @Utah- UCLA at no less than +7
Nov 4: Colorado @Arizona State- Colorado by no more than -19
Nov 18: Stanford @California- Stanford by no more than -20