NCAA Previews
College Football Saturday: Notre Dame Fighting Irish vs Virginia Tech Hokies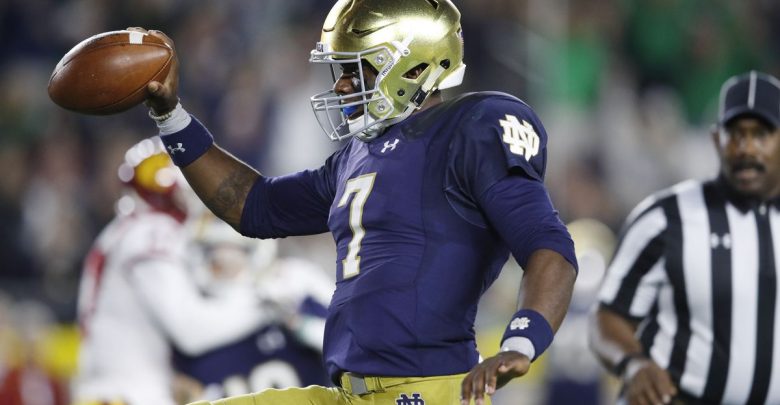 The no. 6 Notre Dame Fighting Irish face what could be their biggest remaining test of the season when they visit the no. 24 Virginia Tech Hokies this weekend. Despite being on the road against a top-25 team, Notre Dame is being favored by six points in this game.
After knocking off Stanford last week to move to 5-0 on the season, the Irish have what appears to be a clear path to finish undefeated and reach the College Football Playoff. Notre Dame doesn't play another team that's currently ranked other than Virginia Tech. Traditional powers like Florida State and USC are having down seasons, as are Northwestern and Pitt, two more teams on their schedule. This week's trip to Blacksburg could be Notre Dame's biggest remaining hurdle.
Of course, you may be able to add Virginia Tech to the list of teams having a down year. The Hokies were humiliated by a 49-35 loss to Old Dominion a couple weeks ago. To their credit, the Hokies were able to bounce back last week, beating a ranked Duke team 31-14 on the road to reclaim a spot in the top-25 and get their season back on track.
Backup Duty
Not only did Virginia Tech lose to Old Dominion a couple weeks ago, but they also lost quarterback Josh Jackson to a broken leg in that game. However, backup Ryan Willis looked like a suitable replacement last week. Against Duke, Willis completed 17 of 27 passes for over 300 yards and three touchdowns. Willis is not an athletic running threat like Jackson, but based on that performance, the Virginia Tech offense appears to be in good hands.
Of course, the caveat is that this week he'll have to do it against the Notre Dame defense. To be fair, Duke's defense had played well early in the year, so throwing for over 300 yards without a turnover is nothing to scoff at. However, the Irish defense may be on another level. They stifled the Stanford offense last week, limiting them to 229 total yards, so they should be ready for the Hokies this week.
By the Book
It's been so far so good for new Notre Dame quarterback Ian Book, who has started the past two games, both lopsided wins. The Irish are averaging 47 points in the two games he's started as opposed to 23 points per game in the three games prior to that. Those numbers, albeit in a limited sample, represent a serious improvement, especially when the Fighting Irish also have three running backs averaging better than five yards per carry.
Also, keep in mind that the Virginia Tech defense has been most vulnerable through the air. The Hokies were ravaged by injuries and departures in their secondary over the summer, and it's showed early in the season. Even lesser teams like Old Dominion and William & Mary had success passing the ball against the Virginia Tech defense, so they'll have their hands full with Book and company.
Irish Party
If the Notre Dame team that beat Stanford last week shows up in Blacksburg, the Irish should have no problem putting together another convincing win. Things will be a little tough on the road, but it's hard to imagine this lackluster Virginia Tech pass defense keeping the Irish contained for four quarters. Bet on Notre Dame to win and cover the 6-point spread against Virginia Tech.