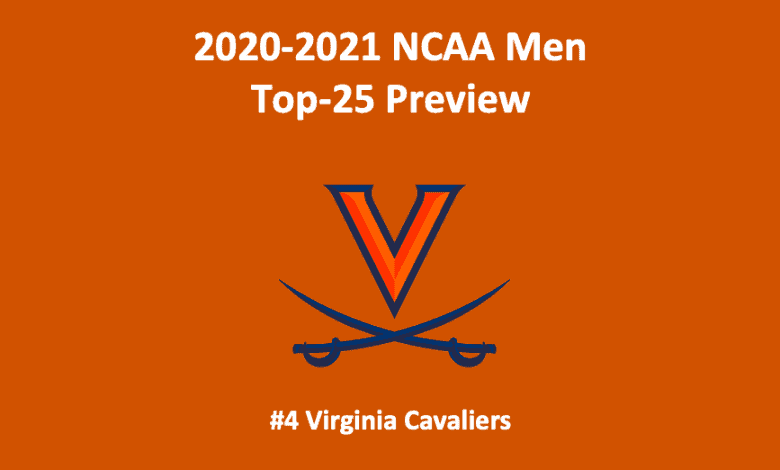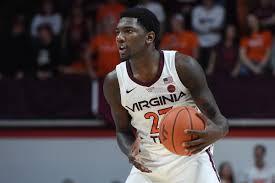 Our Virginia basketball preview 2020 – 2021 observes that this team has a lot of promise. The Cavaliers are the last NCAAM team to win a national title. They did so in the 2019 tournament by beating the Texas Tech Red Raiders 85-77. Last year, the Cavaliers got off to a choppy start. After running off seven straight wins to start the season, in the midst of adjustments after their championship season, they lost two games they should have won. The first occurred when on December 4 the Purdue Boilermakers hammered the Cavaliers 69-40. Four games later, the South Carolina Gamecocks took them down 70-59. However, coach Tony Bennett managed to rally the troops and the team finished by winning eight games in a row and 11 of their last dozen. Virginia finished 23-7 overall and 15-5 in the conference.
Stats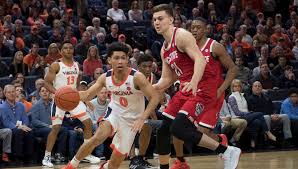 There are certainly some concerns for this team, especially up front where they must replace Mamadi Diakite (13.7 PPG) and Braxton Key (9.9 PPG). Coach Bennett does have some solid talent on hand, but he will need to find the right mix. Just one double-digit scorer comes back and that's point guard Kihei Clark. Along with frontcourt point production being a possible issue, there is also concern about rebounding. Last year, Virginia's rebounding margin was 3.6 (70th Nationally, 4th ACC). That could slip this season. In 2019 -2020, the best part of this team was its defense. The Cavaliers scoring defense came in at 52.4 PPG (1st Nationally and ACC) and their field-goal D was 36.9% (2nd Nationally, 1st ACC). Those are game-winning stats.
Virginia Basketball Preview 2020 – 2021 – Players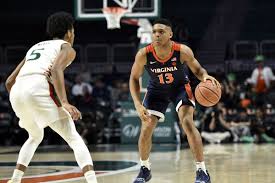 Two of three starting guards return as does one starter from last season's frontcourt. If anything, this team is much stronger and experienced in the backcourt than it is up front. Junior point man Clark and senior guard Tomas Woldetensae resume their duties. We expect that sophomore Casey Morsell will join them. This trio looks to be solid. As noted, the frontcourt has its issues regarding experience as well as depth. We expect to see center Francisco Caffaro and forward Justin McKoy, both sophomores, and senior transfer Sam Hauser join senior forward Jay Huff.
Frontcourt
As noted, Huff returns to the frontcourt. The 7-1 center is a sound shooter and fine defender. In 2019 – 2020, Huff averaged 8.5 PPG, 6.2 APG, and 2.0 BPG. We expect senior transfer Sam Hauser to start alongside Huff. In 2018 – 2019 at Marquette, Hauser averaged 14.9 PPG, 7.2 RPG, and 2.5 APG. Caffaro and McKoy saw very little action last season. The big question concerning both of them is are they ready to contribute in a meaningful way? One wild card in this mix is redshirt freshman Kadin Shedrick. He came to the Cavaliers last year as a four-star, top-75 recruit. The highly-touted forward, who has a lot of upside, spent the year in weight-training increasing his strength and bulk. He could be a major asset.
Backcourt
Our Virginia basketball preview 2020 – 2021 has questions about this backcourt, especially in terms of point production and experience. Last season, Clark averaged 10.8 PPG and 5.9 APG. He also grabbed 4.2 RPG and made 1.2 SPG. However, he needs to improve on his field-goal success rate, which last season was 37.5%. Also, his turnover-rate exploded last season, going from 1.0 TPG the year before to 3.5 TPG. Clark's biggest attributes are his playmaking and defense. Last season as a junior, guard Tomas Woldetensae averaged 6.6 PPG and 2.2 RPG. Overall, he proved to be a sound three-point shooter. In being an effective contributor, Woldetensae needs to expand his game. Also returning are Morsell and Kody Stattmann. Again, both had huge issues with perimeter shooting, with Morsell coming in at 17.6% and Stattmann at 26.9%.
Because of these various question marks at guard, we believe that freshmen Jabri Abdur-Rahim, Reece Beekman, and Carson McCorkle will all be given a chance to contribute. Abdur-Rahim comes to the team with a defensive pedigree as his father is the legendary Vancouver Grizzlie Shareef Abdur-Rahim. Beekman looks like he can be a competent leader and could be essential in allowing Clark to get some downtime. McCorkle has sound shooting chops and should be able to find his way into coach Bennett's defensive plan. Although there's less experience than one would like in this unit, there is depth and potential.
Cavaliers – Make or Break for 2020-2021
Our Virginia basketball preview 2020 – 2021 notes that last season the Cavaliers recorded a 20.1% turnover rate, ranking them 257th in the nation. In the five prior seasons, their rate ranged from 14.0% to 15.7%, and their national ranking was between 5th and 18th. To be successful this season, Bennett has to ensure his players are more adept at handling and protecting the ball. If they're not, this team will struggle to keep afloat and be competitive. Also, this is a young team that has three returning starters and four freshmen. Mistakes are bound to happen. However, Bennett is a top-notch coach, and if anyone can get a group of solid recruits and experienced vets on the same wavelength, he can.
Virginia Basketball Preview 2020 – 2021- Final Word
Last year, the Cavaliers finished second in the ACC at 15-5. They were tied with the Louisville Cardinals and Duke Blue Devils. Our Virginia basketball preview 2020 – 2021 finds that they will need to maintain the same level of defense as they did last season where they were the top one or two teams in the nation. With the loss of some big men up front and a group of less-experienced players, that may be difficult. Plus, there are concerns regarding turnovers and point production. Still, we find that once again the Cavs will be in the upper tier of what is a highly-competitive ACC. If for no other reason, the defensive schemes of coach Bennett.
Virginia Cavaliers – 2020-2021 NCAA Projection
ACC Finish – First
NCAA Tournament Result – Sweet 16