NCAA Previews
2018 Sun Belt Conference East College Football Preview
Mountaineers and Trojans Are Top Teams in East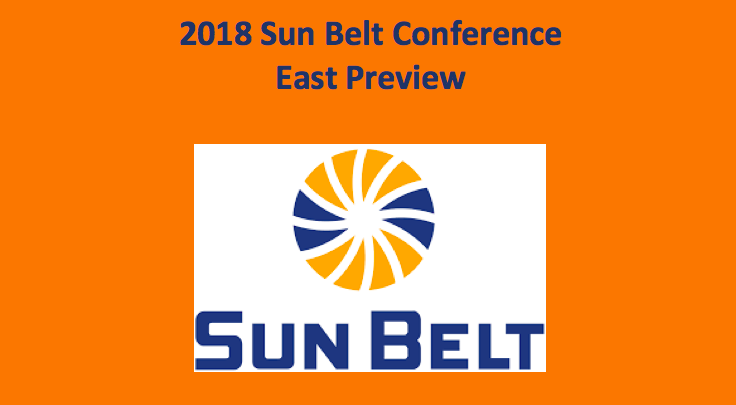 Our Sun Belt Conference East preview determines that the Appalachian State Mountaineers are the favorite in the East Division. But they will see plenty of competition from a very tough Troy Trojans club, as well as a determined Georgia Southern Eagles team. According to our 2018 SBC East college football betting preview, the Georgia State Panthers will bring an uneven team to the field, while the Coastal Carolina Chanticleers will be challenged on both sides of the ball. In order to have a detailed picture of the entire conference, please be sure to reference our 2018 SBC West college football betting preview.
2018 SBC East College Football Betting Preview
In developing our 2018 SBC East college football betting preview, we found that the Mountaineers are look to be in good shape on both sides of the ball. On the other hand, Troy offers one of the best defenses in the league, but their offense is uneven. This 2018 SBC East college football betting preview does find their D-line and LBs to be the best in the league. The Eagles should find an advantage in seeing nine starters come back on offense and nine more on defense. The Panthers will be challenged on both sides of the ball. Finally, the Chanticleers of Coastal Carolina need najor improvements on offense and defense. Our 2018 SBC East college football betting preview envisions them finishing last in the division.
1. Appalachian State Mountaineers
Offense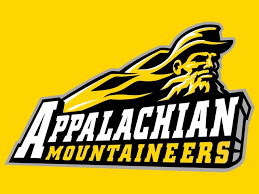 The offense will be without QB Taylor Lamb, who guided this team for four productive years of winning records. Last season, the Appalachian State Mountaineers were 9-4, as they finished first in the division and beat Toledo 34-0 in the Dollar General Bowl. Last season, the team averaged 33.5 PPG (3rd SBC, 30th Nationally), as they accumulated on average 439.8 YPG (4th SBC, 31st Nationally). Taking over at the QB spot will be sophomore Zac Thomas. He has little experience but may be a better rusher and have a better arm than Lamb. The good news, according to our 2018 SBC East college football betting preview, is that there is a solid offensive line to protect him. That is as long as they stay healthy, as the Mountaineers are a bit thin in this area. Although the receiving group could use some more depth, they do have some quality players. Sophomore WR Thomas Hennigan (45 REC, 13.0 YPC, 7 TDs) returns after a very fine frosh season. Senior running back Jalin Moore (1,037 YDs, 5.7 YPA, 12 TDs) is a major asset on offense.
Defense & Special Teams
Nine starters return to a Mountaineer defense that allowed opponents just 20.2 PPG (2nd SBC, 21st Nationally) and 342.5 YPG (2nd SBC, 29th Nationally). The deep backs are the premier group on this side of the ball. Senior corner Tae Hayes (53 TKLs, 12 PBU, 4 INTs) and junior corner Clifton Duck (50 TKLs, 6 PBU, 6 INTs) are relentless defenders. Senior Anthony Flory (87 TKLs, 3 PBU, 5 QBHs) is the anchor of the linebacking unit. The D-line loses some major talent, but it's still one of the best in the SBC. D-coordinator Nate Woody has moved on to Georgia Tech. We'll see if that affects this defense at all. When it comes to special teams, our 2018 SBC East college football betting preview notes that the Mountaineers are strong. Hennigan and Duck are sound on punt returns. Sophomore punter Xavier Subotsch (39.9 YPP, 16 w/in20) put up some good numbers in his first year. Sophomore PK Chandler Stanton (31-31 XP, 8-9 FG) has a booming and accurate leg. He hit a 53-yard FG in his frosh season.
2. Troy Trojans
Offense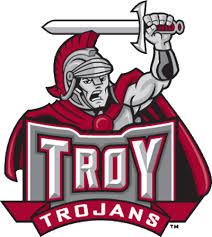 Our 2018 SBC East college football betting preview projects that the Trojans of Troy will roll out an effective offense. The numbers in 2017 were good, as they averaged 31.5 PPG (4th SBC, 43 Nationally) and 418.6 YPG (5th SBC, 46th Nationally). One challenge will be replacing QB Brandon Silvers and his fine passing numbers. Sophomore Sawyer Smith and junior Kaleb Barker both look promising. Whoever gets the job will be throwing to the two top-performing wideouts from last season. Deondre Douglas led the team with 48 catches and four touchdowns while averaging 13.1 YPC. Damion Willis brought in 43 passes, averaging 14.8 YPC and crossing the goal line three times. Both are seniors. The running back situation is questionable, as the Trojans lose over 1,200 yards of ground gain as well as their two best rushers.
Defense & Special Teams
Despite some losses on defense, our 2018 SBC East college football betting preview still sees this side of the ball to be a major strength for the Trojans. In 2017, the Troy D held opponents to 18.5 PPG (1st SBC, 11th Nationally) and 337.0 YPG (1st SBC, 24th Nationally). Five starters return on defense, including three-of-five of the team's top tacklers. The defensive line returns 21.5 sacks and adds two junior college players. Junior DT Marcus Webb had 24 tackles, four sacks, and 4.5 TFL. OLB Hunter Reese (35 TKLs, 6.5 SCKs, 7.5 TFL) can run players down, as can junior LB Tron Folsom, who led the team with 80 tackles and nine tackles for a loss. The secondary is anchored by senior corner Blace Brown. He made five picks and engineered six PBU in 2017. When it comes to special teams, the Trojans have found gold in the run back chops of sophomore Marcus Jones, who broke three kick returns for scores last season. Sophomore Tyler Sumpter did a fine job in his frosh season as punter and placekicker.
3. Georgia Southern Eagles
Offense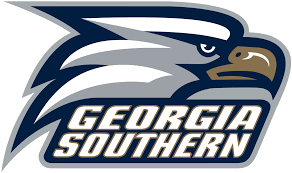 In our 2018 SBC East college football betting preview, there are three teams that we think will be competitive, and the Georgia Southern Eagles are that third team. In 2017, they hit a low-point, as they ended up with two wins and 10 losses. But their offense, which averaged just 20.8 PPG (9th SBC, 113th Nationally) and 332.2 YPG (12th SBC, 114th Nationally), has been upgraded on the O-line and now includes a wealth of experience at quarterback and running back. Plus, they are starting their fifth season as a FBS team. Improvement is the word of the day for this club. While three QBs return with experience, we expect Shai Werts (55.9 COMP%, 7 TDs, 5 INTs) to be the starter. Werts, who's also a solid rusher, averaging 3.5 YPA and gaining 722 yards last season, needs to cut back on his picks. Senior RB Wesley Fields (811 YDs, 5.7 YPA, 5 TDs) is ready for a breakout season. The team's top five receivers are also back. Although this is the weakest group on offense.
Defense & Special Teams
Nine starters are back on a Georgia Southern Eagle D that offered up 32.3 PPG (8th SBC, 98th Nationally). The top five tacklers on the line come back, and the entire secondary returns. Our 2018 SBC East college football betting preview notes that the linebacking group is the biggest question on this side of the ball. Senior Tomarico Reese (45 TKLs, 1.5 SCKs, 2.5 TFL) will be the anchor of this unit. Junior corner Monquavion Brinson (34 TKLs, 12 PBU, 5 INTs) is a major talent and the leader of the secondary. Look for DE Raymond Johnson (36 TKLs, 4 SCKs, 2.5 TFL, 7 QBHs), a sophomore, to set the tone on the line. The Georgia Southern special teams include a productive Wesley Kennedy on punt returns. The team's primary run back talent, Myles Campbell, is gone. Junior Tyler Bass will punt and kick. He hit 27-of-28 extra points and 15-of-19 field goals. Bass saw limited action as punter, but of his two punts both were nailed within the 20, as he averaged 49.5 YPP.
4. Georgia State Panthers
Offense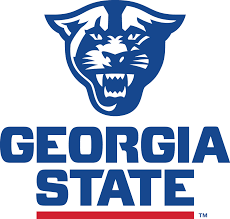 The Panthers were coming off a 2016 record of 3-9 last season and managed to do something in 2017 they had not done in some time, post a winning mark. Georgia State finished 7-5 and earned a berth in the Cure Bowl where, as the underdog, they beat WKU 27-17. But our 2018 SBC East college football betting preview finds that they will their challenges this year. First, they must make up for major losses at quarterback, Second, they need help at running back. The Panthers are well-stocked with receivers, and if they can find a solid and dependable passer, this team could be a force. This is especially the case as they also sport an improved O-line.
Chances are junior Aaron Winchester, who has little game experience, will start at QB. He'll have junior Penny Hart (74 REC, 15.1 YPC, 8 TDs) and sophomore Tamir Jones (33 REC, 12.0 YPC. 0 TDs), who were first and second in catches last season, to toss to. Hart had 1,121 yards in catches last year. The running back area will be covered by freshman Destin Coates, junior Tra Burnett, and senior Demarcus Kirk. Kirk rushed for two scores last season and averaged 5.8 YPC.
Defense & Special Teams
On defense, the best unit is the linebacking group. It includes two returning seniors, OLB Michael Shaw (57 TKLs, 1.5 SCKs, 5 TFL, 4 PBU) and ILB Chase Middleton (65 TKls, 1.5 SCKs, 1.5 TFL). Both are tough and resilient. In front, senior DE Marterious Allen (26 TKLs, 4 SCKs, 1 TFL, 4 QBHs) is tough on QBs. Sophomore NG Donte Williams, who nailed 24 tackles and four sacks as a freshman, could be an All-SBC candidate. Senior CB Jerome Smith (38 TKLs, 4 PBU, 1 INT) will anchor the secondary. Last season, the Georgia State defense allowed 24.8 PPG (4th SBC, 48th Nationally), which was very respectable. According to the research for our 2018 SBC East college football betting preview, they could do the same this season. Junior placekicker Brandon White (28-30 XP, 12-23 FG) found his way at the end of the season, hitting eight-of-10 field goal attempts. We expect White to also punt. Coaches would like Hart to step it up on returns. They feel he has the potential to break a few this season.
5. Coastal Carolina Chanticleers
Offense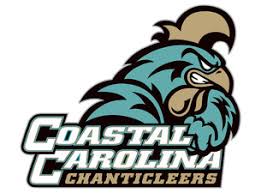 Following a string of six winning seasons, the Chanticleers went 3-9 in 2017. Our 2018 SBC East college football betting preview expects this team to struggle once again this season. We're projecting that they will end up in last place. The offense generated 23.7 PPG (7th SBC, 102nd Nationally). Due to injuries last season, the team had to use four different starting quarterbacks. There's a huge mix of potential candidates for the starting QB spot in 2018, including five true freshman candidates. Sophomore Alex James (274 YDs, 5.0 YPA, 4 TDs) gets the nod at running back, while senior Malcolm Williams (43 REC, 18.4 YPC, 7 TDs) gives this team a seasoned and talented pass catcher. The O-line has been improved and that should help the rush attack.
Defense & Special Teams
The Chanticleer D allowed 34.0 PPG (10th SBC, 108th Nationally). With what is perhaps the weakest defense in the conference, we doubt they will show much, if any, improvement. Five starters return, including safety Fitz Wattley (83 TKLs, 1 PBU, 3 INTs), a senior, who will serve as the cornerstone of the deep backs. CB Anthony Chesley (55 TKLs, 2 TFL, 8 PBU), also a senior, will also be key in what is the strongest part of this D. Sophomore Silas Kelly (74 TKLs, 1.5 SCKs, 4 TFL, 2 QBHs) is the lone returning starter in the LB group. Senior DT Ja'ree Tolbert (33 TKLs, 1.5 SCKs, 2 TFL) offers experience in front. The special teams include Ky'Jon Tyler on both kick and punt returns. Junior Evan Rabon's leg pushes both punts and kicks. He averaged 43.2 YPP and nailed 18 punts within the 20-yard line last season. On extra points, he was a solid 30-of-31 and on field goals he went 12-of-19. He did hit both of his tries from 50-plus, including a 52-yard one.
2018 SBC East Preview
Bowl Projections
Dollar General Bowl: Ohio vs Appalachian State
Camellia Bowl: Northern Illinois vs Troy
Cure Bowl: Temple vs Georgia Southern
2018 SBC East College Football Betting Preview
Projected Best Bets
Sep 1: South Carolina State @ Georgia Southern – Bet Eagles at -10 or fewer.
Sep 15: Campbell @ Coastal Carolina – We like the home team. Go with the Chanticleers in this one.
Sep 22: Gardner-Webb @ Appalachian State – Bet Mountaineers at -30 or less.
Sep 29: Coastal Carolina @ Troy – Bet Trojans at -18.0 or less.
Oct 13: Troy @ Liberty – We're going with Trojans by 20.
Oct 20: Coastal Carolina @ Massachusetts – The Chanticleers need some points. Bet them at +7.0 or better.
Oct 25: Appalachian State @ Georgia Southern – Mountaineers by about 15 points.
Nov 3: Texas State @ Georgia State – Panthers at -7.0.
Nov 10: Appalachian State @ Texas State – Take Mountaineers at approximately -10.0. They are the best team in C-USA.
Nov 17: Georgia Southern @ Coastal Carolina – Eagles at -8.0 or less.
Be sure the use the data and info in our 2018 SBC East college football betting preview to your advantage. Read our 2018 SBC West preview to get the entire picture of every team in this league. You can access all FBS conferences and teams through our hub page.