NCAA Previews
2017 Southeastern Conference College Football Preview
Is It Really The Alabama Crimson Tide and Everyone Else?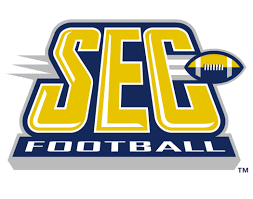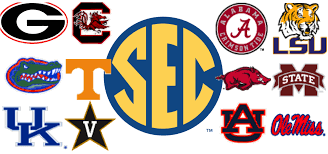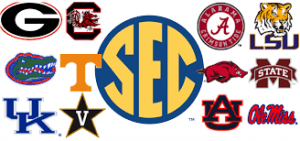 There are 14 football teams in the Southeastern Conference (SEC). Of those 14, our 2017 SEC CFB Preview projects that 11 will go to bowl games. The SEC is, according to just about everyone, the top college football conference. So many of the teams are extremely competitive, and it has the club that has been considered to be the top team in the US for at least the past five years, the Alabama Crimson Tide. Many feel that in the SEC, and perhaps even in all of college football, there's Alabama and then everyone else.
Our 2017 SEC CFB Preview projects that Alabama will once again be the top team the West Division, the conference, and the nation. In their division, they'll have to deal with a tough Auburn team and a young but talented LSU club. The East Division will see Florida and Georgia battling for first place with Tennessee being very competitive.
SEC West Division- Finish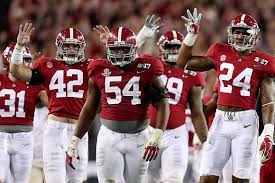 The SEC West is Alabama's division to lose. This team is loaded, especially on offense. They need to be wary of everyone, especially the two Tiger teams, LSU and Auburn. Alabama opens against Florida State. That game has the potential to say a lot about both teams.
1. Alabama Crimson Tide
The Crimson Tide comes to this season wanting very little except to jack up their special teams. In conference, they are tops in unit ratings and last season, they were first in overall defense nationally and 16th in overall offense. Although they lost five key defensive players, this team is still loaded with talent. On offense, QB Jalen Hurts, who in his freshman season tossed 23 TD passes while also scoring 13 times as a runner, is back as a sophomore. On defense, the team loses its top tackler and third-best tackler and two best sackers, Rueben Foster (115 Tackles, 5 Sacks, 8 TFL) and Jonathan Allen (69 Tackles, 10.5 Sacks, 5.5 TFL).
2. Auburn Tigers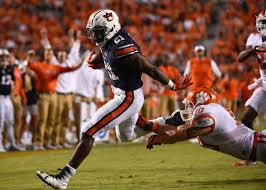 One major question in the SEC concerns Auburn and the team's tendency to pull timely upsets and grab the conference title. That's what they did in 2010 and 2013. They have 15 returning starters, including sophomore QB Jarrett Stidham, a super aggressive ground attack, and a dogged and talent group on D. Stidham, who is a new addition, looked very good in the spring and is expected to start. If he does not work our, junior QB Sean White, who's experienced and talented, will have to step up. To win the division, the Tigers will have to penetrate Alabama's rush defense, which is one of the toughest in the nation. Nine of Auburn's top tacklers return, including senior SLB Tre' Williams. He led the team with 76 bring downs.
3. LSU Tigers
Last season, the LSU defense was ranked fifth in the nation for points allowed. Despite some important losses, the D should still be very tough. Junior RB Derrius Guice gained almost 1,400 yards last season, while averaging 7.6 YPA and scoring 15 TDs. In 2017, he'll be a massive offensive weapon once again. The question as usual for this team is at quarterback. Can senior signal caller Danny Etling improve his game enough to make this team competitive against Alabama? Last season, he threw 11 TDs, five interceptions, and completed 59.5% of his passes. He has to do better. LSU has one of the toughest schedules in college football this season.
4. Texas A&M Aggies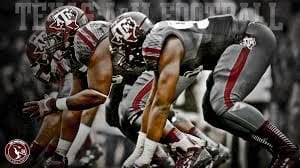 The Aggies have to replace some major players at QB, WR, and DE. Freshman Nick Starkel will most likely get the call at quarterback. Senior Jake Hubenak may split those duties with him. On offense, Texas A&M has some standout players, including junior WR and KR Christian Kirk and sophomore RB Trayveon Williams. The defense is worrisome, as only six starters return and the team's five top tacklers are gone.
5. Arkansas Razorbacks
Arkansas, which was 3-5 in the SEC last season, comes to 2017 with some of the same positives and negatives that they had in 2016. The defense struggled, allowing 31.1 PPG and 426.6 YPG. The team's major pass rushers are gone and just about every defensive unit is lacking. On offense, senior QB Austin Allen proved that he can connect on important plays, throwing 25 TDs and leading the third-best passing game in the SEC. He did toss 15 INTs. Both the receiving and passing units suffered key losses coming into 2017.
6. Ole Miss Rebels
The Rebels used to have a stingy defense. Last season, they were last in the SEC in points allowed and rushing yards allowed. They are more experienced as eight of their top 11 tacklers return. Star QB Chad Kelly is gone, however last season as a freshman Shea Patterson performed well enough to show that he has the right stuff to take over in that role. A major negative are NCAA sanctions, which do not allow this team to participate in a bowl game.
7. Mississippi State Bulldogs
Last season Nick Fitzgerald lead the SEC in total offense with 3,798 yards. He three 21 TD passes and ran for another 16 scores, while tossing 10 picks. He's back as a junior and should be even more dangerous. He has a decent receiving group, but the O-line is a problem. The Bulldog defense is mediocre at best. This team will allow a few more points per game on average than they will score.
SEC East Division- Finish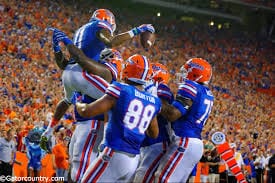 Of the seven teams in this division, we see the top sport either going to the Florida Gators or the Georgia Bulldogs. The Tennessee Volunteers have seen some key players leave, but that doesn't mean that they won't be in the tussle. Florida plays Georgia on October 29. That could decide the division crown.
1. Florida Gators
The Gators were second in the SEC on defense last season, giving up just 16.8 PPG and allowing offenses less than 300 total yards per game. On the other hand, the team's offense was 12th in the conference, scoring just 23.9 PPG. Redshirted freshman Feleipe Franks looks to get the starting spot at QB. He'll have plenty of players to throw to, as the top seven pass-catchers return from last season. The frontline is young but it does see five starters return. They are key to this offense's success.
2. Georgia Bulldogs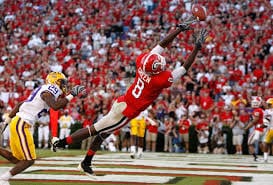 The Bulldogs need to see both their offense and defense perform a little better this season. In 2016, they scored on average 24.5 PPG and allowed 24.0 PPG. Of their five losses, three were by three points or less. Sophomore QB Jacob Eason had a solid freshman season, as he threw for 2,400-plus yards connecting on eight TD passes. He needs an uptick in his completion rate, which was 55.5%, and needs to toss fewer picks (8 INT). Senior RB Nick Chubb ran for over 1,000 yards, scoring eight times while averaging 5.0 YPA. There's potential here. Plus, the defense returns 10 starters.
3. Tennessee Volunteers
The Vols have some things going for them, including a fine defense, a top-notch secondary, and skilled wideouts. But major contributors on offense are gone, including QB Joshua Dobbs who threw 12 TD passes and scored a dozen more times rushing. Despite losing Derek Barnett, Tennessee's all-time sack leader, on defense, the team sees eight of its top 11 tacklers return. They went 9-4 in 2016. With key losses, don't expect the same mark in 2017.
4. South Carolina Gamecocks
The Gamecocks scored 20.8 PPG (14th SEC) last season. They allowed 26.5 PPG (8th). The team should mount a decent pass attack, as they have some solid receivers and last season as they headed into the final few games, QB Jake Bentley, then a freshman, started to find his way. he ended the season with 1,400-plus passing yards, nine TDs, and four INTs. Sophomore RB Rico Dowdle will look to build on what was a decent first season where he rushed for 764 yards and six scores while averaging 5.7 YPA.
5. Kentucky Wildcats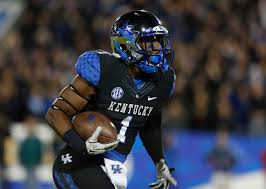 Although the Wildcats have a decent offense, especially when it comes to the ground attack, their defense, which allowed 31.3 PPG in 2016, is problematic. Still, nine starters return for the D, which may be served by their experience. On offense, Kentucky brings back eight starters, including sophomore RB Benny Snell. Snell crossed the goal line 13 times on rushes while averaging 5.9 YPA and running for 1,091 total yards. Senior QB Stephen Johnson, who had 13 TD passes and threw for over 2,000 yards in 2016, has some decent receivers.
6. Missouri Tigers
The Missouri defense gave up an average of 479.7 YPG (14th SEC) in 2016. The Tigers will put six new defensive starters on the field this year, and they lose three of their four top tacklers from 2016. On offense, junior QB Drew Lock, who threw for over 3,300 yards and hit for 23 touchdown passes, has a strong contingents of receivers, including senior wideout J'Mon Moore (62 REC, 16.3 AVG, 8 TD). Sophomore TB Damarea Crockett, who had over 1,000 yards and scored 10 rushing TDs, is part of a sound unit. The O-line is better than average.
Vanderbilt Commodores
Vanderbilt will have a difficult time mounting consistent offensive attacks, as its O-line is weak. On paper, the Commodore offense, which sees nine starters come back, including senior TB Ralph Webb who rushed for 1m263 yards and scored 13 times. But QB Kyle Shurmur, now a junior, completed just 54,4% of his passes, as he threw nine touchdown passes and 10 picks. The receiving corps is weak and the defense has lost some major stoppers.
2017 SEC CFB Preview
Bowl Projections
Alabama Crimson Tide: Sugar Bowl (CFP)
Auburn Tigers: Orange Bowl
LSU Tigers: Peach Bowl
Florida Gators: Citrus Bowl
Georgia Bulldogs: Outback Bowl
Tennessee Volunteers: Liberty Bowl
Texas A&M Aggies: Music City Bowl
Arkansas Razorbacks: Tax Slayer Bowl
South Carolina Gamecocks: Belk Bowl
Kentucky Wildcats: Birmingham Bowl
Missouri Tigers: Texas Bowl
2017 SEC CFB Preview
Projected Best Bets
Our 2017 SEC CFB Preview Best Bets are futures bets, and that means they are projects based on current information. Use the listings below to track possible smart bets to make as the season unfolds. A lot can change during the course of a season so be sure to evaluate each game and team before betting any real money.
Sep 2: Appalachian State @Georgia- Georgia by no more than -15
Sep 2: Charleston Southern @Mississippi State- Mississippi State by no mre than -7
Sep 16: Tennessee @Florida- Florida by no more than -11
Sep 23: Tennessee @Massachusetts- Tennessee by no more than -14
Oct 7: Alabama @Texas A&M- Alabama by no more than -18
Oct 14: Texas A&M @Florida- Texas A&M by no less than +20
Oct 21: LSU @Ole Miss- LSU by no more than -17
Nov 11: Arkansas Razorbacks @LSU: LSU by no more than -20
Nov 18: Wofford @South Carolina- South Carolina by no more than -7.5
Nov 18: Louisiana-Monroe @Auburn- Auburn by no more than -44