NCAA Previews
2018 Sun Belt Conference West College Football Preview
Both Red Wolves and Warhawks Are Solid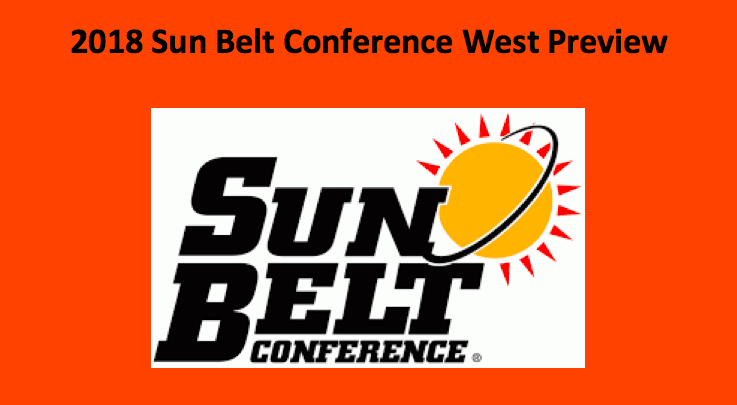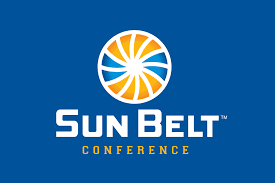 There are two teams that our 2018 SBC West college football betting preview found to be the top of the division. The first is the Arkansas State Red Wolves, a team that always seems to generate winning numbers. The second is the University of Louisiana – Monroe (ULM) Warhawks. This is a team that has not been in the mix since 2012, and since 1975, the Warhawks can count their winning-seasons on one hand. The Louisiana Ragin' Cajuns could also be a threat, especially on offense. However, the South Alabama Jaguars and Texas State Bobcats will both struggle to come near to a 500 record. To ensure that you have a good understanding of all teams in the conference, after reading our 2018 SBC West college football betting preview, make sure you also see our SBC East football betting preview.
2018 SBC West College Football Betting Preview
The Red Wolves may very well not just be the best team in the West, but perhaps the finest all-around in the SBC. Our 2018 SBC West college football betting preview finds that they are impressive on both offense and defense. On the other hand, the Warhawks appear to be stronger on the offensive side of the ball, as they bring less to the field on defense. The Ragin' Cajuns have some weakness in both front lines, while the Jaguars must deal with running back and O-line issues. The one bright spot for the Bobcats can be found in their solid linebacking unit. The rest of the units are questionable. Here's how our 2018 SBC West college football betting preview sees each team performing.
1. Arkansas State Red Wolves
Offense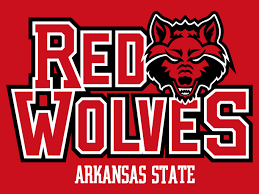 In 2017, the Arkansas State Red Wolves were good for 37.8 PPG (1st SBC, 12th Nationally) and 494.8 YPG (1st SBC, 10th Nationally). Many of the players who were responsible for an offense that was exceptional in the air and proficient on the ground are back. QB Justice Hansen (62.6 COMP%, 37 TDs, 16 INTs) returns for his senior year, and it could be a big one. Along with leading the best pass attack in the SBC, he found the goal line seven times using his legs.
Three receivers return with 32 catches or more, including senior WR Justin McInnis (49 REC, 16.3 YPC, 4 TDs). Senior RB Warren Wand (715 YDs, 5.2 YPA, 6 TDs) will start. Our 2018 SBC West college football betting preview sees Arkansas State's O-line as being experienced and solid.
Defense & Special Teams
The Red Wolves defense must deal with significant losses in each area. Last year, the gave up 377.5 YPG (3rd SBC, 54th Nationally) and allowed 25.8 PPG (4th SBC, 56th Nationally). Ja'Von Rolland-Jones and his 13 sacks, six TFL, and six QBHs is gone. Senior DE Ronheen Bingham (22 TKLs, 5 SCKs, 3 TFL, 5 QBHs) will help make up for that loss. Senior NB Justin Clifton (63 TKLs, 4.5 TFL, 13 PBU, 1 INT) will be an essential part of the pass defense. Junior SS B.J. Edmonds (80 TKLs, 4 PBU, 3 INTs) will anchor the secondary. Special teams include punter Cody Grace (41.1 YPP, 24 w/in20). He's got a strong and accurate leg. The same cannot be said for PK Sawyer Williams (48-53 XP, 16-22 FG). Jonathan Adams will run back kicks.
2. ULM Warhawks
Offense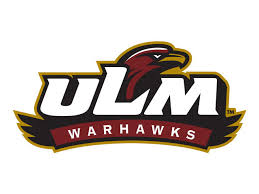 In 2017, the Warhawks mounted an aggressive offense, as they scored 33.9 PPG (2nd SBC, 25th Nationally) and gained 458.0 YPG (2nd SBC, 21st Nationally). Junior QB Caleb Evans is solid in the air and on the ground. He completed 61.3% of his passes for 17 TDs while tossing six picks. Evans also rushed for 579 yards, as he scored 13 TDs while averaging 4.2 YPA. Senior RB Derrick Gore (585 YDs, 3.6 YPA, 6 TDs) is back as the top ground gainer.
The inimitable Marcus Green (54 REC, 15.0 YPC, 5 TDs) is back having led the team in receptions. He also carried the ball 15 times, averaging 12.3 YPA. WR R.J. Turner (38 REC, 18.2 YPC, 6 TDs) is a dangerous pass catcher. Our 2018 SBC West college football betting preview does see this team as being able to score a lot of points each game.
Defense & Special Teams
The defense was a mess last season due to injuries and a lack of depth, as ULM allowed 41.0 PPG (12th SBC, 126th Nationally) and 532.1 YPG (12th SBC, 129th Nationally). Our 2018 SBC West college football betting preview expects to see quite a bit of improvement on this side of the ball, as those who were injured last season return in good states of health, new junior college transfers come in, and players come back after a season of experience. Improvement is expected on the front line.
The LB unit sees both starters return. Senior WLB David Griffith (76 TKLs, 2 SCKs, 6 TFL) and sophomore MLB Rashaad Harding (29 TKLs, 1 SCK, 2 TFL) make a solid team. Senior safety Wesley Thompson (67 TKLs, 1 PBU) and senior corner Marcus Hubbard (26 TKLs, 3 TFL) bring stability to that unit. Green on special teams is a master at run backs. He brought four kicks into the end zone last season and averaged 32.4 YPG on kick returns. PK Craig Ford (45-47 XP, 10-13 FG) is solid, while freshman punter Mark Deaves will try to replace the accurate and strong Harrison Heim.
3. Louisiana Ragin' Cajuns
Offense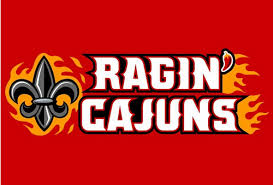 There is certainly good news on offense for the Ragin' Cajuns, as eight starters come back. Louisiana averaged 28.2 PPG (6th SBC, 66th Nationally). Their rush attack was their strength, as they posted 183.7 YPG (3rd SBC, 43rd Nationally) on the ground. Top ground gainer Trey Ragas (813 YDs, 5.7 YPA, 9 TDs) gets the nod to start. Last season, quarterback was a revolving door due to injuries.
This year senior Andre Nunez (61.6 COMP%, 4 TDs, 2 INTs) will start. He lasted two weeks in 2017 before a concussion ended his season. All of last season's receivers are back, and that includes senior Ryheem Malone (44 REC, 15.4 YPC, 4 TDs). Our 2018 SBC West college football betting preview envisions this being a more productive offense this year. The O-line will be big and experienced, which should help.
Defense & Special Teams
The Ragin' Cajun defense had a tough time keeping opponents out of the end zone, as they allowed 40.0 PPG (11th SBC, 124th Nationally) and 492.7 YPG (11th SBC, 124th Nationally). The best part of this defense in 2018 will be the D-line, which welcomes transfer Garrald McDowell from Ole Miss. This side of the ball is overall young and inexperienced, as just three starters return. Key players our 2018 SBC West college football betting preview has earmarked include former DE and now OLB Joe Dillon (30 TKLs, 4.5 SCKs, 3 TFL, 4 QBHs) and senior strong safety Corey Turner (65 TCKLs, 5 TFL, 3 PBU, 1 INT). This group will certainly have its growing pains. Raymond Calais returned two kickoffs for TDs last season while averaging 23.8 YPR. He's back for his junior year. Australian punter Rhys Byrns comes in to replace the departed Sam Geraci, while PK Calvin Linden, a sophomore, could replace senior Steve Artigue.
4. South Alabama Jaguars
Offense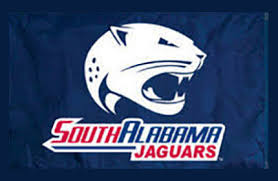 The South Alabama Jaguars, who in the last four or five seasons have managed to generate six wins each year, only took down four games in 2017. One reason for their lack of wins had to do with their inability to generate points. This team scored only 19.8 PPG (11th SBC, 118th Nationally). They also generated a mere 334.3 YPG (11th SBC, 118th Nationally) on offense. New head coach Steve Campbell comes to this job never having served as a head coach of a FBS team. He does have an extensive resume as an offensive line coach, running back coach, and offensive coordinator. New OC Kenny Edenfield will try to resuscitate the Jags running game in the same manner he did for the Troy Trojans.
South Alabama averaged just 97.3 YPG on the ground, which was 12th in the SBC and 126th nationally. Junior Tra Minter (341 YDs, 3.2 YPA, 1 TD) will be the primary running back. Our Our 2018 SBC West college football betting preview notes that the focus for the offense is on creating an effective line. That will take some time. Red-shirted freshman Cephus Johnson will likely get the nod at QB. The team's five top receivers return. Jamarius Way and Sam Harris each had 40-plus catches in 2017, as the former averaged 16.2 YPC and the latter 13.9 YPC. Way caught three TD passes and Harris two.
Defense & Special Teams
The defense was not bad, as they held opponents to 26.5 PPG (6th SBC, 63 Nationally). They were most effective against the rush, allowing opponents just 151.8 YPG (6th SBC, 46th Nationally). Seven of the team's top nine tacklers return. Junior DT Tyree Turner (28 TKLs, 3.5 SCKs, 1 TFL) led the team in sacks, while senior safety Nigel Lawrence (83 TKLs, 1.5 TFL, 3 PBU) is back with the most tackles. Junior safety Tobias Moss grabbed two picks and broken up nine passes.
Senior Bull Barge (77 TCKLs, 1 SCK, 2 TFL, 4 QBHs) is the leader of the linebacking unit. Alabama transfer Shawn Jennings joins the group. The D-line should be effective as should the D-backs. Special teams include two solid senior legs, PK Gavin Patterson (26-27 XP, 16-19 FG) and punter Corliss Waitman (45.2 YPP, 26 w/in20). Our Our 2018 SBC West college football betting preview notes that sophomore Kawaan Baker, who averaged 25.0 YP kick return, could have a breakout season.
5. Texas State Bobcats
Offense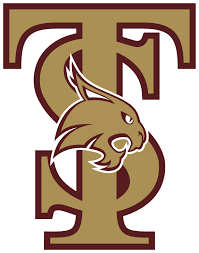 Under new head coach Everett Withers, who starts his third season with the Cats, Texas State is 4-20. With North Carolina, where he served as an interim, he was 7-6 and as a FCS coach Withers is 18-7. He's rebuilding this team from scratch and hopes to see some progress this season. In 2017, the Bobcats scored on average 17.3 PPG (12th SBC, 123rd Nationally). They will try to generate more points this season through sophomore QB Willie Lee Jones. If Jones doesn't work out, there's always red-shirted freshman Jaylen Gipson waiting in the wings.
Whoever is tossing the ball, it's expected that his favorite target will be senior WR Tyler Watts (40 REC, 8.3 YPC, 2 TDs). The rush attack, according to the research for our 2018 SBC West college football betting preview, looks to be healthy with junior Anthony D. Taylor (436 YDs, 4.0 YPA, 2 TDs) and sophomore Anthony Smith (352 YDs, 4.8 YPA, 3 TDs) ready to go. The O-line returns four starters and has some depth. They should perform better than they did in 2017.
Defense & Special Teams
The Bobcat D allowed opponents 33.6 PPG (9th SBC, 105th Nationally) and gave up 438.9 YPG (10th SBC, 103rd Nationally). They were especially ineffective against the pass, as opposing QBs averaged 297.3 YPG (11th SBC, 127th Nationally) in the air. The strength of this defense is the linebacking group, which includes senior Frankie Griffin (74 TKLs, 4 SCKs, 7.5 TFL, 3 PBU) and junior Bryan London (91 TKLs, 3 TFL, 5 PBU). Junior CB JaShon Waddy (55 TKLS, 5 PBU) and senior SS A.J. Krawczyk (74 TKLs 1 PBU) will be the anchors in the secondary.
The defensive line looks to be fairly sound and should handle opponent rush attacks well. On special teams, Texas State signed new placekicker Chris Kessler and new punter Clayton Stewart. Returning senior James Sherman will compete for both positions. The return game needs a sparkplug. The assessment of our 2018 SBC West college football betting preview is that this team will do well earning one or two more wins than they did in 2016 and 2017.
2018 SBC West Preview
Bowl Projections
Arizona Bowl: Air Force vs ULM
New Orleans Bowl: Arkansas State vs Middle Tennessee
2018 SBC West College Football Betting Preview
Projected Best Bets
Sep 1: Grambling @ Louisiana – Ragin' Cajuns in their home opener at -12.0.
Sep 8: Texas Southern @ Texas State – It's the battle of the Lone Stare State. Bobcats are good by about 20 points.
Sep 15: Texas State @ South Alabama – Jags win this one by about 12 points.
Oct 13: ULM @ Coastal Carolina- We're taking the Warhawks by 15 and the over.
Oct 18: Georgia State @ Arkansas State – Arkansas State has many weapons. Bet Red Wolves at -20 or fewer.
Oct 20: Texas State @ ULM – Bet the ULM Warhawks by 15 or fewer points.
Nov 3: South Alabama @ Arkansas State – We like the Wolves by -15. Strongly.
Nov 10: ULM @ South Alabama – Bet Jaguars at -7.0 or fewer.
Nov 24: Coastal Carolina @ South Alabama – Once again, it's the Jags. This time at +9.0.
Nov 24: Louisiana @ ULM – We're going with ULM at even money.
We've got the SBC East college football betting preview right here, as well as a link to our NCAA Football conference hub page. Use all of our previews, including this 2018 SBC West preview, to get a real advantage when wagering on NCAA football.