NCAA Previews
#7 Michigan Wolverines Preview 2019
Can the Wolverines Take the Big Ten East?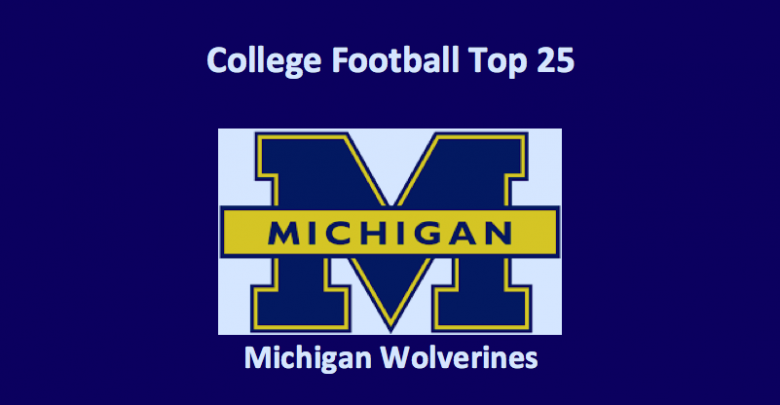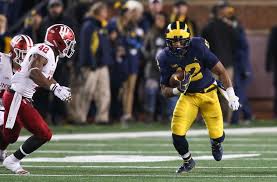 This Michigan Wolverines Preview 2019 likes what it sees in this team. Our Michigan Wolverines preview finds that this college football team is solid on both sides of the ball. Last season, with one game left to go, Michigan was 10-1 with their only loss being 17-24 at Notre Dame in the first week. They met Ohio State, who was also 10-1, in the last game of the regular season. The Buckeyes took the Wolverines down 62-39 and won the Big Ten East and then the conference title. After finishing second in the East, the Wolverines, who were 8-1 in the Big East, lost to Florida 15-41 in the Peach Bowl. Their final record for 2019 was 10-3.
Last season, the Michigan Wolverines had a fine offense and one of the best defenses in the country. The Wolverines averaged 35.2 PPG (21st), while they held opponents to 19.4 PPG (16th). The Michigan offense was good for 203.8 rushing yards per game (30th) and 215.7 passing yards (79th). Their total average offensive yardage of 419.5 ranked 49th. On the other side of the football, the Wolverines allowed opponents 127.4 rushing yards per contest (23rd), while their pass defense gave up just 147.9 YPG (2nd). Their total defensive yards allowed of 275.2 per game ranked second in the nation.
Michigan Wolverines Preview 2019 – Offense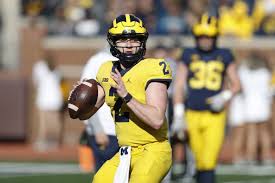 Senior QB Shea Patterson (64.6 COMP%, 22 TDs, 7 INTs), who runs a very effective no-huddle, spread offense, returns after passing for 2,600 yards last season. Seven of the team's nine receivers return, including the two top, Nico Collins (38 REC, 16.6 AVG, 6 TDs) and Donovan Peoples-Jones (47 REC, 13.0 AVG, 8 TDs). Experienced tight ends Sean McKeon (14 REC, 8.7 AVG, 1 TD) and Nick Eubanks (8 REC, 19.6 AVG, 1 TD) are also back. The pass attack should be dynamic.
Our Michigan Wolverines Preview 2019 observes that the offensive line is loaded as four All-Big Ten starters return. This unit should do well in protecting Patterson and also in opening the rushing game. Although the ground game loses 1,000-plus rusher Karan Higdon, who scored 10 TDs last season, there are six tail backs who on the roster who gained experience in 2018. Red-shirted freshman Christian Turner (99 YDs, 4.9 AVG, 0 TDs) will most likely be featured. If RB Chris Evans (423 YDs, 5.2 AVG, 4 TDs) is allowed to return from suspension, he'll be an important contributor. True freshman Zach Charnonnet could also see some reps. On offense, this is the most questionable unit.
Defense and Special Teams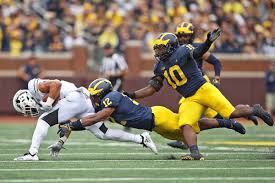 The defense has some challenges in front. They lose three-of-four starters and numerous other experienced players. Gone is second-team All-American DE Chase Winovich, who posted 69 tackles, five sacks, and 12 TFL. Junior DE Kwity Paye (29 TCKLs, 2 SCKs, 3.5 TFL) returns as the most seasoned player on the D-line. Still, this is a talented group. Included is the only starter from last season, junior DT Carlo Kemp (17 TCKLs, 0.5 SCKs, 2 TFL) and Central Michigan transfer and first-team All-MAC DE Mike Danna. The linebacking group returns five-of-seven from last season, including four starters. Featured are senior SLB Khaleke Hudson (44 TKLs, 2 SCKs, 3 QBHs) and junior MLB Josh Ross (61 TKLs, 4 TFL, 3 QBHs). The Michigan D-backs are stacked. Senior strong safety Josh Metellus (48 TKLs, 6 PBU, 3 INTs) is a major asset. Senior corner Lavert Hill (14 TKLs, 5 PBU, 1 UNT) is the anchor of this unit. The third-team All-American is a stellar performer who QBs try to stay away from. Thus, the thin stats. True freshman deep back Daxton Hill, a five-star recruit and top-ranked safety in the nation, will start.
The Wolverines possess top special teams. Senior punter Will Hart (43 Punts, 47.0 YPP, 15 In20) was Big Ten Punter of 2018. He's back. Junior Quin Nordin (45-46 XP, 11-16 FG) and sophomore Jake Moody (5-5 XP, 10-11 FG) will battle for the placekicking spot. Moody hit a 48-yard attempt last season, but missed hos one try from 50-plus, while Nordin nailed a 50-yarder, going 1-3 from 50-plus. On returns, Peoples-Jones (25 RT, 10.0 AVG, 1 TD) bringing back punts and Ambry Thomas (19 RT, 21.7 AVG, 1 TD) kicks. Both are dangerous returners who are capable of breaking one for a score.
Coaching and Recruitment
Jim Harbaugh (38-14 Michigan, 67-35 Overall) returns for his fifth season with the Wolverines and his ninth as a FBS head coach. Since coming to Michigan, the former college QB and NFL head coach has posted three seasons with double-digit wins and four winning seasons. Former Alabama offensive coordinator Josh Gattis comes to town with his pro-spread, no-huddle offense. DC Don Brown, a seasoned vet, is back for his fourth season with the Wolverines, while special teams coach Chris Partridge returns for his fifth season. Michigan has the top recruiting class in the conference as they bring two five-star, 14 four-star, and 10 three-star players/
Our Michigan Wolverines Preview 2019 – Final Word
Our Michigan Wolverines Preview 2019 acknowledges that this team has a very challenging season that includes Army West Point at home on September 7 and Wisconsin away on September 21. Also on the docket are home games against Iowa, Notre Dame, Michigan State, and Ohio State and an away game at Penn State. The new offense as well as a deep group of receivers and top-notch O-line should put points on the scoreboard. Plus, this team's defense is one of the best in the Big Ten. We think Michigan will excel this season.
Click here to go back to Big Ten East
Click here to go back to NCAAF Hub