NCAA Previews
2018-2019 USC Trojans Basketball Analysis
Trojans Look to Get Back to the Big Dance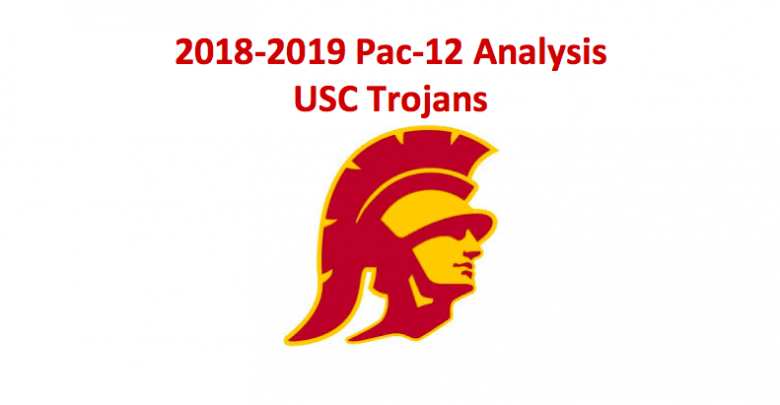 The USC Trojans (24-12 Overall, 12-6 Pac-12) did not get a NCAA Tournament invite last year. Instead, they went to the NIT where Kentucky took them down in round two 79-75. Our 2018-19 USC Trojans basketball preview notes that this USC team should be able to get back to the Big Dance in 2019. That's despite major losses that include point guard Jordan McLaughlin, shooting guard Elijah Stewart, and forward Chimezie Metu. There are two reasons for this optimism. First, head coach Andy Enfield has managed to bring in a very talented group of recruits, and, second, even though important parts of last year's team have departed, there's a solid core of vets that remains.
Frontcourt
The fate of this Trojan team revolves around senior forward Bennie Boatwright (13.6 PPG, 6.4 RPG, 41.5 FG%). Boatwright's 2017-18 season ended in February when he suffered a knee injury. He underwent knee surgery in April and if he is healthy, he will be the upfront difference maker on this team. But can he stay healthy? Various injuries over the years have kept him put of games. When healthy, Boatwright is an NBA caliber player. Look for junior forward Nick Rakocevic (8.1 PPG, 6.2 RPG, 62.7 FG%), who's 6'11", to work towards dominating the paint on offense and defense.
Backcourt
Point guard Jordan McLaughlin (12.8 PPG, 3.7 RPG, 7.8 APG) will be very tough to replace. His playmaking skills were superlative. USC will utilize fourth-year junior Derryck Thornton (3.8 PPG, 1.2 APG, 36.3 FG%) and true freshman Elijah Weaver at the point. Thornton will have to improve his passing skills and decision-making. Weaver will need to mature quickly. The rest of the backcourt is comprised of perimeter shooters. Perhaps the most promising is Jonah Mathews (9.3 PPG, 2.6 RPG, 45.8 FG%). Mathews shot 42.3% from downtown last season.
2018-19 USC Trojans Basketball Preview – Final Word
Enfield starts his sixth season at the helm of USC. He's done a good job of making the Trojans contenders once again. In 2016 and 2017, they were invited to the NCAA Tournament, and although they were snubbed last season, USC put up winning numbers and had a solid season. Our 2018-19 USC Trojans basketball preview projects this team to be in the top third of the Pac-12, and we see them earning a berth at the Big Dance. However, we doubt they'll go very deep.
Pac-12 News and Updates