NCAA Previews
2018 C-USA East College Football Preview
Florida Atlantic Owls Top C-USA East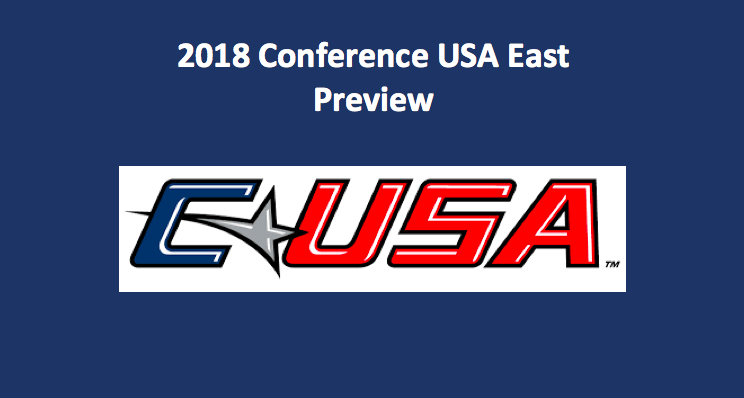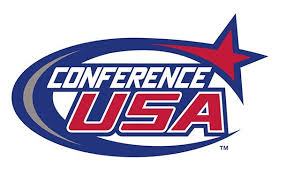 Our 2018 C-USA East college football betting preview sees the Florida Atlantic Owls as being the team to beat, once again, in this division. The Marshall Thundering Herd and Middle Tennessee Blue Raiders will give the Owls a fight. Marshall has a tough and stingy defense, while Middle Tennessee brings a potentially powerful offense to the field. But the Owls are sound on both side of the ball and could go undefeated within the conference. After reading our 2018 C-USA East college football betting preview, make sure you get a complete picture of C-USA by reviewing our West Division preview.
2018 C-USA East College Football Betting Preview
Although the Florida Atlantic Owls may struggle in their first few games, which are nonconference contests at Oklahoma and against Air Force, they should find their footing relatively quickly. The Thundering Herd have the benefit of enjoying a relatively easy schedule this season, while the Blue Raiders have to face some very tough teams, including Georgia and UAB. Our 2018 C-USA East college football betting preview finds that Old Dominion FIU have strengths and issues on both sides of the ball, but they will benefit a bit from weak schedules. WKU and Charlotte will both struggle against conference and nonconference teams.
1. Florida Atlantic Owls
Offense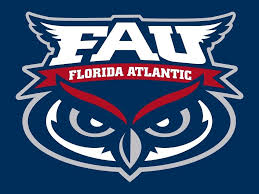 Who will coach Lane Kiffin put in the starting QB spot? It is open. It's expected that either red-shirted freshman Chris Robinson or junior De'Andre Johnson, a transfer from Florida State who sat out most of last season dealing with blood clots in his arm. Whoever takes over the spot, he'll have some fine pass catchers to toss to. Sophomore WR Willie Wright (56 REC, 11.7 YPC, 6 TDs) and junior tight end Harrison Bryant (32 REC, 12.5 YPC, 5 TDs) are sure-handed and fast. The rush attack will be led by the powerful and quick Dave Singletary (1,920 YDs, 6.4 YPA, 32 TDs). He is a touchdown machine. Good news upfront as the O-line is stacked and deep. This team scored 40.6 PPG (1st C-USE, 8th Nationally) last season. Look for the same in 2018.
Defense & Special Teams
In 2017, the Owls D was good, holding teams to 22.7 PPG (3rd C-USA, 34th Nationally). They were a tough team to run against, but did offer up substantial yards to the air game. Florida Atlantic will try to plus up some of the holes this season. That's the job of new defensive coordinator Tony Pecoraro. Pecoraro comes to the Owls from conference rival Southern Miss. FAU sees 10 starters come back, including senior MLB Azeez Al-Shaair (145 TKLs, 2.5 SCKs, 8.5 TFL). He led the team in tackles last season and TFL.
Junior OLB Rashad Smith (99 TKLs, 6 SCKs, 6 TFL) returns as the top sacker. He also had five PBU and four QBHs. The secondary is exceptional, and including SS Jalen Young (77 TKLs, 1 PBU, 7 INTs) and CB Shelton Lewis (47 TKLs, 8 PBU, 4 INTs). Both are seniors and a major part of this defense. Senior DE Hunter Snyder returns having notched six sacks and nine QBHs. On special teams, Young is a top punt returner and Kerrith Whyte is dangerous on kick returns. The kicking game is questionable.
2. Marshall Thundering Herd
Offense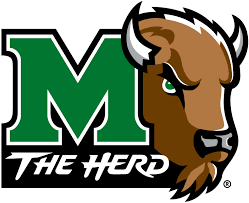 Our 2018 C-USA East college football betting preview likes what it sees when it comes to the Marshall Thundering Herd offense. Last season, they scored 26.7 PPG (6th C-USA, 79th Nationally). They could up that average this season, as they see a majority of their offense return and welcome new coordinator Tim Cramsey. Cramsey proved at Sam Houston State that he can devise offenses that can accumulate a huge number of yards. The QB position must be filled. It looks like graduate transfer Alex Thomson from Wagner will get the job. He's capable of tossing multiple TDs in a game. Tyre Brady (62 REC, 15.2 YPC, 8 TDs), a senior, is a quick, experienced, and smart wideout. He'll be Brady's top target. RBs Tyler King (820 YDs, 5.2 YPA, 7 TDs) and Keion Davis (812 YDs, 4.5 YPA, 6 TDs) are both capable of 1,000-plus yard seasons. The offensive line is exceptional.
Defense & Special Teams
Eight of nine of the Herds' top tacklers return, including the three who notched the most take downs in 2017. Those would be LB Chase Hancock (128 TKLs, 7.5 TFL, 7 PBU), safety Malik Gant (100 TKLs, 6.5 TFL, 5 PBU), and LB Frankie Hernandez (63 TKLs, 4 TFL, 1 PBU). Junior CB Chris Jackson returns having snagged three picks and broken up 10 passes. Senior DT Ryan Bee (51 TKLs, 5.5 SCKs, 2 TFL) is the anchor on one of the best D-lines in the conference.
The Thundering Herd held teams to 19.1 PPG (2nd C-USA, 17th Nationally), 121.2 YPG rushing (1st C-USA, 19th Nationally), and 341.7 total yards (3rd C-USA, 28th Nationally). Our 2018 C-USA East college football betting preview sees similar results this season. Punter/kicker Kaare Vedvik and his important contributions must be replaced. Davis is a massive kick returner, as he scored two TDs and averaged more than 30 yards a runback in 2017. The punt return game needs work.
3. Middle Tennessee Blue Raiders
Offense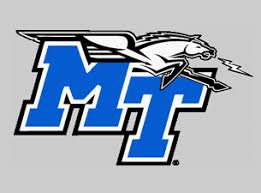 The Middle Tennessee Blue Raider offense manufactured just 25.5 PPG (8th C-USA, 87th Nationally), while the defense held teams to 24.7 PPG (5th C-USA, 46th Nationally). More offense would be helpful this season. But our 2018 C-USA East college football betting preview feels that an O-line that lacks depth could be a major factor in that pursuit. Still, there's plenty of good news on offense. Senior QB Brent Stockstill (57.7 COMP%, 16 TDs, 8 INTs) is overall sound, but he needs to cut back on picks and hone his accuracy a bit more. Junior WR Ty Lee (79 REC, 12.1 YBC, 5 TDs) was the top pass catcher last season. He led C-USA in receptions. More solid receivers are needed for this group to excel. A trio of running backs, each of whom averaged 5.5 YPA, will be the centerpiece of this team's offense. Tavares Thomas scored nine rushing TDs, while gaining more than 500 yards in 2017.
Defense & Special Teams
Each of the three defensive units returns a majority of their starters. Junior WLB Khalil Brooks (76 TKLs, 7.5 SCKs, 9.5 TFL, 6 QBHs) is the anchor on this unit. In front, senior Walter Brady (38 TKLs, 3.5 SCKs, 1.5 TFL) is an athletic performer. His stats include four PBU and seven QBHs. The D-line does lack depth and has numerous question marks. Last season, the secondary was projected to be one of the best in the conference. But they were a disappointment. Three of four starters return, and they've been beefed up with a graduate transfer from Syracuse. This group needs to become more proficient at creating turnovers, as they totaled just four picks. Kickoff coverage on special teams was a problem and needs improvement. The return game also requires an upgrade. The punting position looks good, and it's expected placekicking will be sound.
4. Old Dominion Monarchs
Offense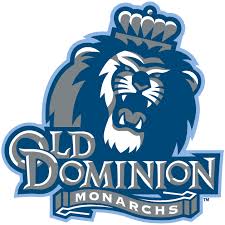 Our 2018 C-USA East college football betting preview finds that the Monarchs of Old Dominion, who struggled last season at 5-7 after going 10-3 in 2016, will likely have a tough time again this season. The Old Dominion offense scored just 20.7 PPG (11th C-USA, 114th Nationally). Sophomore QB Steven Williams (55.5 COMP%, 6 TDs, 11 INTs) must find his targets with more consistency. Three of his four top pass catchers are back. Isaiah Harper (39 REC, 11.8 YPC, 0 TDs) recorded the most catches last season. Travis Fulgham (30 REC, 13.1 YPC, 1 TD) is the only one of the top three returning receivers who had a TD catch last year. The running back situation needs to be upgraded. Senior Jeremy Cox (621 YDs, 4.2 YPA, 4 TDs) will be this team's primary call carrier. The O-line is one of the better ones in C-USA.
Defense & Special Teams
The D was porous, as they allowed 31.7 PPG (10th C-USA, 92nd Nationally). There is good news, as senior DE Oshane Ximines (44 TKLs, 8.5 SCKs, 5.5 TFL) returns. The athletic Ximines' stats included seven QBHs and three PBU. Top performer in the secondary was Sean Carter (54 TKLs, 5 PBU, 3 INTs). Now a senior, he's the glue in a group that lacks depth. The linebacking unit, which looks to be the best group on this side of the ball, sees both starters and the two top tacklers on the team return. Senior MLB Marvin Branch (96 TKLs, 3.5 TFL, 4 PBU, 1 INT) and sophomore OLB Jordan Young (85 TKLs, 1.5 SCKs, 4.5 TFL, 3 PBU) are a powerful duo.
Special teams include Isaiah Harper on kickoffs. He averaged 29.1 YPR and exploded for three TDs last season. PK Nick Rice had a good freshman season, hitting 27-of-27 extra points and connecting on 11-of-12 within the 40. He needs to work on his long game. Punter Bailey Cate averaged 40.5 YPP.
5. FIU Panthers
Offense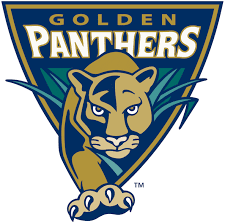 The FIU Panthers were 8-5 in 2017 and earned their first bowl bid since 2011. But this 2018 C-USA East college football betting preview expects less from this team in 2018, as they lose their long-time starting QB and RB, and three of their five top pass catchers. Sophomore James Morgan will start at quarterback, while senior Napoleon Maxwell (477 YDs, 5.9 YPA, 5 TDs) gets the nod at running back. Junior WR Austin Maloney (21 REC, 14.5 YPC, 0 TDs) will be asked to step up. The offensive line is deep and experienced and could be a massive asset. The Panthers averaged 25.6 PPG (7th C-USA, 86th Nationally). They have some good players, but can they create a unified effort with so many changes in key positions?
Defense & Special Teams
The Panther D allowed 28.5 PPG (9th C-USA, 80th Nationally) and gave up 243.6 YPG (13th C-USA, 94 Nationally). To be successful this season our 2018 C-USA East college football betting preview notes that they must find a way to stop opponent air attacks. Not one starter returns to the secondary and both safeties are freshmen. This unit will face major challenges. The linebacking unit welcomes senior Fermin Silva (50 TKLs, 7 SCKs, 7 TFL) from the D-line, a move that should help that unit while affecting the line minimally. The frontline is the best part of this defense, as they are talented and deep. Senior DT Anthony Johnson (39 TKLs, 7 SCKs, 1 TFL) is joined by some talented transfers.
Special teams include the electric Bryce Singleton (22.7 YPR) on kick returns. Punter Stone Wilson and PK Jose Borregales are both solid. Wilson averaged 41.0 YPP and placed 22-of-57 within the 20. Borregales was perfect on extra points and 13-of-13 on field goals within the 40. He was 2-of-5 from 40-plus yards.
6. WKU Hilltoppers
Offense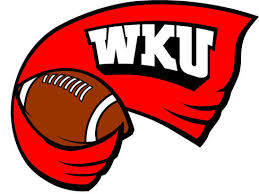 Our 2018 C-USA East college football betting preview finds that the Western Kentucky University Hilltoppers will struggle on offense this season. Senior QB Drew Eckels (72.7 COMP%, 0 TDs, 1 INT), who has little experience, will start. He has a decent arm and some good running chops. The two top rushers from last season return. D'Andre Ferby (373 YDs, 3.2 YPA, 3 TDs) accumulated the most rushing yards, while Jakairi Moses (262 YDs, 4.0 YPA, 2 TDs) recorded the best yards-per-attempt average. Junior WR Lucky Jackson (39 REC, 15.4 YPC, 3 TDs) is the team's top returning pass catcher. The offensive line is thin. That's a major concern.
Defense & Special Teams
The secondary is the strength on this side of the ball, while the linebacking unit is fairly sound. But the D-line is depleted and lacks depth. Standouts in the secondary include CB DeAndre Farris (54 TKLs, 14 PBU, 1 INT) and NB Ta'Corian Darden (71 TKLs, 6.5 TFL, 6 PBU). Safeties Drell Greene (74 TKLs, 3.5 TFL, 2 PBU, 2 INTs) and Devon Key (94 TKLs, 4.5 TFL, 2 PBU, 1 INT) offer versatility. Special teams must replace their run back anchors. PK Ryan Nuss, now a senior, was inconsistent last season. Senior punter Jake Collins averaged 40.2 YPP and put 19 within the 20.
7. Charlotte 49ers
Offense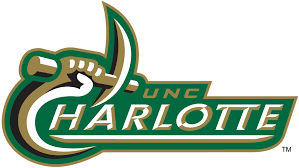 Our 2018 C-USA East college football betting preview sees the Charlotte 49ers as a team that needs improvement in just about every area. The offensive line has been upgraded and the running back unit is the best of any on this team. Last season RB Benny LeMay (732 YDs, 5.3 YPA, 2 TDs) and QB Hassan Klugh (532 YDs, 3.9 YPA, 9 TDs) posted the best rushing numbers on the team. Both are back in their respective junior and senior seasons. WR Mark Quattlebaum (31 REC, 11.1 YPC, 1 TD) is the only wideout who started last season. This team will once again focus on its ground game.
Defense & Special Teams
The 49er defense will certainly be challenged. The good news is there's a lot of experience on this side of the ball and that should help. Of the team's top 11 tacklers, 10 will be back. Three of the four returning top tacklers started on the LB unit. Jeff Gemmell (106 TKLs, 6.5 TFL, 4 QBHs), Juwan Foggie (74 TKLs, 5.5 TFL 5 PBU), and Anthony Butler (72 TKLs, 2 SCKs, 4.5 TFL) comprise the best unit on D. The Charlotte defense did allow 32.8 PPG, while the offense scored just 14.2 PPG. The two biggest problems for this team are its inability to create turnovers and its lack of potential sackers. The best performer on special teams from last year, punter Arthur Hart, is gone. Placekicking is a real problem for this team. In limited action, RB Alaron McAllister averaged 35.5 YPR on kickoffs.
2018 C-USA East Preview
Bowl Projections
Frisco Bowl: UCF vs Old Dominion
Boca Raton Bowl: USF vs Florida Atlantic
New Orleans Bowl: Arkansas State vs Middle Tennessee
New Mexico Bowl: Utah State vs Marshall
2018 C-USA East College Football Betting Preview
Projected Best Bets
Sep 1: Fordham @ Charlotte – Bet 49ers at +23 or take Fordham if offered fewer points.
Sep 8: Maine @ WKU – We like Hilltoppers. But at no more than -22.
Sep 8: Eastern Kentucky @ Marshall – Thundering Herd home opener. They're a good bet at -21 or fewer.
Sep 15: Massachusetts @ FIU – We like the Panthers at -12. Also, we're taking the over.
Oct 5: Middle Tennessee @ Marshall – Bet Thundering Herd at -18 or fewer.
Oct 6: Old Dominion @ Florida Atlantic – We do like FAU here. Take the Owls at approximately -12.
Oct 20: Charlotte @ Middle Tennessee – Blue Raiders at -14 are solid.
Nov 10: Middle Tennessee @ UTEP – Blue Raiders win by about 20.
Nov 17: VMI @ Old Dominion – ODU is 2-0 against Keydets. Bet Monarchs at -12.5 or fewer.
Nov 24: Old Domino @ Rice – Take the Monarchs at -10 or less.
Make sure that you get a real edge and use all of the information in our 2018 C-USA East college football betting preview. Also, check out our C-USA West preview. For information on other conferences and teams, please go to our NCAA football hub.