NCAA Previews
2018-2019 Michigan State Spartans Basketball Analysis
Michigan State is Ready to Contend Big Time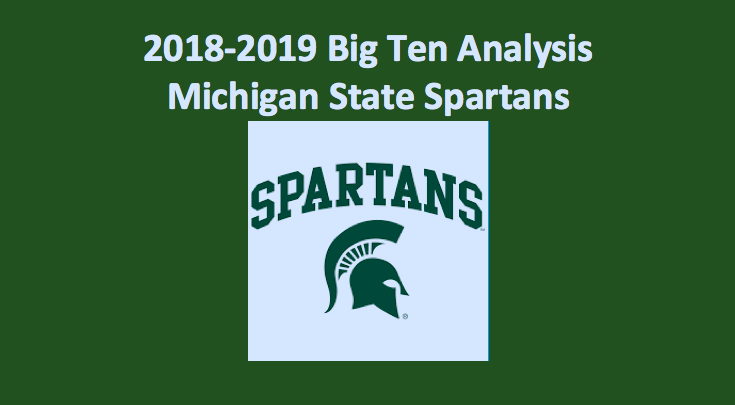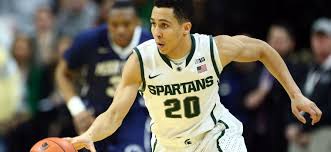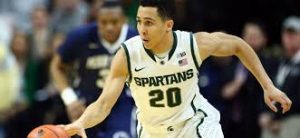 Since 1997, the Michigan State Spartans (30-5 Overall, 16-2 Big Ten) have not missed a NCAA Tournament. In those 21 years, they have made it to the NCAA Final Four seven times and the finals twice. The Spartans won it all in 2000. In the last tournament, the Syracuse Orange took Michigan State out 55-53. Last season, the Spartans finished second in scoring offense (80.2) and third in scoring defense (64.9). Our 2018-19 Michigan State Spartans basketball preview notes that this team has to compensate for losing two NBA Draft picks, Jaren Jackson Jr. and Myles Bridges.
Frontcourt
Junior forward Nick Ward (12.4 PPG, 7.1 RPG, 64.8 FG%) considered going pro, but then decided to return for another NCAA season. Ward led the Big Ten in field goal percentage last season. But, he has had issues on defense and needs to be more consistent when guarding opponents. As a frosh last season, Xavier Tillman (2.8 PPG, 2.6 RPG, 65.0 FG%) showed improvement throughout the season. He's a sound defensive force and brings refined athleticism to the court. One of the talented incoming freshman, perhaps Thomas Kithier, will see substantial action.
Backcourt
Junior guard Cassius Winston (12.6 PPG, 6.9 APG, 50.7 FG%) led the Big East in assists and three-point percentage (49.7%). He's an amazing playmaker who has bulked up and worked to improve his D. Another junior, Joshua Langford (11.7 PPG, 3.0 RPG, 42.9 FG%) has an accurate three-point shot (40.4%) and is a capable defender. He's also a respected leader. There's depth and experience off the bench.
2018-19 Michigan State Spartans Basketball Preview – Final Word
Head coach Tom Izzo has been with this team since 1995. Now in his 24th season, Izzo has amassed a record of 574-225 (.718). We expect that this trend will continue into this season. But he won't do it with big names. This is a team that has experience, skill, and balance. They are also driven to prove themselves. Our 2018-19 Michigan State Spartans basketball preview sees this team as taking down the Big East and going deep into the tournament. They will be a formidable group.
Big Ten News and Updates