NCAA Previews
2018-2019 Purdue Boilermakers Basketball Analysis
Half of This Season's Boilermaker Team is New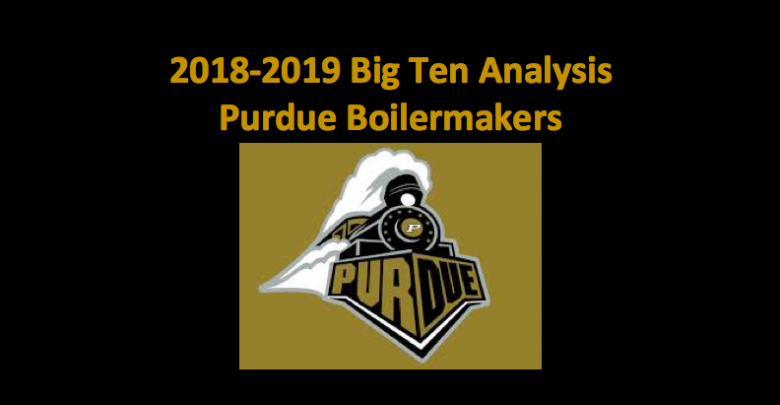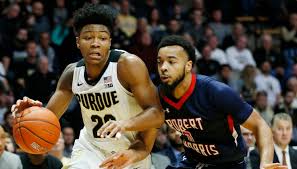 Last season, the Purdue Boilermakers (30-7 Overall, 15-3 Big Ten) finished second in the conference and for the second-straight year made it to the Sweet 16. The Boilermakers were bumped from the tournament last season by the Texas Longhorns, as they went down 78-65. This season, Purdue must deal with having lost four starters. The void left won't be easy to fill. Still, our 2018-19 Purdue Boilermakers basketball preview projects this team to be one of the stronger ones in the Big Ten. We also see them making it back to the NCAA Tournament for a fifth year running. But there's certainly a question regarding how deep they can go at the 2019 Big Dance.
Frontcourt
This Purdue frontcourt is more versatile and mobile than what we've seen over the past two seasons. That means more transition points and more screen action. At 7'3", starting center Matt Hearns (4.8 PPG, 3.2 RPG, 58.5 FG%) is am imposing figure. Last season, as a freshman, he averaged 17.1 MPG and blocked an impressive 2.1 SPG. He'll need to develop more this season and become an anchor in the paint. Two-time All-Ivy League forward Evan Boudreaux, a transfer from Dartmouth, joins the Boilermakers. A physical inside player and accurate perimeter shooter, Boudreaux will have an immediate impact. A group of upperclassmen and frosh round out this unit.
Backcourt
Guard Carsen Edwards (18.5 PPG, 3.8 RPG, 45.8 FG%) is an offensive machine. He's accurate, as Edwards is good on 40.6% of his shots from downtown, and he can drive inside, creating scoring opportunities in the paint. Sophomore point guard Grady Eifert (1.6 PPG, 0.5 APG, 63.6 FG%), who averaged 8.3 MPG, will be asked to step up, especially on D. Look for senior Ryan Cline (4.0 PPG, 1.7 APG, 39.5 FG%), who has been a role player, to start in the back. He hit 39.6% of his threes last season.
2018-19 Purdue Boilermakers Basketball Preview – Final Word
Head coach Matt Painter has a team composed of six veteran players, six freshmen, and one transfer. That might be a recipe for a so-so season, except for the return of Edwards. Edwards is a team unto himself, and he will ensure that the Boilermakers are competitive. One of the things that made this team so effective last year was their offensive efficiency, which was ranked second in the nation (1.23). If they can hit that mark again, they will be in the hunt for the Big Ten title. Our 2018-19 Purdue Boilermakers basketball preview projects this team to, once again, finish strong in the conference and earn a Big Ten bid.
Big Ten News and Updates