NCAA Previews
2018-2019 Georgetown Hoyas Basketball Analysis
Might Hoya Drought be Over?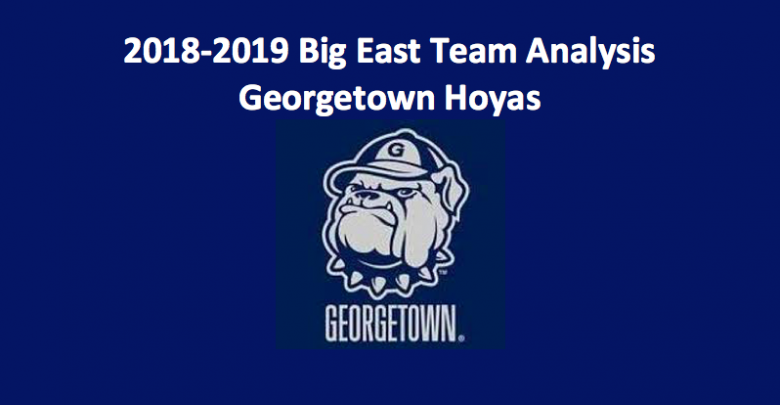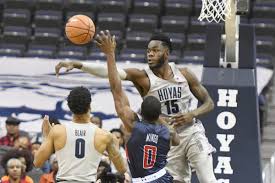 Our 2018-19 Georgetown Hoyas basketball preview observes that this team, which has missed both the NCAA Tournament and NIT for three years running, might be making a comeback. The last time the Hoyas went to the Big Dance was 2015 when they were out of it by round two. They were last at the NIT the season prior. Patrick Ewing starts his second season as the Georgetown Hoyas (15-15 Overall, 5-13 Big East) head coach. Prior to last year, Ewing had never coached a college team. Nor had he served as a head coach at any level. Last year, Georgetown began their season with a 10-1 record. But that was nonconference play, and the Hoyas had a very easy schedule. In the Big East, they won just five games total. Is their hope for them to do better in 2018?
Frontcourt
If Marcus Derrickson had not decided to go the NBA route, the Hoyas would probabky have the best from-three in the Big East. But Derrickson is gone. Still, Georgetown does see center Jessie Govan (17.9 PPG, 10.0 RPG, 50.8 FG%) and F/G Jamorko Pickett (9.6 PPG, 3.7 RPG, 36.3 FG%) do return, and that's good news. Govan is a massive inside force and a constant double-double threat. Pickett has the potential to create mismatches, but he needs to be more consistent. In addition to possessing solid inside playing chops, Pickett has a potentially devasting three-point threat.
Backcourt
Although both starting guards have departed, the highly-touted freshman James Akinjo joins the team. He's expected to start. He's noted for being tough and resilient and a solid playmaker. There are three candidates, Jahvon Blair (9.0 PPG, 2.0 RPG, 33.2 FG%), Kaleb Johnson (7.9 PPG, 4.2 RPG, 54.2 FG%), and Jagan Mosely (6.6 PPG, 2.9 APG, 48.6 FG%), for the wing spots. Johnson has a lot of experience as a starter and is a fine leader, while Mosely is a noted playmaker.
2018-19 Georgetown Hoyas Basketball Preview – Final Word
Our 2018-19 Georgetown Hoyas basketball preview finds that this year's team has some fine talent that could push them up a notch or two. Will the Hoyas make it to the Big Dance? We doubt that. But a NIT berth is not out of the question. Ewing has done a decent job putting together a fairly competitive team. Another year, and we expect Georgetown to be focused on the NCAA Tournament.
Big East News and Updates