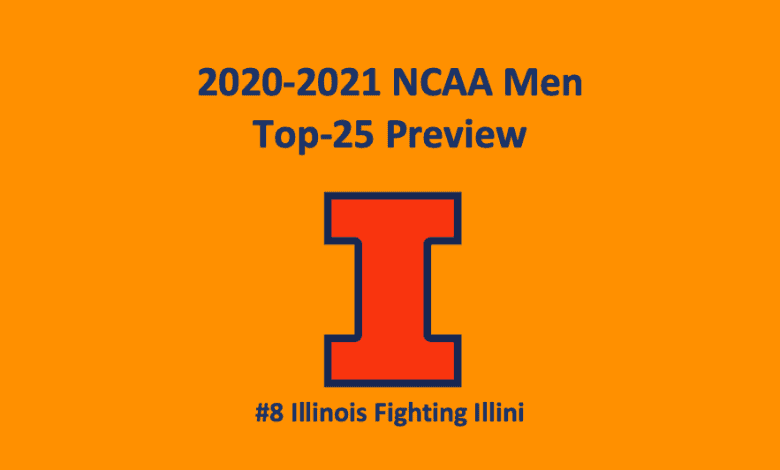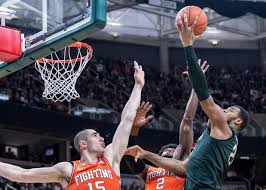 Our Illinois basketball preview 2020 – 2021 finds that this team was not only very competitive last year, but that the Fighting Illini will prove to be a viable contender this season. In 2019 – 2020, Illinois finished behind the three top teams in the Big Ten that shared the championship title. The Illini had a Big Ten Conference mark of 13-7. That conference record meant that they were one game away from a tie for the Big Ten title. Their overall record of 21-10 was equivalent to that of the Wisconsin Badgers who shared the conference crown with the Maryland Terrapins and Michigan State Spartans. Head coach Brad Underwood, who has a 99-75 record overall with Illinois, got this team back to the national stage after a seven-year absence.
Stats
Last season, Illinois was a good team, but it was in no way extraordinary. The club's top stat was their 7.5 rebound margin, which topped the Big Ten and placed 11th nationally. Here's the way the Illini stacked up last season. Their 72.2 PPG scoring offense ranked 136th nationally and fifth in the Big Ten while their scoring defense, which was sound, held opponents to 65.3 PPG (64th Nationally, 7th Big Ten). The Fighting Illini field goal percentage of 44.3% and field-goal defense of 41.5 PPG ranked then 145th and 94th respectively. Other essential stats include this team's three-point success rate, which was 30.9% (294th Nationally, 14th Big Ten). Illinois' 12.1 turnovers per game ranked them 85th overall and ninth in the Big Ten.
Illinois Basketball Preview 2020 – 2021 – Players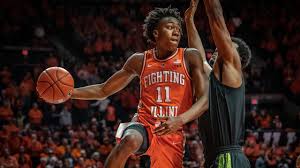 Good news for this team, center Kofi Cockburn and guard Ayo Dosumnu decided to return for another season. The fact that both will be on the court again for the Illini makes this team a real contender. In front, Cockburn is joined by forward Giorgi Bezhanishvili. Also, there's senior De'Monte Williams at forward as well as redshirt frosh Benjamin Bosmans-Verdonk. Perhaps the most promising addition to the frontcourt is freshman Coleman Hawkins. Additionally, in the backcourt senior guard Trent Frazier brings scoring chops and experience. Joining the unit is a pair of highly touted, four-star, top-50 prospects, Andre Curbelo and Adam Miller. With their arrival, Illinois will enjoy an over-abundance of talent at the guard spots.
Frontcourt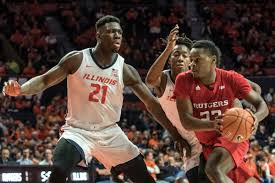 At center, Cockburn is a major force. In his first season, where he was named Big Ten Freshman of the Year, the seven-footer averaged 13.3 PPG and 8.8 RPG. He shot 53.2% from the field and 67.7% at the foul line. His post up and roll are tough to defend. In addition to his offensive output, Cockburn recorded 1.4 BPG. He uses his size effectively. Along with being 7-0, Cockburn weighs 290, making him an intimidating presence in the paint. Senior Da'Monte Williams may move up into a starting spot. However, there's bound to be competition from Hawkins. Hawkins, who played for the renowned Prolific Prep, stands 6-10 and possesses an accurate, arching shot. He's also a solid passer who has great court sight. Junior Bezhanishvili returns having averaged 6.8 PPG and 4.8 RPG. He'll definitely contribute.
Backcourt
Our Illinois basketball preview 2020 – 2021 observes that Dosunmu's decision to come back for a third season with Illinois is huge in terms of this team's potency. Last season, he became a premium perimeter man as he honed his decision-making and leadership skills. With the game on the line, he became the go-to guy. He used his speed and quickness to go to the rim more often than he did in his freshman season, making him more effective in terms of point production. Also, he led the team in scoring and assists.
Senior Trent Frazier, who averaged 9.1 PPG, is the number two guard. He's a solid player. The third spot will likely be filled by one of the freshmen. Miller is a natural shooting guard, while Curbelo is more of a point guard. Both have excellent shooting skills. We expect to see a rotation that includes these two and Frazier. The freshmen would work nicely into Illinois' style of play, which utilizes screens, passing, and slashing to create premium shooting scenarios.
Fighting Illini – Make or Break for 2020-2021
Our Illinois basketball preview 2020 – 2021 observes that with the team coach Underwood has put together, this team has a premium chance to go all the way. However, in order to do so, he is going to have to rely on some very talented but inexperienced freshman. A lot of this team's success will be determined by how fast Miller and Curbelo can mature and work into the mix. Of course, having both Cockburn and Dosumnu return gives the Illini a huge advantage. But that doesn't negate the fact that there's still a lot of work to be done. Plus, never underestimate the level of competition in the Big Ten. It is brutal, intense, and exhausting. Still, this team has a lot going for it, and with the lessons they've garnered from last season, we expect that Illinois will perform better than they did in 2019 – 2020.
Illinois Basketball Preview 2020 – 2021- Final Word
This is a basketball team that has one of the best backcourt players and one of the best front men in the NCAA. Our Illinois basketball preview 2020 – 2021 finds that one of the reasons for this team's success last season, was Underwood's ability to adapt his schemes to the strengths of his players. At the same time, as the season progressed, this team matured. With a very strong recruiting class, solid role players, and two veteran stars, we expect this team to go deep into the tournament. They're hungry and ready for it.
Illinois Fighting Illini – 2020-2021 NCAA Projection
Big Ten Finish – 1st
NCAA Tournament Result – Elite Eight