NCAA Previews
2017 Big 12 Conference College Football Preview
The Big 12 Reintroduces a Conference Title Game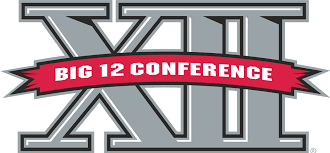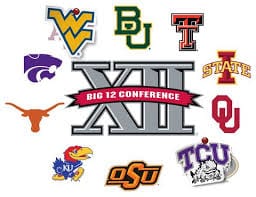 The Big 12 Conference (Big 12) has big changes on hand. According to our 2017 Big 12 CFB Preview the conference has decided to once again hold a game that will determine the league championship. It's been six years since the Big 12 has held a title match. This year, along with adding the title game, the conference decided to keep the number of teams at 10 and to not split into two divisions. That means the big game will feature the number one and number two Big 12 teams battling one another at AT&T Stadium in Arlington, TX.
That title matchup may be an exclusive Oklahoma affair, as both the Oklahoma Sooners and the Oklahoma State Cowboys are predicted to be highly competitive. Other clubs that have a shot at the new championship game include the Kansas State Wildcats and Texas Longhorns. Here's how our 2017 Big 12 CFB Preview sees all of the teams in the Big 12 performing.
Big 12 Conference- Finish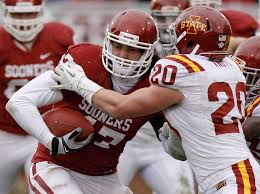 The top spot in the conference should either go to Oklahoma or Oklahoma State. Second will go to the other. However, TCU or Texas could supplant that second place team. The Cowboys and Longhorns have much tougher schedules than either the Sooners or the Horned Frogs, and that could certainly play into the final mix.
1. Oklahoma Sooners
QB Baker Mayfield will enjoy premium protection from what may be college football's best offensive line. It's true that the team lost some major producers whose contributions totaled about 5,000 yard last season, but they are six-deep in competition at running back. Plus, on the receiving end, Mark Andrews (31 REC, 15.8 YPA, 7 TDS) returns. The defense returns seven starters including three of the team's top tacklers. By the way, OLB Ogbonnia Okoronkwo is massive performer, notching 71 tackles, nine sacks, three TFL and seven QBH.
2. Oklahoma State Cowboys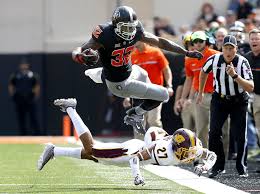 The Oklahoma State Cowboys are nothing to sneeze at. QB Mason Rudolph (63.4 COMP%, 4,091 YDs, 28 TDs, 4 INTs) will throw to three of his top receivers from 2016, including James Washington who had 71 catches for 1,380 yards and 10 TDs. The rushing game is solid too with 1,000-plus running back Justice Hill anchoring that group. But the defense, which returns just five starters and only four of their top seven tacklers, is porous. FS Ramon Richards comes back as the top pass defender with three picks and six PBU.
3. TCU Horned Frogs
QB Kenny Hill needs to become more consistent and cut back on his 13 picks from last season. Hill is a good rusher who netted 609 yards on the ground and 10 touchdowns, as is Kyle Hicks who rushed for over 1,000 yards last season and scored 12 TDs. The Horned Frogs see 10 starters return on offense and seven on D. Five of the team's top six tacklers are back. TCU put another fast and furious defense on the field in 2016 and will do so again. They were fourth-ranked in the Big 12.
4. Texas Longhorns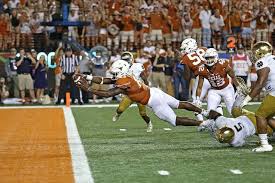 The Longhorns are making recruitment gains under new coach Tom Herman, but this team is still thin in too many places. Under former coach Charlie Strong, Texas put up its worst-ever defensive numbers for two straight years, allowing 30-plus PPG in both 2015 and 2016. Sophomore QB Shane Buechele, who last season connected on 60.4% of his passes and tossed 21 TDs, will use a strong group of receivers to put some points on the board.
5. West Virginia Mountaineers
After the 2016 season, WVU lost eight starters on defense and six more on offense. They'll try to offset those losses with six junior college transfers. But a lot is riding on that group that has to step up and gel quickly. The D-line and secondary are especially vulnerable for the Mountaineers. Senior MIKE Al-Rasheed Benton is the team's top returning tackler with 80 takedowns. On offense, senior RB Justin Crawford rushed for over 1,100-yards last year, crossing the goal line four times.
6. Kansas State Wildcats
Coach Bill Snyder returns despite his cancer diagnosis and rallies the troops. Senior QB Jesse Ertz is an adequate passer and a dynamic rusher, gaining over 1,000 yards on the ground while crossing the goal line 12 times. Questions about DE Will Geary remain, as he did not join the team in the spring due to personal reasons. The Wildcats had the top-rated defense in the Big 12 last season, but five starters are gone. Junior CB D.J. Reed, who had 16 PBU and three INTs, needs to have another big season.
7. Baylor Bears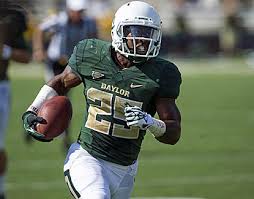 Three starters are back on the Baylor O-line and that should help star junior running back Terence Williams, who had 11 rushing TDs, post another 1,000-plus yard season. Sophomore rusher JaMycal Hasty joins him. In his freshman season, Hasty averaged 5.2 YPA and rushed for over 600 yards. QB is a question but not a big one, as last season in his freshman year Zach Smith saw quite a bit of playing time, passing for over 1,500 yards and hitting for 13 TDs.. The defense has some solid players who will keep the unit grounded and productive. That includes senior WLB Taylor Young who had 90 tackles, 4.5 sacks, 4.5 TFL, and three QBH and senior DE K.J. Smith who notched 67 tackles, seven sacks, five tackles for a loss, and seven quarterback hits.
8. Texas Tech Red Raiders
Record-setting QB Patrick Mahomes is gone. That means 2014 transfer Nic Shimonek will get his chance to shine after posting some fine numbers last season when substituting for the star signal caller. Three of the team's top four receivers are back with each having made at least seven TD catches. The O-line and running game need to be more present and productive this season. The Red Raider defense was one of the worst in the nation last year, allowing 43.7 PPG. They should be a tad better this year.
9. Iowa State Cyclones
In his first season as the Cyclone's head coach, Matt Campbell put together a team comprised of freshmen and walk-ons. This season, he's got some sound defensive players returning. On offense, the line has one returning starter. QB Jacob Park (58.8 COMP%, 1,791 YDs, 12 TDS, 5 INTs) will be looking to connect with senior WR Allen Lazard, last season's top pass catcher. Lazard has 69 catches with seven being for touchdowns while posting a 14.8 per catch average. The team may earn five wins in 2017, which would be two more than last season.
10. Kansas Jayhawks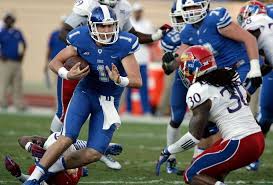 There are questions concerning who will be QB, but overall this team is improving. Last season, the Jayhawks were last or ninth in the conference in just about every major offensive or defensive category except pass defense where they finished first. But the secondary lost four starters, which could be a big problem. The defensive frontline on is, however, solid.
2017 Big 12 CFB Preview
Bowl Projections
Oklahoma Sooners: Cotton Bowl
Oklahoma State Cowboys: Camping World Bowl
TCU Horned Frogs: Alamo Bowl
Texas Longhorns: Texas Bowl
West Virginia Mountaineers: Liberty Bowl
Kansas State Wildcats: Cactus Bowl
Baylor Bears: Heart of Dallas Bowl
2017 Big 12 CFB Preview
Projected Best Bets
Our 2017 Big 12 CFB Preview picks are projections. Please remember that a lot can happen over the course of a season. Prior to making any wager, sports bettors need to perform due diligence.
Sep 2: Maryland @Texas- Texas by no more than -17
Sep 9: Oklahoma State @South Alabama- Oklahoma State by no more than -45
Sep 16: Tulane @Oklahoma- Oklahoma by no more than -40
Sep 16: Texas @ USC- USC by no more than -15
Oct 7: Texas Tech @Kansas- Texas Tech by no more than -27
Oct 14: TCU @Kansas State- TCU by no more than -9
Oct 28: TCU @Iowa State- TCU bu no more than -15
Nov 18: Oklahoma @Kansas- Oklahoma by no more than -49
Nov 24: Baylor @TCU- TCU by no more than -34
Nov 25: West Virginia @Oklahoma- Oklahoma by no more than -25