NCAA Previews
#8 Florida Gators Preview 2019
Gators O-line Problematic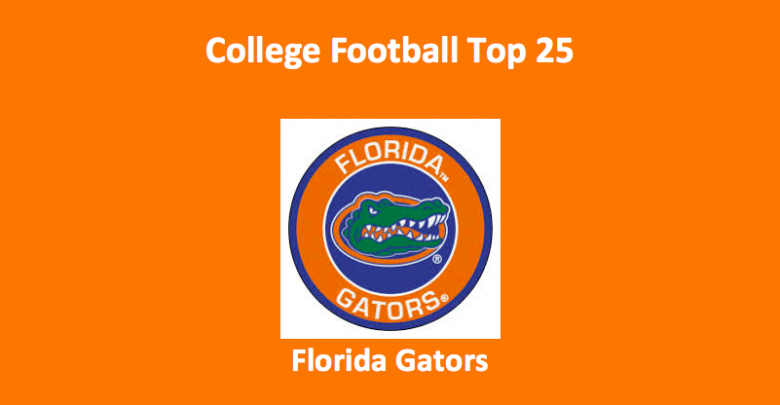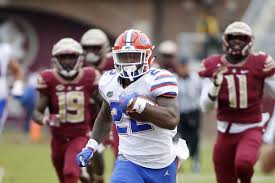 Our Florida Gators Preview 2019 sees this football team as again being competitive. This Florida Gators preview projects that the Gators, which was 5-3 in the SEC and 10-3 overall, will have another run at the top spot. The last time this team won the SEC East was 2016. In 2018, during the regular season, the Gators lost to Kentucky (16-27) and Georgia (17-36), while they took down LSU (27-19) and FSU (41-14). Florida earned an invitation to the Peach Bowl where they beat Michigan 41-15.
In 2018, the Florida averaged 35.0 PPG (22nd), while their defense allowed 20.0 PPG (20th). Their offense was ranked 27th in rushing yards (213.2 YPG) and 82nd in passing yards (213.5 YPG). Their total yards came to 426.7 PG (42nd). The offense was tough on the passing game, allowing merely 180.0 YPG (13th). Against the rush, the Gators allowed 162.5 YPG (65th). The 343.3 total defensive yards per contest ranked 28th.
Florida Gators Preview 2019 – Offense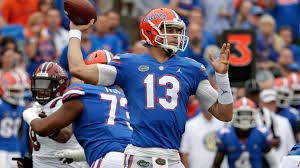 The Florida Gators' biggest challenge this season will be rebuilding the offensive line. They will do so with seven recruits who are highly touted. All O-line starters but senior center Nick Buchannan must be replaced. Sophomore RB Malik Davis has a lot of potential, but in 2017 missed out on the season due to a torn ACL and last year missed all but three games due to a broken foot. If he can stay healthy, Malik will be a major force. Plus, senior Lamical Perine (826 YDs, 6.2 AVG, 7 TDS), who did a fine job last season, is ready to go.
As a sophomore last season, dual-threat quarterback Feleipe Franks (58.4 COMP%, 24 TDs, 6 INTs) threw for over 2,400 yards. Franks also rushed for 350 yards and seven scores while averaging 3.2 YPA. He'd like to raise his completion rate. The receiving group includes the team's top-seven pass catchers from last season. Included are Josh Hammond (28 REC, 13.2 AVG, 4 TDs) and Van Jefferson (35 REC, 14.4 AVG, 6 TDs). Both seniors are solid. Senior Freddie Swain (14 REC, 18.9 AVG, 5 TDs) is a major scoring threat.
Defense and Special Teams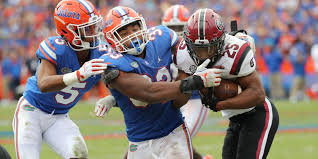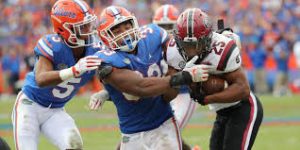 This season, the entire Gator defensive line returns, including senior defensive end Jabari Zuniga (45 TKLs, 6.5 SCKs, 4.5 TFL). Zuniga led the Gators in sacks and TFL and also notched four QBHs. DT Adam Schuler (39 TKLs, 1.5 SCKs, 2 TFL) led the Gators with five QBHs. The linebacking unit includes senior MLB David Reese II (77 TKLs, 4 SCKs, 5 TFL). Reese led the team in tackles last season. On this side of the ball, the LBs are the least experienced unit. The secondary looks exceptionally strong. Junior corner C.J. Henderson (38 TKLs, 7 PBU, 2 INTs) achors the deep backs.
Senior punter Tommy Townsend (51 Punts, 45.4 YPP, 24 In20) was sound, but he did have two blocked last season. As a freshman last year, PK Evan McPherson (50-50 EP, 17-19 FG) was on target. Our Florida Gators Preview 2019 observes that more distance would be helpful as his longest was 48 yards. Punt returner Freddie Swain (22 PRTs, 10.2 AVG, 1 TD) was sound, while Kadarius Tony averaged 22.2 YPG on kick returns. This team posted a +12 TO margin, which tied them for seventh nationally.
Coaching and Recruitment
Head coach Dan Mullen (10-3 Florida, 79-49 Overall), who came from Mississippi State with a 5-2 bowl record, earned his sixth bowl victory in his first season with the Gators. Mullen calls the play on offense while his team of OCs Billy Gonzales and Jon Hevesy coordinate the passing game and rush attack respectively. Defensive coordinator Todd Grantham, who had an NFL DC offer, has been in the college coaching ranks since 2010. He's a quality coordinator. Of the 25 recruits this year, 17 are four-star and eight are three-star. None are five-star recruits.
Our Florida Gators Preview 2019 – Final Word
Our Florida Gators Preview 2019 finds that this team's schedule is very tough. From October 5 through November 2, they play Auburn, LSU, South Carolina, and Georgia. That's an extra-challenging string of games. The gane against the Bulldogs could be for the division crown. The biggest question mark for this team, as noted before, will be in replenishing their offensive line. A top-notch line could be the key to this team's success in 2019.
Click here to go back to SEC East
Click here to go back to NCAAF Hub