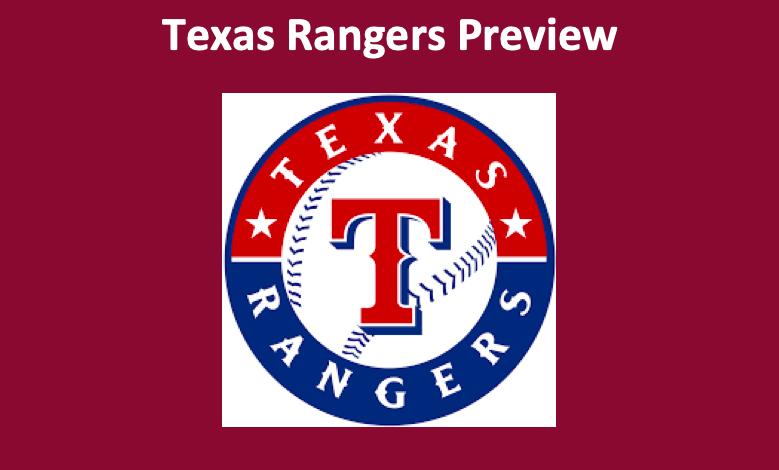 Our 2020 Texas Rangers preview notes that over the past five years the Rangers have gone from being a contender to an also-ran. In 2015 and 2016, Texas won the AL West. In fact, in five of seven seasons, they made the playoffs. However, although during that time they made it to the World Series, they were unable to take the big trophy home. The past three seasons things have changed. This team has won an average of just 74 games and has not finished higher than third. This 2020 Texas Rangers preview observes that last season, the Rangers were 78-84. During the offseason, they worked to improve their rotation. If they continue to do so, the Rangers could be competitive in a year or two.
Texas Rangers Preview – Pitchers
In 2019, Texas pitching was less than stellar. Opponents hit .269 against them. That stat ranked 12th in the AL. The pitching staff placed 11th in ERA with a 5.06 mark. Their 583 walks were third-highest in the league while their 33 saves were the fifth-lowest. Shutouts came in at a respectable nine (7th) and strikeouts at 1,379 (8th). They allowed the sixth-most homers (241). The team's bullpen did well. Their 70.21 save percentage ranked third, while they recorded 33 saves (11th).
Starters
Formerly of the Indians, Corey Kluber (2 W – 3 L, 5.80 ERA, 1.65 WHIP) tops the rotation. He struggled through 2019 and then had his arm broken by a line drive. Despite these setbacks, Kluber is a top 10 hurler who's dealt well with adversity. His top two pitches are his slider and cutter. When they work, he's tough to hit. Lefty Mike Minor (14 W – 10 L, 3.59 ERA, 1.24 WHIP), who's second in line, had a rebound season. That was partly due to a return to health and also due to his ability to accurately locate the ball. His changeup is one of the best in the game, and his four-seam fastball is effective.
In 2019, Lance Lynn (16 W – 11 L, 3.67 ERA, 1.22 WHIP), a right-hander, saw an increase in his velocity. His four-seamer sped up by about 2-mph, location improved, and he increased his innings and strikeouts. Lynn finished fifth in AL Cy Young voting. He could put up solid numbers this season. Kyle Gibson (13 W – 7 L, 4.84 ERA, 1.44 WHIP), who comes to the team from Minnesota via free agency, gives innings. For six-straight seasons, he's post a minimum of 25 starts. Righty Jordan Lyles (12 W – 8 L, 4.15 ERA, 1.32 WHIP) may not make it through the season. He allows too many runs and is more likely to lose than win.
Relievers
Righty Rafael Montero (2 W – 0 L, 2.48 ERA, 0.97 WHIP) comes to the game with a plus changeup. Last season, he held lefties to .111 BA. Lefty Brett Martin (2 W – 3 L, 4.76 ERA, 1.44 WHIP) offers a plus slider. But last season, his fastball and sinker were ineffective. In his second MLB season, Jose Leclerc (14 Saves, 2 W – 4 L, 4.33 ERA, 1.33 WHIP) had more than a few problems. His location, effectiveness, and slider and change were all amiss. He did get his fastball up to almost 98-mph and recorded 100 strikeouts. Expect a turnaround third season.
Rangers – Everyday Players
Our Texas Rangers preview notes that this team's bats were less than average. The lineup hit .248 (7th) and they posted an OBP of .319 (9th). Their 223 dingers also placed ninth while their .431 slugging percentage ranked eighth as did the team's .750 OPS. The Rangers did show speed on the base paths, stealing an AL-best 131 bases and topping the league in stolen-base percentage (77.51%)
Texas – Top of the Order
DH Shin-Soo Choo (.265 BA, 61 RBI, 24 HR) leads off. The aging DH is seeing his numbers drop a bit, but he still gets the job done. At 37 years old and in the final year of his seven-year deal, this could be his last season. Shortstop Elvis Andrus (.275 BA, 72 RBI, 12 HR), another vet, is second in the order. He's lost some of his defensive prowess. Over the past two seasons, his hitting has gone south.
Danny Santana (.283 BA, 81 RBI, 28 HR), who plays center, had a fine season at the plate and proved to be reliable in the field. He still strikes out too much. Right fielder Joey Gallo (.253 BA, 49 RBI, 22 HR) hits fourth. A lefty, Gallo was looking at 50 homers last season when injuries slowed him down. He's also proven to be valuable on defense.
Rangers – Middle and Bottom of the Order
In the middle of the order, left fielder Willie Calhoun (.269 BA, 48 RBI, 21 HR) offers sound power potential and a patient plate manner. He does need to improve defensively. Batting sixth, it's third baseman Nick Solak (.293 BA, 17 RBI, 5 HR.). Solak is more of a utility man.
Seventh through ninth are second baseman Rougned Odor (.205 BA, 93 RBI, 30 HR), first baseman Todd Frazier (.251 BA, 67 RBI, 21 HR), and catcher Robinson Chirinos (.238 BA, 58 RBI, 17 HR). In 2019, Odor led the AL in strikeouts. Frazier comes to the Rangers from the Mets. He's a better choice offensively and defensively than Ronald Guzman who played first last season. Formerly with the Astros, Chirinos should be an improvement at and behind the plate.
Texas – Coaching and Management
Despite losing numbers, manager Chris Woodward did a good job eking out as many wins as possible. Woodward likes to get runners moving with steals and sacrifice bunts. He aggressively pursues runs. GM Jon Daniels, now in his 14th season, has tighten the purse strings. Focusing on reclaiming failing vets, he hopes to upgrade this club.
Texas Rangers Preview – Our Prediction
Our 2020 Texas Rangers preview observes that this team needs to see starter Kluber come through, closer Leclerc find his stuff, and Santana, Gallo and Calhoun produce. If all of those things fall into place, we expect the Rangers to be more competitive than we project them to be. In other words, we don't think all of those elements will come together. But if they do, the Rangers are still in a division that includes the Astros and A's. It will take a lot to overcome those two clubs.
Texas Rangers Summary
Texas Rangers – 4th AL West (78 Wins – 84 Losses)