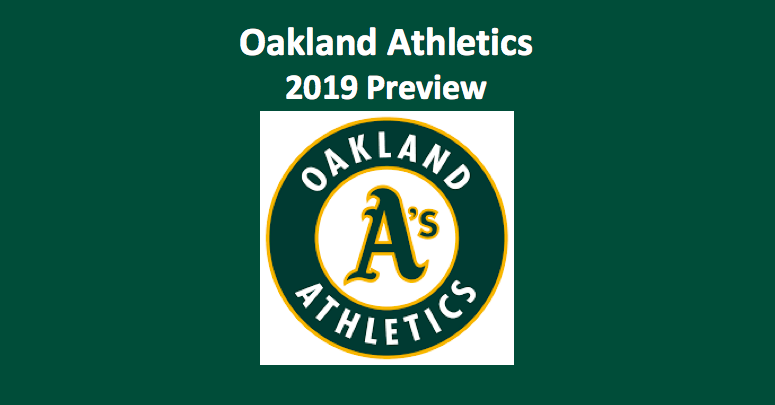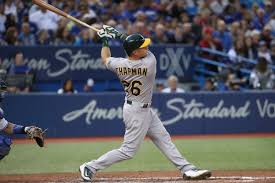 Last year, the Oakland Athletics (97-65) earned a wild card spot in the playoffs. The last time they had done so was 2014. Then, between 2015 and 2018, the A's posted three-straight losing seasons. The big question for our 2019 Oakland Athletics preview is will this team once again fall into that place where they end up watching postseason games rather than participating in them? It's interesting to note, that last September no one who had been in the starting rotation at the beginning of the season was left to take the mound. This season, the rotation has quite a few question marks, but there are some talented arms. Plus, Oakland does have some fine offensive power.
Pitching
The A's used 15 different starters last season, and manager Bob Melvin made finding another healthy arm and then another look easy. But it was not, and this season the starters have to stay healthy. For all of their health issues, Oakland's pitching staff did well, posting a .236 opponent batting average, which was sixth in MLB, and winning 97 games, which was fourth. They tied for 10th in saves with 44 and were 11th in ERA with a 3.81 mark.
Starters
Last season, righty Mike Fiers (12-8 W/L, 3.56 ERA, 1.18 WHIP) used four pitches to secure a dozen wins. Fiers is consistent around the plate ably throwing strikes. A plus is he's good for 30 starts. But, unlike many number one starters, he is not an extraordinary talent. Fiers is set to be Oakland's ace, but he is not really an ace. After that, there's a lot of guessing, as our Oakland Athletics preview does find that this rotation is very thin.
Another guy who always seems to throw strikes is right-handed hurler Daniel Mengden (7-6 W/L, 4.05 ERA, 1.12WHIP). He could get the second spot, while Frankie Montas (5-4 W/L, 3.88 ERA, 1.46 WHIP), who showed improved control last season, may be the third-man in. Others who look promising to some degree include righties Paul Blackburn (2-3 W/L, 7.16 ERA, 1.41 WHIP) and Chris Bassitt (2-3 W/L, 3.02 ERA, 1.24 WHIP) and lefty Jesus Luzardo. Luzardo is a young player from Peru who has perhaps the best chance of earning a spot in the rotation.
Relievers
Oakland's bullpen was 25th in ERA in 2017. Last season, it was third at 3.37. There is depth here with both Joakim Soria (3-4 W/L, 3.12 ERA, 1.14 WHIP) and Fernando Rodney (4-3 W/L, 3.36 ERA, 1.46 WHIP) being tagged as the primary setup pitchers. Lou Trivino (8-3 W/L, 2.92 ERA, 1.14 WHIP) is one of various arms that add depth. Closer Blake Treinen (9-2 W/L, 0.78 ERA, 38 SVs) offers a 98 mph sinker that is virtually impossible to hit. He is an elite force on the field.
Everyday Players
It helped that last season, the A's posted some solid offensive stats. Our Oakland Athletics preview notes that this team was in the top three to five in the league in six major offensive categories. Oakland was fourth in the bigs in total bases (2,450), slugging percentage (.439), RBI (778), and runs (813). The A's jacked the ball out of the park a lot, coming in third with 227 round trippers. Finally, they were fifth in OPS (.764). The team's .252 BA was 12th in MLB, while their .325 OB% ranked 10th. Oakland was dead last in stolen bases with 35.
Hitting
Our Oakland Athletics preview finds that overall the batting order is solid. Left fielder Nick Martini (.296 BA, 19 RBI, 1 HRs) leads off. In 2018, Martini had an impressive rookie season, as he proved to be the type of player who seemed to always get on base. Jurickson Profar (.254 BA, 77 RBI, 20 HRs) bats and plays second, while speedy shortstop Marcus Semien (.255 BA, 70 RBI, 15 HRs) hits third. He's one of just nine players in MLB who has managed to accumulate double-digit stats in steals and homers each of the last four seasons. Hit-machine and third baseman Matt Chapman comes to the plate fourth.
Chapman is followed by DH Khris Davis (.247 BA, 123 RBI, 48 HRs). Davis is one of the top sluggers in MLB. Last season marked his third straight with 40-plus homeruns. The next two batting spots, are filled by first baseman Matt Olson (.247 BA, 84 RBI, 29 HRs), an iron man who played all 162 games last season, and right fielder Stephen Piscotty (.267 BA, 88 RBI, 27 HRs). He topped the AL last September in RBI. They are followed by center fielder Ramon Laureano (.288 BA, 19 RBI, 5 HRs). Catcher Josh Phegley (.204 BA, 15 RBI, 2 HRs), who has a career OBP of .624, bats last.
Defense
In the field, the A's ranked 23rd in double plays with 125, while the team's .985 fielding percentage was 12th in MLB. The middle infield includes a much-improved Semien at short. Semien, who has struggled at the position, was a Gold Glove finalist last year. Profar, who led the majors in errors last season with 25, needs to become more proficient. At third, Chapman was one of the best defensive players in the AL. Olson at first is also top-notch. How good are these guys? Both won Gold Gloves last year. If Phegley is the catcher-of-choice, he'll bring basic but solid skills to the field. He's really a placeholder for the up-and-coming Sean Murphy. Murphy may get a call-up from Triple-A this season.
Center fielder Laureano, who came to the club last August, is a fine defender. In 47 games last season, he was +4 in runs saved. Piscotty will play right and Martini should be in left. Both can provide adequate D.
Management and Front Office
Our Oakland Athletics preview notes that the team of VP Billy Beane, GM David Forst, and manager Bob Melvin seems to be working well. Melvin is a resourceful manager who has a good relationship with Beane, who can be difficult to deal with. Melvin, who starts his eighth full season at the helm of the A's, should benefit from the additions of DH Khris Davis and closer Blake Treinen. If the Astros were not so well-stocked and the Angeles as competitive as they appear to be, the division could go to the Oakland A's.
2019 Oakland Athletics Preview: Final Word
One thing our Oakland Athletics preview is certain of, there is nothing certain when it come to the A's. This is a team, that one way or another, will usually surprise you. Thus, although our 2019 Oakland Athletics preview is predicting a third-place finish for this team, the fact is you never can tell what will actually happen with a Billy Beane team. Might they grab a playoff spot or even take the AL West? The answer is, yes that may happen. But more than likely, they will finish third and out of the postseason mix.
Projected Finish: 3rd AL West, Record: 88-74
LINKS