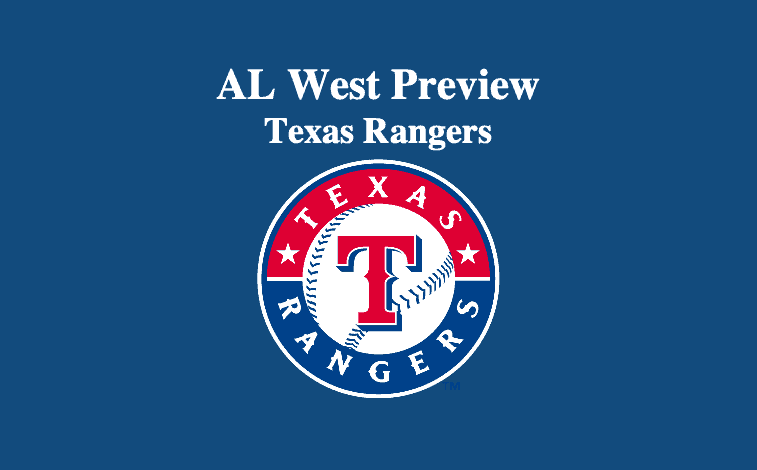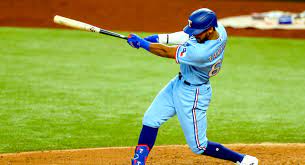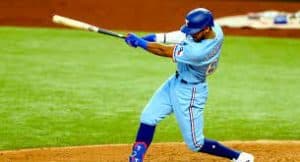 Our AL Texas Rangers preview 2021 notes that this team is looking to be on the upswing in 2022. Consequently, don't expect much from them this season. Last season, the Rangers went 22-38, which translates into 60-102 over the course of a 162-game season.
We imagine there will be more of the same this year. In August 2020, the Rangers suffered through an eight-game losing streak that resulted in them finishing 14 games out of first place in the AL West. Now in rebuild mode, Texas will feature rookies, prospects, and other young players.
AL Texas Rangers Preview 2021 – Pitching
Ranger pitching posted a 5.02 ERA and a 1.38 WHIP; both of which ranked 12th in the American League. The team earned just 10 saves. the least in the league, and opponent batting average was .242 (8th in the AL). They were one of six teams in the league that had no quality starts. The rotation has changed as just two starters from last season, Kyle Gibson and Jordan Lyles, return. Starter Lance Lynn was solid, by the was traded in the offseason for Dan Dunning. The bullpen is not much better than okay or average.
Texas Rotation
The number one starter, in what is a weak rotation, is righty Kyle Gibson. Last year, in a dozen starts, he went 2-6 with a 5.35 ERA and 1.53 WHIP. Our Texas Rangers preview 2021 observes that last season, Gibson mainly utilized his 93mph sinker, which featured a two-seam fastball grip, and 84mph slider. He mixed it up with an occasional change, four-seam fastball, and curve. There's nothing flashy here. Dane Dunning is number two in the rotation. Dunning, another righty, comes to the Rangers from the Chicago White Sox where last season he started seven games going 2-0 and recording a 3.97 ERA. His 1.12 WHIP was sound. Look for him to use a 93mph sinker, 82mph slider and 92mph four-seam fastball. He also has a curve and change.
Three Through Five
The third-man in is right-hander Jordan Lyles. He primarily uses a 93mph fastball and 80mph curve with a knuckle grip. Lyles started nine and appeared in 12 games last season. He was 1-6 with a 7.02 ERA. Rounding out the starting five are Kohei Arihara and veteran Mike Foltynewicz. Arihara comes to the Rangers from Japan (Nippon) where last season the righty went 8-9 with a 3.46 ERA over 20 games. Seven-year veteran, Mike Foltynewicz, the fifth righty in the rotation, had a couple of double-digit-win seasons with Atlanta. Last season, he was 0-1 with 3.1 IP. Although he was a former All-Star and Cy Young vote-getter, in 2020 the former designated first-starter for the Braves found himself relegated for reassignment. His major pitches include an 85mph change and 75mph curve, along with a low-speed fastball and sinker.
Relief
In the pen, Brett Martin and Joely Rodriguez (DD) give the Braves something they don't have in the starting rotation, two lefties. Martin appeared in 15 games last season, pitching 14.2 innings and posting an ERA of 1.84 and WHIP of 1.16. He was 1-1. Rodriguez appeared in 12 games, throwing 12.2 innings and recording a 2.13 ERA and 1.03 WHIP. Righty Ian Kennedy, a 15-year vet, joins the Rangers after spending the last five seasons with the Royals. In 15 appearances last season, he pitched 14 innings going 0-2 with two holds. His ERA came in at 4.13 and WHIP at 1.28. When his 94mph fastball and 90mph cutter are working, he can be effective.
Expect the closer to either be Jose Leclerc (DD) once healthy, or Jonathan Hernandez. In 2018, LeClerc had 12 saves, 15 holds and four blown saves over 59 appearances. He had a 1.56 ERA and a 0.85 WHIP. Last year for the Rangers, Hernandez appeared
Texas Rangers Preview 2021 – Everyday Players
As a team last year, Texas hit .217, driving in 204 runs, and recording and OPS of .648 and OBP of .285. All of those stats were good for last in the National League. This team could not hit last year, and we expect they won't be able to hit in 2021.
The batting order starts off with center fielder Leody Taveras leading off followed by shortstop Ishiah Kiner-Falefa, right fielder Joey Gallo, and first baseman Nate Lowe. In the middle of the order, is second baseman Nick Solak, followed by left-handed hitting DH Willie Calhoun. The final three in the batting order are third baseman Roughned Odor, left fielder David Dahl, and catcher Jose Trevino. Here's a closer look at these players at the plate and in the field.
Texas – Infield and DH
The middle of the infield features Isiah Kiner-Falefa at short and Nick Solak at second base. Kiner-Falefa was the NL's Gold Gove third baseman last season and replaces Elvis Andrus, who went to the Oakland A's, Former second baseman Roughned Odor. In 58 games last year, Kiner-Falefa hit .280 last season and drove in 10 runs. Solak hit 268, whole Odor recorded 10 homers and 30 RBI but batted just .167. The third baseman is capable of 30 dingers, but over the past four years, he's barely averaged a .220 BA.
First baseman Nate Lowe rounds out the bases, while Jose Trevino returns as the top backstop. Last season, Lowe hit .224, while Trevino posted a .250 BA. Lowe's fielding is suspect, but he does have a good bat. Trevino, who has improved at the plate, is top-notch behind the plate. If he can continue to show progress as a hitter, that will be a huge plus.
Outfield
In center, Leody Taveras is projected to be an All-Star performer and Gold Glove fielder. Although he hit just .227 at the plate, he did show some power and speed. He's expected to improve at the plate this season. Left fielder David Dahl, who's presently listed as day-to-day, comes to the Rangers from Colorado on a one-year, $2.7 million contract. This Texas Rangers preview 2021 notes that with the Rockies last season, he hit just .183. He's solid on defense, and it's hoped he'll be more effective at the plate after undergoing shoulder surgery. Right fielder Joey Gallo did win the Gold Glove last season. However, like just about every player on this team, he had a tough time at the plate, hitting just .181. He did launch 10 homers and drove in 26 runs.
AL Texas Rangers Preview 2021 – Final Word
AL Texas Rangers preview 2021 observes that manager Chris Woodward has replaced various coaches. Bobby Wilson comes in to work with the catchers and Doug Mathis and Brendan Sagara will serve as co-pitching coaches. Mathis was the bullpen coach in 2020 for the Rangers. Jon Daniels is still president of baseball operations, while former MLB hurler Chris Young comes in as GM. All-in-all, we expect this team to be in player development mode and planning for the future. Overall, they are young. They'll need time to mature and progress.
Summary – Texas Rangers Preview
Record: 62-100 (Fifth-place AL West)