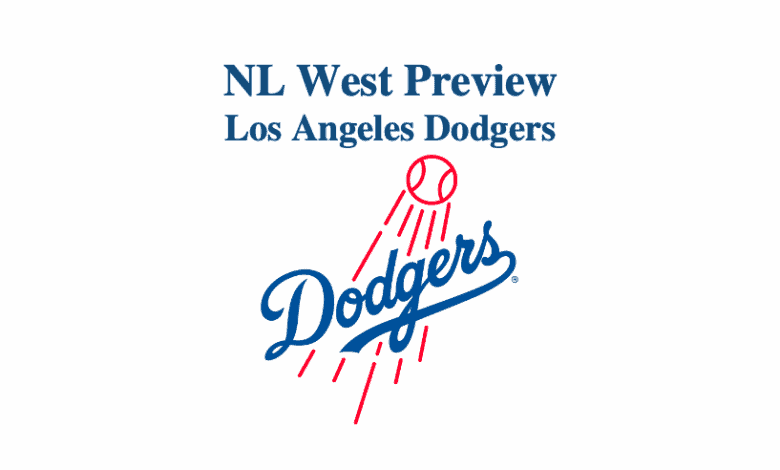 Our NL Los Angeles Dodgers preview 2021 observes that this team finally achieved a goal that had eluded them for 32 years, a World Series championship. The trade that brought Mookie Betts to Lala Land last season was huge. Finally, the team that had made it to the world series two of the last three years, was victorious in the third recent trip. The major question for any team that wins the MLB crown is can they repeat? One thing is certain, this edition of the Los Angeles Dodgers is positioned to take the division, pennant, and series. But, as we all know, it's a long road for any team to go from opening day to the final out of the World Series.
NL Los Angeles Dodgers Preview 2021 – Pitching
In 2020, the LA pitching staff was first rate. They led the league in ERA (3.02), OBA (.213), and WHIP (1.06). They also offered up the fewest homeruns (66), while their 15 shutouts ranked fourth. The walked 145 batters. That's the fewest in the National League. The team's 517 strikeouts ranked ninth amongst NL clubs, while the staff's 18 QS came in fourth.
Los Angeles Rotation
Lefty ace Clayton Kershaw is the top man in the rotation. His two primary pitches are an 88mph slider and 92mph four-seam fastball. Last season, over 10 starts, he went 6-2 with a 2.16 ERA and 0.84 WHIP. He can be unhittable. However, as he enters his 14th MLB season, age and health have been a concern, as Kershaw has dealt with some arm issues. Trevor Bauer is the second starter. Bauer, who started his MLB career with Arizona in 20212, comes to the Dodgers after spending his last two seasons with the Cincinnati Reds. The 2020 season saw him make a comeback from the season before when injuries hampered his performance and shortened his season. Bauer, who went 5-4 over 11 starts and recorded a 1.73 ERA and 0.79 WHIP, relies heavily on his 94mph, darting four-seam fastball.
Walker Buehler, who ended up on the injured list numerous times last season due to a blister on the right hand of his index finger, features a blinding four-seam fastball as well as an arching curve and elusive cutter. In 2019, he was 14-4. The Dodgers' third starter is capable of double-digit wins. Julio Urias is fourth and Dustin May fifth in the rotation. Last season, over 10 starts, he was 3-0 with a 3.27 ERA and 1.15 WHIP. May, who is in his third MLB season, makes the transition from reliever to starter. He features an virtually impossible to hit 98mph sinker and a sweeping 94mpg cutter.
Relief
The Dodgers resigned Blake Treinen. Treinen relies upon a blazing and extremely active sinked and an 89mph slider. Last season, he appeared in 27 games and recorded nine holds, one save, and one blown save. He went 3-3 with an ERA of 3.86 and WHIP of 1.21. Joe Kelly and Victor Gonzalez will be instrumental in relief. In 12 appearances last season, Kelly recorded three holds. His posted an impressive 1.80 ERA as well as a 1.50 WHIP. Gonzalez is a young talent with fine stuff. He throws a 95mph sinker and 85mph slider. Kenley Jansen, who utilizes a 91mph cutter, 92mph sinker, and 82mph slider. Our Los Angeles Dodgers preview 2021 observes that he was solid last season, saving 11 games and posting two blown saves while recording three wins and one loss.
Los Angeles Dodgers Preview 2021 – Everyday Players
With a .256 team batting average, the Dodgers ranked eighth in the NL. However, their OBP of .338 was fourth and their slugging percentage of .483 topped the league. Also, they were second in OPS with a mark of .821. No team in the National League hit more homers than the Los Angeles Dodgers (118). Dodger batters posted the third-fewest strikeouts (471). Finally, they were fifth in hits (523), seventh in doubles (97), and tied for sixth in stolen bases (23).
Los Angeles – Infield
Last season, shortstop Corey Seager returned to his old form after undergoing and recovering from Tommy John surgery. He was the MVP in both the NLCS and World Series. In 2020, he hit .305 with 15 homers, 12 doubles, and 41 RBI over 52 games. Second baseman Gavin Lux has shown a lot of promise in the minors. He now needs to transform those skills and his potential into a breakthrough MLB season.
In the corners, Justin Turner is at third and Max Muncy and first. Turner, an All-Star and team leader, is a .300-plus hitter with plenty of pop in his bat. Although Muncy struggled last season due to a finger injury, he found his swing again during the playoffs. He offers 35 homers and close to 100 RBI. Catcher Will Smith is a rarity, as he's a fine performer behind and at the plate. As a hitter, he's a sound RBI guy with decent power.
Outfield
If any single player changed this team's fortunes last season, our Los Angeles Dodgers preview 2021 finds it was former Red Sox Mookie Betts. In his initial season with the Dodgers, the right fielder won the Gold Glove and Silver Slugger and was the runner-up in MVP voting. In center, Cody Bellinger was unable to match his 2018 MVP performance. Which Bellinger will show up this season? It's hoped the one who the Dodgers saw in 2019 when he hit .305 with 115 RBI and 47 homeruns. Our Los Angeles Dodgers preview 2021 observes that A.J. Pollock will play left and DH when in AL parks. He's got the potential to smack 20 round trippers and drive in 50 runs.
NL Los Angeles Dodgers Preview 2021 – Final Word
Our NL Los Angeles Dodgers preview 2021 observes that the Dodgers have a lot going for them. Manager Dave Roberts and president of baseball operations Andrew Friedman were roundly criticized for the team's early exit from the playoffs in 2019. The core from last season is pretty much intact. Watch out, this team could do it again in 2021.
Summary – Los Angeles Dodgers Preview
Record: 102-60 (First-place NL West)