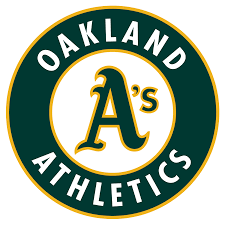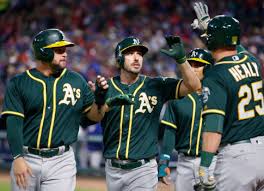 In 2013 and 2014, the Oakland Athletics (75-87) finished first and second respectively. Both seasons they were in the playoffs. Since then the A's have ended up fifth in the AL West three years running. This is a team that has fallen off the map when it comes to being competitive. Last season, they posted the second-worst road record in the AL (29-52) and had the worst fielding percentage in the majors. In 2017, through August they had 10 consecutive losing months. In our Oakland Athletics 2018 preview, we don't see much improvement over last season.
Pitching
Pitching was less than adequate last year. The staff was 23rd in ERA (4.68), tied for 21st in saves (35), and 18th in opponent OB% (.261). A large number of the starters are either unproven or have been inconsistent. The bullpen does include some players who can keep opponents at bay.
Starters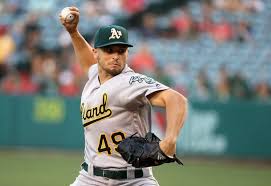 Kendall Graveman (6-4 W/L, 4.19 ERA, 6.0 K/9) will most likely be the number one starter. He needs to improve his road record, which last season was 1-4 with a 6.39 ERA. Lefty Sean Manea (12-10 W/L, 4.37 ERA, 7.9 K/9) had a strong first half but struggled after the All-Star break. The last three starters include minor leaguer Daniel Mengden (3-2 W/L, 3.14 ERA, 6-1 K/9), Andrew Triggs (5-6 W/L, 4.27 ERA, 6.9 K/9), and Jesse Hahn (3-6 W/L, 5.60 ERA, 7.1 K/9). Since 2014, Mengden has done well in the minors, while last season Triggs got off to a strong start in April but had a rough go the rest of the way. Hahn is 11-16 since joining the A's in 2015
Relievers
Blake Treinen (3.93 ERA, 16 SVs, 8.8 K/9) will most likely take on the closer role after notching 16 last season. Relievers Chris Hatcher (1-2 W/L, 4.22 ERA, 9.5 K/9) and Yusmeiro Petit (5-2 W/L, 2.76 ERA, 10.0 K/9) have both been very effective out of the pen.
Everyday Players
There were some highlights on offense last season, as the A's were fourth in homeruns with 234 and ninth in slugging percentage with a .436 mark. But they did have a tough time winning partly due to their team batting average of .246 (24th) and on base percentage of .319 (20th). They were 18th in RBI with 708 and 17th in runs with 739. The A's were rank 30th in fielding with a .980 mark, but they wer3 eighth in DPs with 162.
Hitting
DH Khris Davis (.247 BA, 110 RBI, 43 HRs) is the only hitter in 2016 and 2017 to have at least 40 round trippers in each season. He's a major threat in the fourth spot of the order. Starting things off is speedster Marcus Semien (.249 BA, 40 RBI, 10 HRs), while extra-base hitter Matt Joyce (.243 BA, 68 RBI, 25 HRs) bats second and second baseman Jed Lowrie hits third. Matt Olsen (.259 BA, 45 RBI, 24 HRs), in the third spot, can launch the ball over the fence consistently.
Fifth in the order is Stephen Piscotty (.235 BA, 39 RBI, 9 HRs). He was traded by the Cards after putting up weak numbers last season. Rounding out the bottom three in the order are Chad Pinder (.238 BA, 42 RBI, 15 HRs), Matt Chapman (.234 BA, 40 RBI, 14 HRs), and Bruce Maxwell (.237 BA, 22 RBI, 3 HRs).
Defense
Over 103 games, catcher Bruce Maxwell has thrown out just 17 of 69 runners. He has not handled pitchers very well and last season he allowed an alarming number of passed balls. Maxwell was also arrested in the offseason on a gun-related charge. Semien at short and Lowrie second make a decent double-play combo. Chapman played a solid third last season while Olsen does a good job at first. The outfield is overall adequate but in no way spectacular.
Management and Front Office
Manager Bob Melvin, who was granted a one-year contract extension, has over 1000 career wins and is 537-534 at the helm for the A's. He guided the team to three straight playoff appearances before guiding them to three straight last place finishes over the past three seasons. GM David Forst, along with the legendary Billy Beane are dealing with a low revenue stream. There's hope that cash flow will be enhanced if and when Oakland builds a new stadium. But that's in the offing, which means that the front office and minors will need to develop talent that offers value.
Oakland Athletics 2018 Preview: Final Word
With a patchwork pitching staff and an offense that has been fairly inconsistent, the A's come into this season with more questions and answers. The biggest concern is certainly pitching, while hitting also remains problematic. In concluding our Oakland Athletics 2018 preview, we envision this ball club finishing dead last in the AL West, as they have for the past three seasons.
Projected Finish: 5th AL West, Record: 73-89