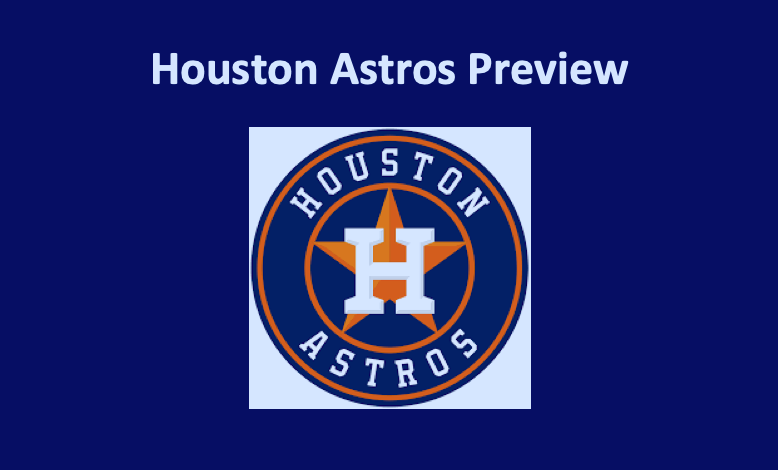 Our 2020 Houston Astros preview observes that this team has made the playoffs in four of the past five seasons. Last season for the second time in three years, the Astros went to the World Series. However, they lost the series in seven games to the Washington Nationals. It was a big crash for a team that won 107 games in the regular season. Then there was another big crash as Houston got caught in a sign-stealing scandal connected to their 2017 World Series crown. Then there was Astros owner Jim Crane's apology for cheating, which was anything but an apology. This 2020 Houston Astros preview wonders if there will be more fallout throughout the season related to this team? One thing is certain, they are perhaps the best ball club in the AL.
Houston Astros Preview – Pitchers
The Astros had the second-best ERA in the AL (3.66) and recorded the lowest opponent batting average (.221). They were second in shutouts (14) and third in saves (47). They posted the sixth-fewest blown saves. Huston topped the AL in strikeouts while recording the fewest walks. The 230 homers they allowed was average. This staff was sound.
Starters
The 2019 AL Cy Young-winner Justin Verlander (21 W – 6 L, 2.58 ERA, 0.80 WHIP) returns for another season. Verlander, an eight-time All-Star,throws an exceptionally powerful fastball and vicious slider. Zack Greinke (18 W – 5 L, 2.93 ERA, 0.98 WHIP) might be an ace on any number of teams. For the Astros, he's the second man in. Second in wins amongst active MLB pitchers (Verlander is first), Greinke's control is his best attribute. Lance McCullers Jr. missed all of 2019 due to Tommy John surgery. Over four seasons and 80 starts, he's recorded 29-22 W-L/3.67 ERA/1.27 WHIP. His primary pitches are an 86-mph curve and 96-mph sinker.
Jose Urquidy (2 W – 1 L, 3.95 ERA, 1.10 WHIP) is fourth in the rotation. He has to have good stuff to be effective as Urquidy uses his four-seamer and curve. Both come with top-notch movement. Framber Valdez (4 W – 7 L, 5.86 ERA, 1.67 WHIP) is listed as the fifth starter. He had major control issues last season. When his 93-mph sinker comes with hard, downward movement, he can be effective.
Relievers
Ryan Pressly (2 W – 3 L, 2.32 ERA, 0.90 WHIP) utilizes an arching curve with a lot of bite. Last season, he struck out 72 batters in 54 innings. He's a top setup man. Joe Smith (1 W – 0 L, 1.80 ERA, 0.96 WHIP) offers a low-velocity fastball that acts like a sinker. Hitters have a tough time making contact. Roberto Osuna (38 Saves, 4 W – 3 L, 2.63 ERA, 0.88 WHIP) brings four pitches to the mound. His fastball comes in at over 96-mph and his slider cuts with no mercy. Osuna mixes in a cutter and change with the other two. All of his pitches are virtually unhittable.
Astros – Everyday Players
Our Houston Astros preview notes that along with having the best pitching staff in the league, this ball club has one of the finest collections of hitters. Houston led the league in batting average, slugging percentage, OBP, and OPS. They were third in RBI (891) and homers (288). The 645 walks they earned were 55 better than the next closest team. The team was eighth in stolen bases with 67 and tenth in stolen base percentage (71.28). They also topped the AL with a .988 fielding percentage.
Houston – Top of the Order
In 2019, center fielder George Springer (.292 BA, 96 RBI, 39 HR) had the best season of his career. Along with being a fine hitter, Springer is an excellent fielder with great speed and ball-tracking skills. Second baseman Jose Altuve (.298 BA, 74 RBI, 31 HR) put up solid number in the second-half of the season. His durability is questionable. Michael Brantley (.311 BA, 90 RBI, 22 HR), who plays left field, hits third. He's a smart hitter who ably puts the ball into play. But age is catching up to him. Alex Bregman (.296 BA, 112 RBI, 41 HR) is fourth in the order. The third baseman is one of the best hitters around. He has a keen eye and great contact.
Astros – Middle and Bottom of the Order
DH Yordan Alvarez (.313 BA, 78 RBI, 27 HR) hits fifth. Last season, his rookie year, he posted excellent numbers. His weakness is breaking pitches, which he needs to be able to handle better. Yuli Gurriel (.298 BA, 104 RBI, 39 HR) is sixth in the order. The first basemen excelled in the second half, hitting .326 and recording .382 OBP. Shortstop Carlos Correa (.279 BA, 59 RBI, 21 HR) bats seventh. The last three season injuries have cut down on his production. He's a fine fielder and defender, but he has to stay healthy. Catcher Martin Maldonado (.213 BA, 27 RBI, 12 HR) and right fielder Josh Reddick (.275 BA, 56 RBI, 14 HR) hit eighth and ninth. Behind the plate, Maldonado has a strong and accurate arm and refined pitch-framing skills. Reddick has become a placeholder for the up and coming Kyle Tucker.
Houston – Coaching and Management
When the sign-stealing scandal broke, Crane fired manager A.J. Hinch and general manager Jeff Luhnow. Veteran Dusty Baker, a three-time NL Manager of the Year, was brought in to take over for Hinch. Baker, known as a traditionalist, is unconcerned with putting men on base and has a reputation for overworking pitchers. It will be interesting to see how long the well-travelled skipper lasts. Former Tampa Bay president of baseball operations James Click joins the Astros as GM. Click is known as an analytics guru.
Houston Astros Preview – Our Prediction
Despite all of the controversy, our 2020 Houston Astros preview finds that the 'Stros should, once again, win the AL West. They have three amazing starters, a solid pen, and some of the best everyday players in MLB. Baker and Click will be an interesting duo. Can they work together, old school and new school? That is the major question concerning this Houston Astros team.
Houston Astros Summary
Houston Astros – 1st AL West (103 Wins – 59 Losses)