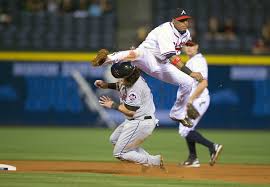 The last time the Atlanta Braves (68-93) had a winning record was 2013 when they finished first in the NL East with a record of 96 and 66. Since then, they've won an average of 71 games a season. Our Atlanta Braves 2018 preview sees this team as still struggling to do better than last season's third-place finish in the NL East that includes a very tough Nationals team, a competitive Mets club, and an improved Phillies franchise. This is their second season in SunTrust Park, they've got a young and talented roster, and have decent fan support. But still the question is will the Braves will lose 90 or more games for a fourth season straight?
Pitching
The Atlanta pitching staff posted an ERA of 4.72 (24th) last season and opponents batted .263 against them. They had the third-fewest strikeouts and second fewest shutouts in the NL. This is a team that very much needs a solid starting rotation. In terms of saves, they tied for 18th in the majors with 36.
Starters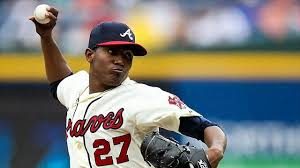 It starts with Julio Teheran (11-13 W/L, 4.49 ERA, 7.2 K/9). Teheran needs to find consistency. He's a solid fly-ball pitcher, but he can also give up the long ball more than he should. Second in the rotation is Mike Foltynewicz (10-13 W/L, 4.79 ERA, 8.4 K/9) has a slider, changeup, and curve, but his primary pitch is a mid-90s fastball. Still, his ERA has been consistently over 4.00. Brandon McCarthy (6-4 W/L, 3.98 ERA, 7.0 K/9), who is 34 and comes over from the Dodgers, is a ground ball hurler who has a tough time getting to 10 wins. The lasr two in the rotation, Sean Newcomb (4-9 W/L, 4.32 ERA, 9.7 K/9) and Luiz Gohara (1-3 W/L, 4.91 ERA, 9.5 K/9), are the two lefties in the rotation. Both are young talents starting their careers. They could have an impact.
Relievers
Arodys Vizcaino (2.83 ERA, 14 SVs, 10.1 K/9) comes into the season after notching 12 of 13 save opportunities from July 30 0n last season. In three seasons, he's 33 of 40 in saves. Righty Jose Ramirez (2-3 W/L, 3.19 ERA, 8.1 K/9) tied for the NL lead in holds last season with 27. With better control, he could be lights out. Last season, lefty Sam Freeman (2-0 W/L, 2.55 ERA, 8.9 K/9) allowed just one run over 25 appearances and 22.1 innings. Over that time, opposing batters posted a combined average of .149.
Everyday Players
Although the team hit .263 last season, which ranked them sixth in the majors, the Braves scored just 732 runs (20th) and hit only 165 homeruns (28th). Their slugging percentage of .412 ranked them 23rd. In the field, they had 137 DPs (22nd) and posted a .984 fielding percentage (19th).
Hitting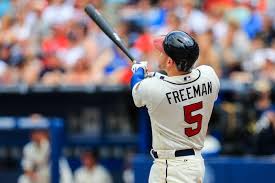 First baseman Freddie Freeman (.307 AVG, 71 RBI, 28 HRs), who looks to bat third, offers homerun potential, while catcher Tyler Flowers (.281 AVG, 49 RBI, 12 HRs), who's fourth in the batting order, has lifted his batting average 50 points since coming to the Braves two seasons ago. Center fielder Ender Inciarte (.304 AVG, 57 RBI, 11 HRs), at lead-off, is a hit machine. Second in the order is Ozzie Albies (.286 AVG, 28 RBI, 6 HRs). He showed a lot of progress in his rookie season, batting .318 in his final 43 games.
Nick Markakis (.275 AVG, 76 RBI, 8 HRs) can swat doubles at will. He has at least 35 in each of his last three seasons. Left fielder Ronald Acuna comes up from the minors having showed a lot of potential, while third baseman Johan Camargo (.299 AVG, 27 RBI, 4 HRs) posted the second-best batting average amongst all MLB rookies last season. Last season, shortstop Dansby Swanson (.232 AVG, 51 RBI, 6 HRs) batted .291 with runners in scoring position.
Defense
The infield is young in the middle and talented. First baseman Freeman is an anchor, while Camargo will get a shot at third. He could make that his permanent spot. Behind the plate, Flowers is a top pitch framer, but his arm is fairly weak. The ourfield includes rookie Acuna in left who's already made a big impression with his speed and ability to find the right angle on tough fly balls. Markakis is average in left, while Inciarte is a top-flight center fielder.
Management and Front Office
Manager Brian Snitker comes back for his second full season at the helm. He's a solid player's manager who does very well with developing young talent. Alex Anthopoulos comes in as the team's new President of Baseball Operations. He replaces John Coppolella, who created controversy that resulted in an investigation regarding the manner in which the Braves signed international players. Anthopoulos inherits a loaded farm system that he can continue to develop and mine.
Atlanta Braves 2018 Preview: Final Word
Our Atlanta Braves 2018 preview sees this team as having a lot of promise. But we doubt they will develop enough to be competitive this season. The biggest concerns are in the rotation, which is relatively thin, and consistency amongst offensive players. We project this Atlanta Braves team as finishing third.
Projected Finish: 3rd NL East, Record: 80- 82