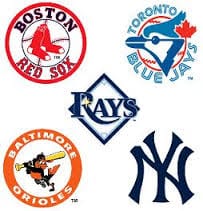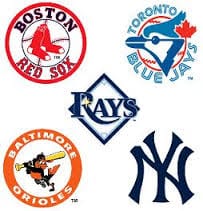 The American League East Division continues to be a powerhouse with the Boston Red Sox, Baltimore Orioles, and Toronto Blue Jays being three of the best teams in the league. The New York Yankees are in a rebuilding phase, but you can never count them out, while the Tampa Bay Rays look to be the team destined for fifth place. Here's a synopsis of 2017 AL East Preview. Please use the links to each team to read our detailed preview of all five teams.
Baltimore Orioles
For the Orioles, everything seems to be in place except the starting rotation. There are some big questions regarding starting spots three, four and five. Along with having some fearsome hitters and premium relievers, the Orioles have two of the best in manager Buck Showalter and GM Dan Duquette. Together, they could craft a winner in 2017.
Boston Red Sox
You never want to get too optimistic with any team and this is especially true when it comes to the Red Sox. This is a team of extremes that seems either destined to finish either first or last. Starters Chris Sale, Rick Porcello, and David Price are all premium pitchers. Plus the fourth and fifth starters are not too shabby. Mookie Betts is both an amazing fielder and hitter and the Sox have depth all-around. Let's see what they do with all of this talent.
New York Yankees
The Yankees come into 2017 needing a lot, including starting pitching and solid hitting. They don't have the guys they need to make a real run at the pennant. Manager Joe Giraldi will have his hands full bringing along the numerous youngsters on the roster. This is a team undergoing a major transition. It's been four years since the Bronx Bombers have won a playoff game. That string continues in 2017.
Tampa Bay Rays
To define the Tampa Bay Rays in the simplest of terms, not enough pitching, not enough hitting, and not enough depth. Of all teams in the AL East, the Rays are the least likely to finish first and the most likely to end the season in last place. Not only is the rotation thin, but, also, they won't get much help from the offense.
Toronto Blue Jays
Middle relief is a problem for the Jays, but they have a solid setup and closer. In addition, their starting pitching is good. But their hitting looks to lag behind that of Boston and Baltimore. DH Edwin Encarnacion, a free agent, went to the Indians. That is a major loss for the 2017 Toronto Blue Jays. We do, however, expect manager John Gibbons, a complete player's coach, to keep this team focused and in the hunt through a major part of the season.
2017 AL East Preview Prediction
Our 2017 AL East Preview sees the teams finishing in the following order:
Boston Red Sox
Baltimore Orioles
Toronto Blue Jays
New York Yankees
Tampa Bay Rays