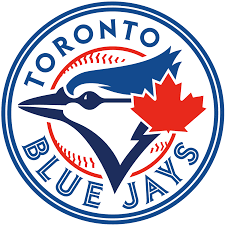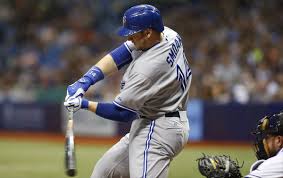 The 2017 season did not go well for the Toronto Blue Jays (76-86). The team finished fourth in the AL East and 17 games out of first place. That seemed a long way from the past two season, during which the Jays made the playoffs. In 2015, they were the top team in the East with a 93-69 record and in 2016, the club tied for second in the division. In our Toronto Blue Jays 2018 preview, we don't see the team as a cellar dweller, nor do we envision the club taking first.
Pitching
The starters on this team could end up being the best part of this team. Although many struggled last year, just about everyone has shown or possesses great potential. The bullpen is also very strong and should help this team, which mounts a substandard offense.
Starters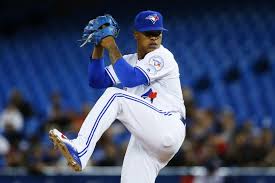 The number one in the rotation, Marcus Stroman (13-9 W/L, 3.09 ERA, 7.3 K/9), can be one of the best in the league. However, as the season wore on, he started to look worn down. Toronto's second man in the rotation, Aaron Sanchez (1-3 W/L, 4.25 ERA, 6.0 K/9), suffered from a nagging blister last season. It affected his performance considerably. J.A. Happ (10-11 W/L, 3.53 ERA, 8.8 K/9), the only lefty in the rotation, also had an off season in 2017, as did Marco Estrada (10-9 W/L, 4.98 ERA, 8.5 K/9) and Joe Biagini (3-13 W/L, 5.34 ERA, 7.3 K/9).
Relievers
Closer Roberto Osuna (3.38 ERA, 39 SVs, 0.86 WHIP) is a skilled and efficient pitcher, averaging 11.7 strikeouts per nine innings. In 73 appearances last season, Ryan Tepera averaged 9.4 K/9 and recorded a 7-1 record. He was ultra-dependable. Righty Dominic Leone saw his strikeout rate rise to 10.4 per nine innings and ERA go down to 2.56. This is a quality group.
Everyday Players
The batting lineup is good but not at all scary. There's certainly potential, especially when it comes to the long ball. In 2017, the Jays were 10th in the league in homers with 222. When it came to base running, they were 29th in steals. In the field, their .985 fielding percentage ranked them 12th, while they were tied for 16th in DPs with 145.
Hitting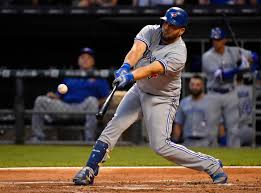 The lineup is not as formidable as the Jays would like. Right fielder Teoscar Hernandez (.261 BA, 20 RBI, 8 HRs) has a decent homerun swing, but rarely steals a base. Josh Donaldson (.270 BA, 78 RBI, 33 HRs), who plays second, offers fine power potential, but needs to be more consistent. First baseman Justin Smoak (.270 BA, 90 RBI, 38 HRs) has a fine homerun swing, but is lacking when it comes to batting average. DH Kendrys Morales (.250 BA, 85 RBI, 28 HRs) can also stroke homers, but can't hit for average.
If you're looking for offensive help, it's tough to get any from Steve Pearce (.252 BA, 37 RBI, 13 HRs), who continues to struggle with injury issues or from the aging Troy Tulowitzki (.248 BA, 26 RBI, 7 HRs), who's seen his numbers fall off. The lower part of the order is average to below average.
Defense
In center field, Pillar ably tracts down balls and is noted for his fine defensive plays. Pearce struggles in left, while right fielder Hernandez has shown promise. When it comes to the infield the team is overall average. Catcher Russel Martin is one of the best pitch framers around, and he certainly has proven that he knows how to handle the pitching staff.
Management and Front Office
Manager John Gibbons, despite protests from fans, did a good job last season guiding a team through an array of injuries. He has top-notch bullpen management skills. His coaches are dedicated and knowledgeable. It's been rumored that Rogers Communication might sell the team, but there's been no movement in that direction. One big question is what exactly will the Blue Jays do this season? Will GM Ross Atkins work towards jettisoning veteran players and rebuilding the team, or will he simply continue down the same road?
Toronto Blue Jays 2018 Preview: Final Word
If the Blue Jay starters can stay healthy and live up to their potential, this team will have a solid shot at a winning season. It's true that they need help at the plate. The fielding is for the most part solid but not exceptional. Our Toronto Blue Jays 2018 preview projects this team to be a .500 club. They just don't have the essentials they need to compete in the AL East.
Projected Finish: 3rd AL East, Record: 80-82