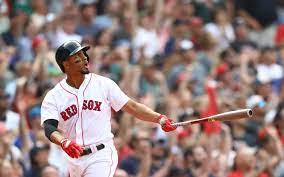 Our AL Boston Red Sox preview 2021 notes that the franchise's decision to let Mookie Betts go to the Dodgers and jettison starting pitcher David Price proved to be bad moves. Plus, ace Chris Sale missed the season due to Tommy John surgery. In addition, Eduardo Rodríguez was diagnosed with COVID-related heart disease. To say the least of 2021, it was not a good year for baseball in Beantown. Just two years prior, they had won the World Series. Plus, from 2003 to 2020, they had made the playoffs 10 times and won the World series four.
Last season, the Red Sox posted 24 wins and 36 losses with the 162-game adjusted record being 65-97. That marked their worst record since 1966 when they were 62-100. This is a team that under chief baseball officer Chaim Bloom recently changed course by re-engineering the farm system by utilizing smart deals. This should get them back into contention. But it will take a few off-seasons for the Bo Sox to get there.
AL Boston Red Sox Preview 2021 – Pitching
For a team that had until recently put one of the best rotations on the mound, the Sox experienced a major backslide last season. In the AL, Boston pitchers were 14th in ERA (5.58), 15th in OBA (.281), and also last in WHIP (1.60). Their 14 saves ranked them tied for ninth with the New York Yankees. They allowed the most homers in the league (98) and the most walks (252). This season, age, depth, and health are major issues for the pitching staff.
Boston Rotation
Lefty Eduardo Rodríguez is the first man on the mound with righty Nathan Eovaldi starting in the second spot. In 2019, he was 19-6 with 3.81 ERA and a 1.33 WHIP. COVID took him out of last season, but he returns healthy. He has five pitches to choose from but primarily relies on his 93mpg fastball and 88mpg change. He also utilizes an 89mph cutter and a 93mph that drops quickly out of the strike zone.
Eovaldi offers a blinding 98mph four-seam fastball and a tough-to-pickup 93mph cutter. He uses three other pitches effectively, a slow moving, deceptive 80mph curve, an 88mph splitter, and an 89mph slider. The veteran starts his 10th MLB season. However, it's been five years since he's started a full slate of games. Last year, he started nine games, going 4-2 with a 3.72 ERA and a 1.20 WHIP. If he can sustain that output for an entire season, that will be a major plus for the Sox.
Three through Five
Garrett Richards, the third starter, comes to Boston from the San Diego Padres. This is his 11th MLB season. Last season was uneven. He appeared in 14 games with 10 starts. His record was 2-2 with one hold with a 4.03 ERA. For the past five seasons, durability has been an issue for him. In 2020, after eight MLB seasons, the vast of majority spent as a Texas Ranger, Martin Perez came to Beantown. He started 12 games and recorded three wins and five losses while posting an ERA of 4.50. Partway through the 2020 season, Nick Pivetta came to the Red Sox from the Phillies. He's never pitched a winning season and twice started 30 or more games. He comes to this season with a record of 21-30, a 5.40 ERA, and 1.43 WHIP.
Relief
Our Boston Red Sox preview 2021 finds that the primary relievers for the Bo Sox are Hirokazu Sawamura, Darwinzon Hernandez, and Ryan Brasier. Sawamura comes to the Red Sox from Japan where he's been a professional hurler since 2011. He comes with a 52-56 record, an ERA of 2.82, a WHIP of 1.20, and 75 saves. He is a workhorse. In 2020, his second MLB season, Hernandez appeared in seven games, recording an ERA of 2.16 and six holds. He uses a 95mph fastball and 84mph slider. Brasier, another workhorse, appeared in 25 games last season. He recorded 10 holds, two blown saves, and a record of 1-1. Brasier accumulated a 3.58 ERA and a 1.17 WHIP. His most effective pitches are his 97mph fastball and 87mph slider.
Closer Matt Barnes has been with Boston since 2014, his entire career. In four seasons prior to 2020, he averaged 22.2 holds. Last year, he appeared in 24 games where he held four, saved nine, and blew four saves. He had an ERA of 4.30 and WHIP of 1.39. His stuff is best suited for eighth-inning appearances, but at this point, Barnes is the best choice they have for the closing role. He relies on a 96mph fastball and 85mph curve.
Red Sox – Everyday Players
In 2020, Boston brought solid bats to the plate. They topped the AL in batting average (.265) and were third in OBP (.330), SLG% (.445) and OPS (.775). Their 81 homeruns ranked sixth, while their 118 doubles topped the AL. The Red Six were also fifth in RBI (278) and sixth in stolen bases (31).
Centerfielder Alex Verdugo leads off with shortstop Zander Bogarts hitting in the number two spot. Rafael Devers, third baseman, is third, and power-hitter J.D. Martinez comes up fourth as the DH. Catcher Christian Vazquez steps into the fifth spot. Third baseman Rafael Devers comes to the plate sixth with Hunter Renfroe, who plays right field, seventh. Bobby Dalbec, who's at first, hits eighth with second baseman Enrique Hernandez coming up ninth.
Boston – Infield and DH
Our Boston Red Sox preview 2021 observes that Xander Bogaerts is a much better hitter than fielder. Bogarts has .300-30-100 potential and is entering his prime. At short, his range is an issue. After five seasons with the Dodgers, second baseman Enrique Hernandez comes to the Sox with a .240 lifetime batting average. Overall, he's known as a solid player. Bobby Dalbec takes the right corner and Rafael Devers the left. Both have power to spare. In 2020, his first MLB season, Dalbec impressed batting .263 with 8 homers and 16 RBI. He has a lot of potential. Devers, an All-Star and projected MVP, hit .311 in 2019 with 115 RBI and 32 homeruns. Last season, his numbers came in at .263 with 11 round trippers, and 43 RBI over 57 games. We expect to see him recover and go back to his 2019 numbers.
Catcher Christian Vazquez provides the team with excellent defensive skills and 20-plus homerun and 70-plus RBI potential. Although he had an off 2020 season, DH J.D. Martinez still has .300/40/100 potential. He's part of a long tradition of top-notch Red Sox designated hitters.
Outfield
The entire outfield from 2019 is gone. Hunter Renfroe comes in to play right, moving Alex Verdugo to center. Franchy Cordero plays left. Renfroe, who played four seasons with San Diego and last season with Tampa Bay, brings solid D and should see his homerun number rise due to Friendly Fenway's Green Monster. Cordero, who's spent four seasons in the majors but has never been a starter, gets his chance to move up this season. He's 26 years old and comes in with a rep for having potential but not quite finding it. Verdugo, a versatile fielder, came to Boston in the Mookie Betts trade last year and made a splash. Over 53 games, he hit .308 with 15 RBI, six homers, and 16 doubles. Verdugo recorded a .367 OBP, .478 SLG% and .844 OPS.
AL Boston Red Sox Preview 2021 – Final Word
AL Boston Red Sox preview 2021 notes that Alex Cora is back after serving a one-year suspension for his involvement in a sign-stealing scandal. In bringing Cora back, Red Sox management did not make a hasty decision. In fact, it looked like they were going to hire Phillies assistant Sam Fuld. But it was hard for Bloom and company to not bring back their World Series-winning manager. Cora has sound baseball sense, connects well with players, and knows how to build a fine coaching staff. Still, the Red Sox will struggle. We project them to finish fourth in 2021.
Summary – Boston Red Sox Preview
Record: 74-88 (Fourth-place AL East)