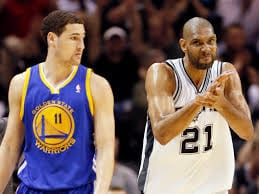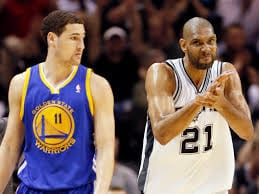 As the San Antonio Spurs, down three games to none to the Golden State Warriors, try to win one before being eliminated, they have to contend with the fact that their top player, Kawhi Leonard, is out and top forward, Tony Parker, is also out. To make things worse now Spurs forward David Lee may be out. For any team in the NBA playing against and beating the Warriors is an uphill battle. For the injury ridden Spurs, winning one game in this series seems like a near impossibility. The two teams meet tonight at 9 p.m. E.T. in San Antonio. The Warriors are favored by 11 points. Both teams are at -110. The totals bet, which is 117.5, is at -107. With those odds established, here's our Warriors play Spurs NBA West Finals game four pick.
Important Players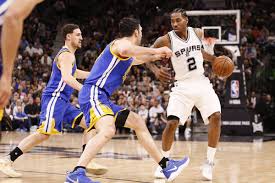 In the first game of this series, when the Spurs still has Leonard, Golden State won by just two points. With Leonard out, the margin of victory in game two was 36 points and in game three 12. This game could be closer than games two and three. Especially if PF LeMarcus Aldridge can step up a bit more and SG Jonathan Simmons can nail a few threes. Both of these scenarios are possible. In addition, a few key plays by center Pau Gasol will go a long way to keeping San Antonio close.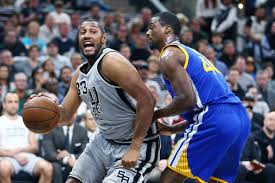 The Golden State Warriors are loaded, which means if one guy is off then chances are three more will be able to do the job. It's that simple. Curry, Durant, Green, and Thompson are all quality players and the most important cogs in an efficient, explosive, and efective team that can take over a game at any time. Still, in this second game away from home, we might expect this group, which has gone 11-0 in the 2017 NBA playoffs, to be a bit off.
Five Keys to the Game
Curry and Durant need to be sharp
Simmons has to hit about four threes for the Spurs
Warriors want to dominate the boards
Aldridge comes through with a stellar
Spurs control pace of game to keep it close.
Warriors Play Spurs NBA West Finals Game Four Pick
In our Warriors play Spurs NBA West Finals game four pick, we are taking San Antonio at +11 and over 217.5. We simply don't believe that the Spurs will go out at home without a fight.
Warriors Play Spurs NBA West Finals Game Four Pick: Spurs at +11.0 and over 217.5