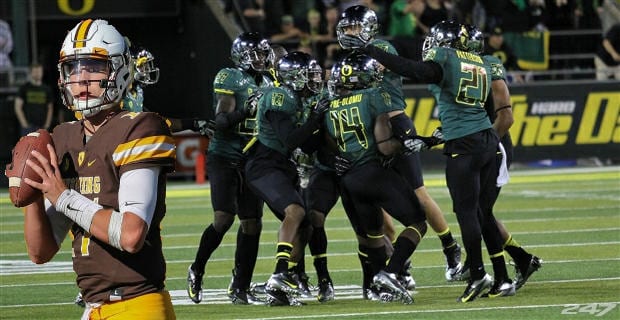 Let's not lie, on paper this one seems like it's all Ducks. Sure Oregon is on the road to Laramie, but they're undefeated and have one of the most versatile offenses in the nation. How can Wyoming keep up with the OU offense, even behind strong armed QB Josh Allen? Well folks, that's why you play the game for our 9/16 Saturday Night College Football free pick.
The Case For Oregon – 13.5
The biggest reason it's tempting to take the Ducks as nearly two touchdown road favorites is because it seems like this line should be -19 or more. Oregon has the #2 ranked offense in college football in total yards per game (634.5) and is versatile – being top 30 in both rushing (274.5) and passing (360.0). These numbers didn't come against complete tomato cans either as OU rushed out to a 42-14 halftime lead last week against Nebraska.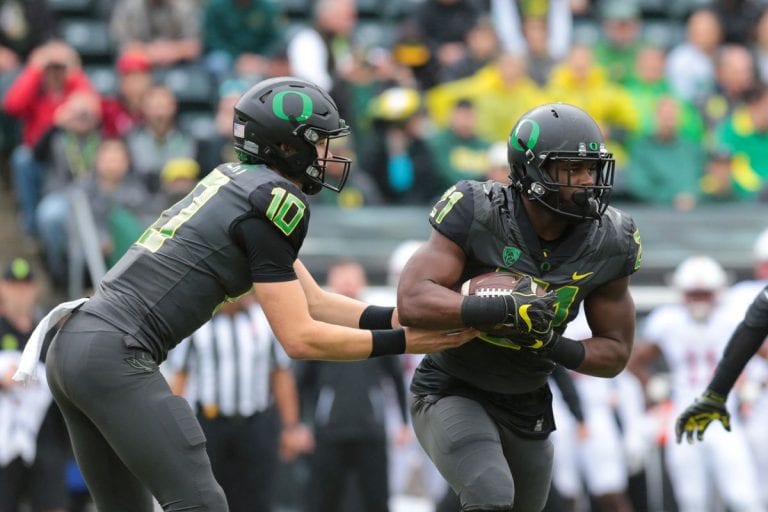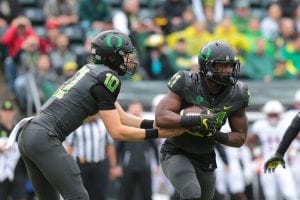 The Ducks ground and air attack is led by their two stars in running back Royce Freeman (303 yards, 6TD) and QB Justin Herbert (646 yards, 4TD). The Oregon defense will be in charge of stopping Wyoming QB Josh Allen – and maybe only Josh Allen. The Cowboys running game is the 8th worst in the nation tallying only 124 yards in two games. One poor game is understandable in the opening loss to Iowa but last week against Gardner-Webb, an FCS school, Wyoming had just 65 yards on 28 carries. Oregon's D should be just as stout as they allow only 104 YPG on the ground.
The Case for Wyoming +13.5
One of the biggest reasons to have confidence in Wyoming Saturday night is because they've been here before. Maybe not against a team as talented as this year's Oregon squad but last year Wyoming welcomed in two ranked teams into War Memorial Stadium as home dogs. They beat #13 Boise State 30-28 as 14.5 point dogs and #24 San Diego State 34-33 as +10 underdogs.
The main question Saturday night is if Allen can carry an offense all on his lonesome for an offense that has basically a non-existent running game? The NFL prospect has had a down year by his standards, completing just 57% of his passes with 2TD and 2INT. Allen could have some success against an Oregon D that gives up nearly 260 YPG in the air.
Michigan: No QB
Nebraska: No QB
Wyoming: Josh Allen.

Guys like Allen don't come around often which makes days like today very special

— Scott Nulph (@ScottNulph) September 16, 2017
It will be up to the Wyoming defense to give their offense a chance at the upset in the 9/16 saturday night college football free pick. The Cowboys do boost the #3 pass defense in the nation at just 73.5 YPG but the high-powered Duck offense is a different animal with Herbert completing almost 80% of his passes.
9/16 Saturday Night College Football Free Pick Betting Matchup
The Ducks are on the verge of being ranked in what has been projected as a down year under new coach Willie Taggart. Oregon had an early signature win last week at home against Nebraska but only won by 7 after getting out to that huge halftime lead. That actually helps the team in covering the -13.5 this week as the coach will warn against the dangers of getting complacent.
Wyoming can put up a fight in the 9/16 Saturday night college football free pick if they can get any semblance of a running game Allen can cement his legacy with this win, but it's a new and improved Oregon unit from the team that was third last in the nation in 2016 in yards allowed. Oregon's QB Herbert is on the verge of joining the ranks of the elite Pac-12 signal callers and Freeman should really be toting the rock in the NFL right now.
Pick Oregon Ducks -13.5